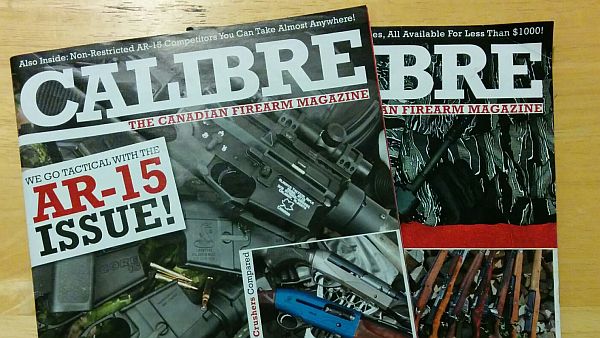 I've been around guns all my life, but only picked up an earnest interest in them as a hobby since 2003. In that time, the internet landscape for Canadian shooters has grown, and I'd argue that we've got a couple of really cool outlets considering our population. So where do you go to get more gun talk (other than this website, of course 😉  **Update Nov 20, 2017: I've removed any media that hasn't been active in the last year and updated some info.**
Best Canadian Gun Forums
CanadianGunNutz is the most obvious one and bears mentioning the first. The simple look of vBulletin may fool you, but this site hosts thousands of visitors per day and is likely the most popular firearms forum in Canada. Unlike many of the websites in Canada, this one is very well recognized by retailers and manufacturers, many of whom engage to some extent on the forum. While most threads are somewhat civilized and mostly intelligent, other threads are chock full of trolls, completely uninformed, brand lovers, brand haters, and extremely knowledgeable gun owners all thrown into the same mix. There isn't really a decent way of getting around this problem with a traditional forum, you need comment voting and threading to properly sort the great comments from the . . .not so insightful ones.
The Equipment Exchange on CGN is free and awesome. Seasoned buyers and sellers on the "EE" will pay via EMT quickly and ship quickly. Be forewarned that if you want to sell or buy on the EE, you'll need to match these high expectations. This is not Kijiji or Craigslist.
Gun Owners of Canada is fairly new and has yet to hit the number of users that CGN has, but they've got some really cool contests and some good people in the forums. It's notably less "tinfoil hat" than CGN can be.
Alberta Outdoorsmen Forum also does thousands of visitors every day (actually, they usually have thousands of users on the site at any given time.) Also run on vBulletin, the Alberta Outdoorsmen forum is backed by the Alberta Outdoorsmen Magazine. This forum is less categorized as CGN, so it can be harder to find interesting topics if you're focused on a particular theme. Great if you're in Alberta, still not so bad if you're not. I've seen a few sellers from other provinces successfully selling their items on this forum.
If you're on Reddit and want to talk guns, head on over to /r/canadaguns and join us! The voted post + comments system is completely superior to the traditional forum style. If you're already on Reddit, subscribe!
Best Canadian Gun Magazines
The best Canadian Gun Magazine? There are a couple. Calibre is free, it's great quality, and it's available at most decent gun shops. I hate leafing through American gun magazines and looking at all the guns I can't own, in configurations that would be restricted here, or meeting requirements over there that we don't have here (pistol vs SBR, bullet buttons, and other nonsense.) Calibre's on the cutting edge of what's new in Canadian firearms, and had a T97 review at a time when there was only really 1 sample in the country. Their new website is at http://www.calibremag.ca/
High Capacity Magazine is produced with the CCFR.
The Canadian Firearms Journal is the NFA's magazine.
Best Canadian Podcasts
Podcasts are almost like downloading radio shows. I personally listen to them on the drive to and from work, but other people use them at the gym or when reloading. If you have a long commute, they can be a great way to kill the time learning new things.
Slam Fire Radio is an off-shoot from Canadian Reload Radio, and they put out a lot of material. A 45-60 minute podcast every week is enough to kill a lot of commuting time for me, and these guys deliver. Though they put a lot of time into talking about pistol and tactical shooting, they do cover some hunting as well. Easy to pick up for someone new to shooting and touching on expert level items every once in a while. You'll find yourself laughing out loud listening to this podcast. **Update** I'm now a host on Slam Fire Radio.
New Shooter Canada focuses on Canadian-specific content and offers excellent overviews for beginners.
Canadian Patriot Podcast shoots their shows live with booze on YouTube.
An Urban Outdoorsman focuses on hunting/fishing from a beginner standpoint
Canadian Gun Blogs
Canadian YouTube Gun Channels
(subscriber counts updated Jan 10, 2018)
I haven't been in this industry for decades. If you know of other great Canadian sources of information online or off that I should include, let me know in the comments below!