The Remington 597 is a semi auto, magazine fed rimfire rifle that competes with other semi-auto 22's like the Ruger 10/22, Marlin 795, and Savage 64. While the 597 doesn't have the aftermarket support that the market leading 10/22 has, Remington has really pushed for more magazines and versions of the rifle. The 597 HB (Heavy Barrel) uses a short, heavy barrel and unlike the standard 597 Synthetic, the HB doesn't come with a scope. That's a good thing, because you probably want to add on a better scope to a rifle like this anyways. The HB goes for $320 in Canada, while the synthetic version goes for $270. In the US, the heavy barrel version goes for $200, while the regular synthetic goes for $169.
Video Review of the Remington 597
Remington 597 Versions
Currently, there are several models of 597 to choose from.
The Remington 597 Synthetic is their standard version that has a longer 20″ barrel and comes with either an inexpensive scope mounted to the dovetail rail or iron sights and no scope. This model is a bit lighter and
The Remington 597 Pink Camo uses iron sights with fibre optic front sight and a mossy oak pink camo setup.
The Remington 597 HB (Heavy Barrel) comes with a weaver rail that is screwed into the receiver so that you can mount your own scope. It uses a 16.5″ heavy barrel and a green stock instead of a grey one. This model would be the best choice if you want to bring your own scope and want a barrel that won't easily heat up.
Remington 597 Features
Now that we have the versions outlined, let's talk about the features that are built into the 597.
The action is straight blowback and the bolt runs on twin guide rods & recoil springs. This design should promote smooth bolt operation.
The factory magazine is a staggered stack 10 rounder made of aluminum. Though it sticks out the bottom of the receiver, it's rounded a bit so it shouldn't be too bad to carry. The magazine release is on the right hand side of the receiver and is easily pressed with your right index finger. The magazine drops free. This is a better magazine retention system than on the Marlin 795 where you need to dance a bit with both hands to pull a mag out.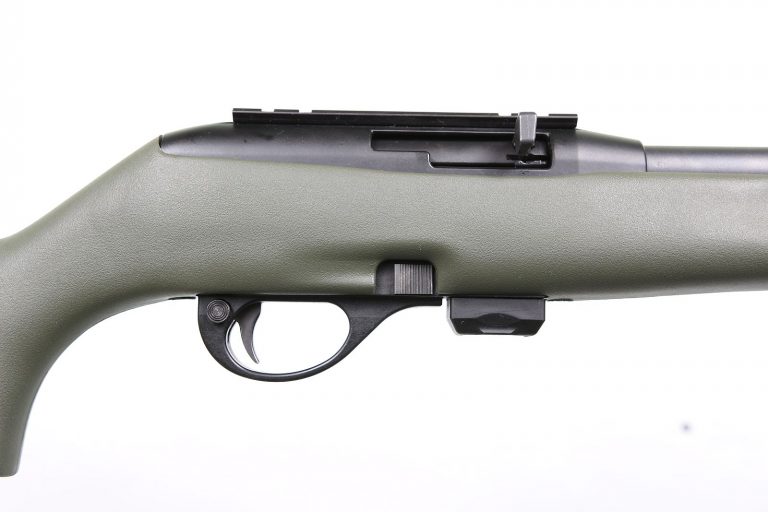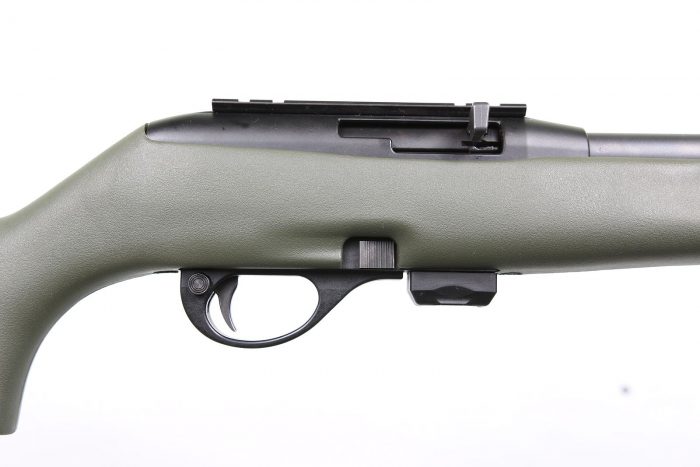 The 597 comes with a last shot bolt hold open. Once your mag is empty, you drop the mag, pop a new one in, pull the bolt handle to the rear and release.
The barrel uses 5R rifling. Whether that's super important or not, I don't really think so.
Remington 597 Accuracy
With a powerful target scope on top, I could watch bullets curve in towards the target, especially with standard velocity ammo. A few different types of ammo gave me acceptable accuracy: American Eagle turned in a surprisingly good group, and SK Standard also gave a decently tight group. On average though, accuracy wasn't as good as the 10/22 tested or as good as my Marlin 795. Your mileage may vary.
Aftermarket Parts for the 597
Remington makes extended 20 and 30 round magazines. These stick out way beyond the base of the rifle and are best used when shooting off-hand. The 10 rounders are a better choice for shooting off a bipod.
Volquartsen makes target hammers, exact edge extractors, and a scope mount for the 597. They also sell the hammer and extractor together as an "action enhancement" kit.
EGW makes a picatinny rail scope base for the 597, Leupold makes a one piece base, and of course there's the Remington scope base.
The Archangel AA597R makes your 597 kind of look like a tactical. . .something.
Boyd's Stocks offers the 597 HB in AT-ONE and Pro Varmint styles, while the standard can be fit into their Barracuda and SS Evolution (I used one of these on my 795) stocks.
Remington 597 Issues
Some Remington 597 owners have reported issues. Matt Capranos guest wrote an article on the issues he ran into with his 597, mainly feeding and extraction issues.
One other complaint that I see often is reliability dropping off after lots of firing. 22LR is pretty dirty in general and semi-auto 22's need to take that into account in design.
Personally, I found reliability issues with this 597 as well. Failures to fire where it dented the very end of the case but didn't get it close enough to the center to fire, stovepipes, failures to feed, and having the bolt lock open even though there was one more round left in the mag. That was all within one sitting, and it wasn't as if the gun was terrifically dirty or un-oiled.
Summary
The promise with the 597 HB is enough that I might roll the dice on another or attempt to tweak this one to get reliable function. But given how reliable I've found 10/22's and Marlin 795's, I don't know if I see the point. Yes, 10/22's are more expensive, but they also have incredible aftermarket support. Yes, Marlin 795's feel really cheaply put together, but they're generally very reliable and accurate. I hope you have better luck with your 597 than I did with this one.