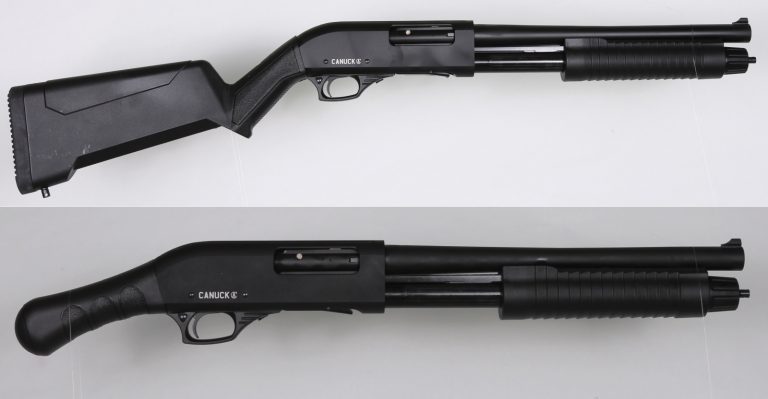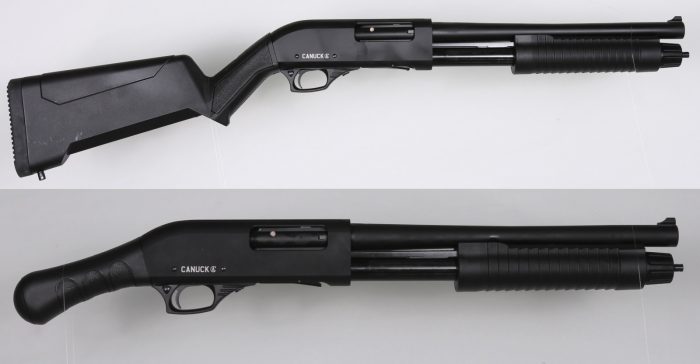 The Canuck Regulator/Defender combo is a non-restricted, 12 gauge, pump action shotgun made in Turkey. They come with both a regular synthetic stock as well as a birdshead grip that you can use if you dislike hitting anything with your shotgun. With a 14″ barrel length, 4+1 capacity, and a set of 3 interchangeable chokes, the shotgun is pretty flexible and it's really cheap at around $220 Canadian.
Canuck Regulator/Defender Specifications
14″ barrel with blade front sight, chambered for 2 3/4 and 3″ shells
4 shells will fit in the tube +1 in the chamber
Comes with 3 chokes: Full, Modified, Cylinder
OAL 34.5″ (full stock) or 25.5″ (pistol grip)
Full Size Stock and Pistol-grip "Birdshead" stock
Some people really like birdshead grip shotguns. They're compact, but hitting anything can be difficult at anything far. They're only really good for defending dumpsters, or maybe as a super compact gun to throw on a quad.
Most people who want to enjoy shooting the shotgun and hit what they're aiming at more often will use the full synthetic stock that somewhat resembles a cheap Magpul SGA. It adds substantial length to the shotgun, but it makes it far more shootable. If you still love the idea of a pistol grip shotgun, check out this video from InRangeTV.
Conclusion
For around $200, it's hard to go wrong. The Canuck Regulator is a handy little shotgun and the included chokes make it more flexible and useful. I would not recommend bothering at all with the birdshead grip, but the rest of the shotgun is a great buy for ~$200.