The Beretta 1301 Comp is a gas operated, semi automatic, Italian, tube magazine shotgun. With 3 gun gaining in popularity, more manufacturers are building the shotguns that we used to have to make from scratch. Adding on oversized bolt releases, using generous loading ports, oversized bolt handles, safeties, longer magazine tubes, and more. These accessories used to add to the cost of building a 3 gun shotgun before, whereas now you can buy a prebuilt 3 gun shotgun off the shelf for less than kiting one out. The Beretta 1301 Competition is aiming firmly at the competition market, and with their Blink gas system, purports to have the fastest cycle times. Let's see how competitive the Beretta 1301 Comp (Competition) is.
Video Review of Beretta 1301 Competition
Beretta 1301 Competition Features
12 gauge chambered for 2 3/4″ and 3″, available in 21″ and 24″ barrel lengths.
Stepped rib
Optima HP Chokes (comes with IC choke)
Comes with magazine plugs if you want to hunt waterfowl
Adjustable length of pull with included butt spacers
Very grippy checkering
Oversized charging handle
Oversized safety
Oversized bolt release
Oversized ejection port
Oversized loading port
Mid bead and fiber optic bead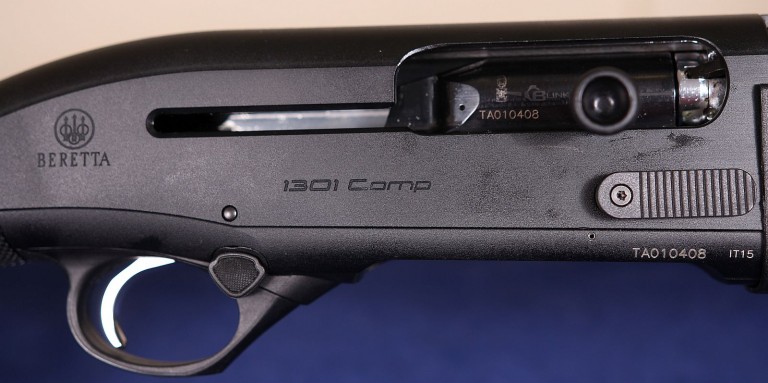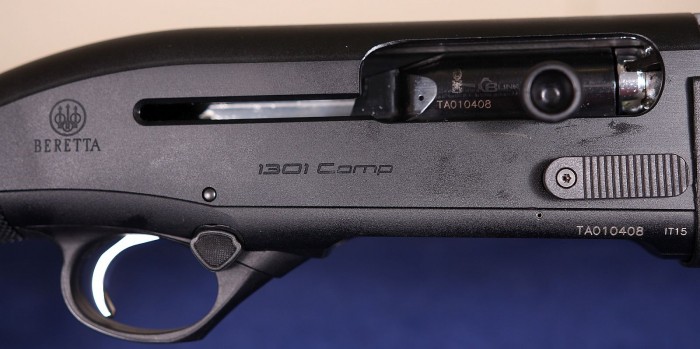 Using the Beretta 1301 Comp
The Beretta 1301 Competition shotgun is very similar to other semi automatic, tub fed shotguns. The shell release/bolt hold open combo button is at the rear of the shell lifter. The safety is an oversized cross-bolt style at the front of the trigger guard. The bolt release is a large version that performs 2 functions: releasing the bolt and dumping shells out of the tube since it's attached to the shell retention latch. If you press at the front of the bolt release, it just releases the bolt. If you press at the rear, it dumps ALL the shells out of the magazine tube. It makes for a quick way to remove shells from your tube if you're done a match, but it can be a bit frustrating if you accidentally hit it at the wrong time and jam 1.5 shells onto the carrier and have to clear the resulting jam.
Reliability is good ONCE you've worn in the action. From the factory, this shotgun needed to be worn in with some heavy duty 3″ shells before it would reliably cycle 2 3/4″, 3 dram, 1 1/8 oz target loads. Before fully being worn in, failures to extract target shells were frequent. So you'll need to fire some stout 3″ shells before expecting the lighter stuff to work. Oh well, who's going to complain? "Sorry honey, I have to head to the range before my competition and wear in the action." Hard life, I know.
Shooting the 1301 fast is very easy. The gas action soaks up some of the recoil energy, the trigger pull is light and short, and the Blink gas system cycles the action fast. Using a bit of math and watching 1200 fps video of the action cycling, I figured the action cycles in .10 to .12 of a second. That's a lot faster than the Stoeger 3500 which ran at 0.16 of a second. My trigger finger could outrun the Stoeger, but I couldn't outrun the Beretta 1301.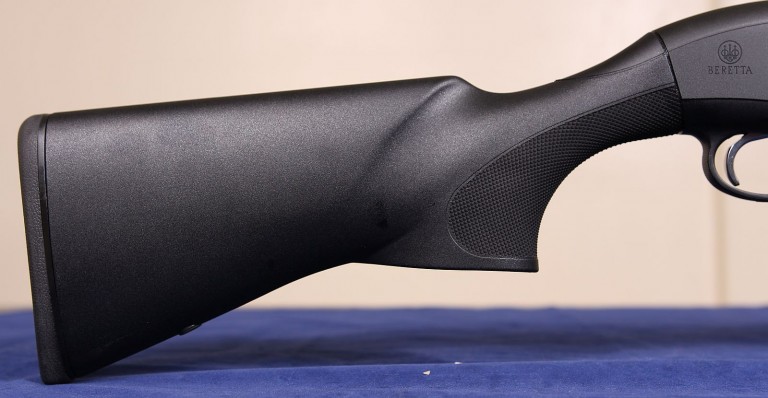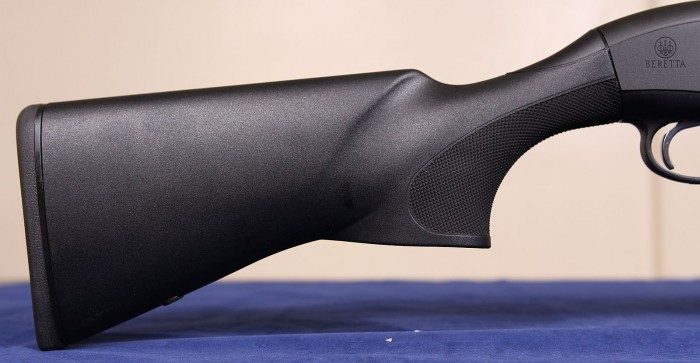 The thin buttpad on the back of the 1301 was great for quick snap shots because it didn't snag on shirts/jackets much, but it didn't soak up much recoil. That's fine if you're shooting target loads, but the thin buttpad didn't help much when shooting slugs. That's not really much of an issue if you just need to fire 1 or 2 slugs a match. At least it was accurate, I had no trouble hitting a steel plate at 100 yards shot after shot with slugs.


The raised rib on the shotgun kept the hot barrel and mirage at bay. Changing between a 28″ barreled shotgun and this 24″ 1301 showed me how much quicker the short barrel was at swinging up to target.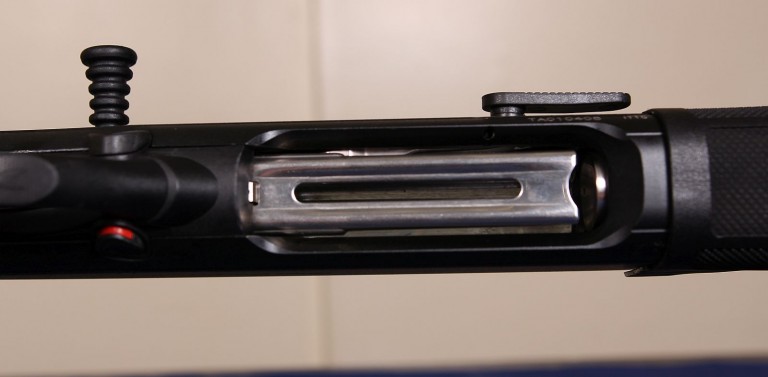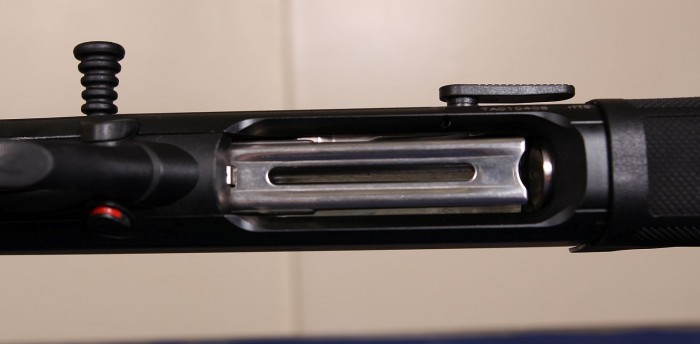 When loading the 1301, I thought that the loading port could have been a bit deeper. I had a few "2 up" loads fail to get to the tube because of the combination of lifter pressure and how deep in the loading port was. The lifter also caught my thumb good a couple of times. You can train yourself to work with all of these and it was much better than using a plain old hunting shotgun, but it'd be better if the shotgun was yet a bit more forgiving. I may dremel out the loading port further to make it more forgiving of imperfect loading technique.
Hunting with the 1301 Competition
If you're mainly a competitor but also want to hunt every once in a while, I guess you could use the 1301. It takes 3″ shells, and you could find some Optima HP chokes to extend your range a bit beyond what the included Improved Cylinder choke will give you, or you could mount a rail on the receiver for optics, get a turkey choke, and blaze some turkeys. But the 1301 is not an optimal hunting shotgun. The thin buttpad beats the hell out of you shooting big bad hunting rounds, and the oversized controls can too easily be bumped when hiking or getting ready to shoot game animals.
Conclusion
Within the competition-ready sphere of semi automatic, tube-fed shotguns (mag fed shotguns are typically in a different division), the 1301 competes with the Benelli Performance Shop M2, FN SLP, Mossberg 930 JM Pro, and Stoeger M3K. Price point wise, it comes in about the middle. Does it compete directly with the $2700 MSRP M2 competition? Of course not, but it gets you 90% of the way there for a lot less and it cycles faster. Is that worth it compared with buying another competition ready shotgun or building your own? Well, you'll have to decide.