When it comes to semi automatic shotguns, Benelli is a massively popular make. Unlike the Benelli's inertia-driven actions, the M4 uses 2 short stroke gas pistons to cycle the action. They call it their "ARGO" system (Auto-Regulating Gas-Operated.) At around $2500 in Canada, the M4 is not a cheap shotgun. The Benelli M4 is a combat/tactical style shotgun designed for hard military use with the U.S. Marine Corps (known as the M1014). This M4 has some aftermarket parts on it, such as the charging handle and extended magazine tube.
Benelli M4 Features
Comes with fixed stock with or without a pistol grip, or with an adjustable rear stock (pictured above)
18.5″, cylinder bore barrel designed for 3″ 12 gauge shotshells. (some barrels come with chokes)
Extended magazine tube
Receiver mounted picatinny rail
Ghost ring sights
About 8 lbs depending on stock option and accessories
Video Review of Benelli M4
One of the great things about the Benelli M4 is that there's a ton of aftermarket parts available. Oversized charging handles, such as the one on the M4 pictured, enlarged safeties, aftermarket bolt releases, aftermarket stocks, extended magazine tubes, followers, barrels, shell carriers, it goes on. Americans may need to replace some of the OEM parts in their shotgun if they go the tactical route in order to be 922r compliant.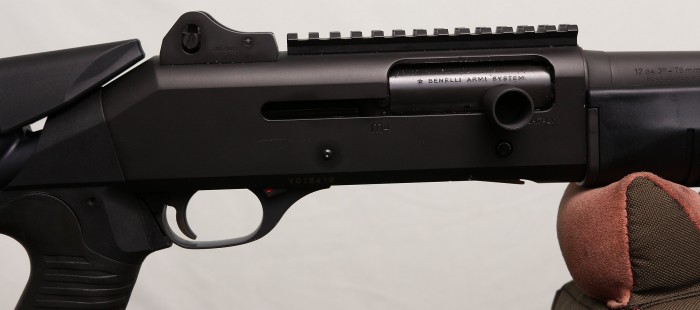 Shooting the Benelli M4
If you're used to shooting a pump or break action shotgun, you might be confounded by how a tube magazine, semi automatic shotgun works but with some practice, you can learn it. There are a few extra buttons to learn so it's not quite as easy as a pump. Recoil is a bit less than a pump or break action because the gas action softens the recoil impulse. It's pretty easy to blaze through the whole tube and stay on target.
One complaint I have on the M4 is that the shell retention latch is very stiff. Even after hundreds of rounds, this particular M4 is very stiff and it makes inserting shells into the tube kind of a pain in the butt.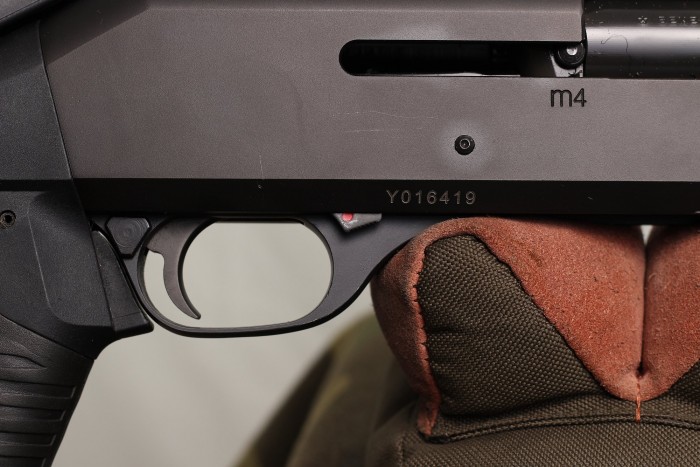 Using the Benelli M4 for 3 Gun
The M4 can be used for 3 gun, but it comes with a few disadvantages. It costs more than a Benelli M2, which is a more common 3 gun shotgun and has more readily available accessories. The pistol grip gets in the way when rapidly reloading, the extending stock snags on clothing, and it's a bit heavier than the M2. You could get the straight stock for it and kit it out or you could enjoy it as the tactical shotgun it is.
Summary
There are few shotguns in use by the military and fewer semi automatic shotguns still. The Benelli M4 is one of the few and some people want to own the same tactical shotguns in use by military. As a defensive shotgun, one to haul around Alaska loaded with slugs for bear defense, or as a hard use general shotgun, the Benelli M4 stands up to a lot of abuse. As a top tier brand on reliability, it's easy to choose Benelli when you're looking for something that's going to work out of the box. It's $2000, but it's a Benelli.