The Scorpio EM332A is a Chinese manufactured, bolt action 22LR. The action itself is based on the Anschutz 54, so accuracy could potentially be very good. In fact, the 322 action is the same as that on the Norinco NS522 that I saw amazing accuracy out of. So, is the Scorpio EM332A a great way to get amazing accuracy out of an inexpensive bolt action 22? And is it more accurate than the favorite value priced bolt action 22LR, the Savage MkII?
A new NS522? From the serial number and quality checks placard that came on the Scorpio, it looks like it was manufactured in 2016. My Norinco 522 is hard to tell, but we know these rifles were initially manufactured for the US in the mid-90's when the Chinese arms ban occurred.
Scorpio 332A Specifications
2.67kg (5.9 lbs) on my scale
20″ barrel, not as thick as the 522, but it's still hammer forged
10 round magazine
Receiver grooved for 11mm dovetail (some 3/8 rings or bases might fit)
Plastic thumbhole stock
Shooting the Scorpio EM332A
Shooting the Scorpio is enjoyable when you're at the bench, and shooting for small groups. The tight bolt turn-in, crisp trigger, and superb accuracy add up to a fantastic bench experience. For basic plinking, running the bolt is a bit of a chore, and the safety is not very usable because it's so far from your firing hand. The bolt handle hides inside the stock and the bolt knob hugs the stock very closely. The magazine release is better than some 22's, but that's not saying much. At least you can activate the release and pull the mag out with the same hand.
Trigger
The trigger mechanism itself is excellent: offering no creep and a 4lb trigger pull. That trigger pull weight can be reduced with use of lighter trigger return springs, just like I did on my NS522.
Iron Sights
The iron sights on the Scorpio are tall, steel, and the rear sight is adjustable. In 2019, a fiber optic front sight would be nice, but this is a budget rifle so I imagine they just use what they have at hand. The bigger disappointment is the rear sight adjustments: they use a flat blade screw for windage and a Philips for elevation. What's up with that? With the front sight using "wing" style screws, you'll need a pretty full screwdriver set to pull off the sights. That all said, the rifle does come with usable iron sights. They're tall and weird looking, but still usable.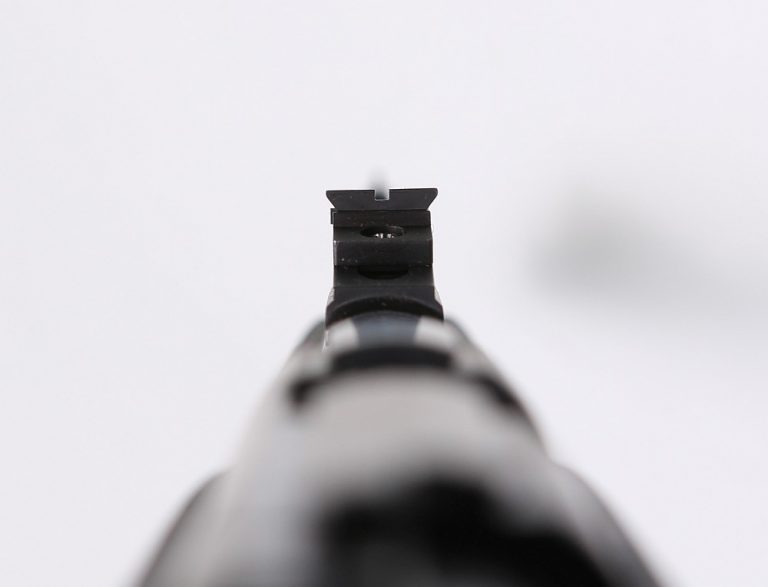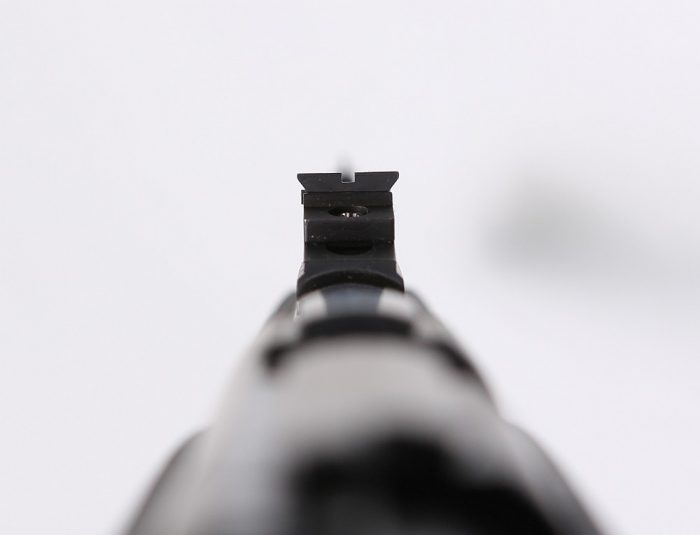 The dovetail rail on the top of the rail enables you to mount a scope, but there's not much adjustment back and forth available and it'd be nice if it offered Weaver or a length of Picatinny rail mount option on top because there are more scope mounting options available for those at most hunting shops. That said, it's $170-$199, so we have to accept some compromises.
Stock
I'm not too crazy about the thumbhole stock on the Scorpio 322, but I like the grippy textures on the forend and pistol grip. The firm rubberized butt hangs on to your shoulder nicely. The steel sling swivels are nice to see in a market where plastic sling swivels or no sling swivels included are more common. The cheek rest could be higher for my taste: it's low even for the iron sights and really low for scopes. You will need a cheek riser of some kind to get a good cheek rest when using a scope. But, the stock is lightweight.
Accuracy
With a tight Anschutz 54 style action, the rifle is already on the first step towards being accurate and repeatable. The barrel is also supposed to be rotary hammer forged, though the spiraling on the outside of the barrel is gone because the barrel was turned down afterwards.
This rifle didn't give me great accuracy out of the box, but after running through about 100 rounds, it started printing them within about 0.5-.75″ at 50, and doing so very consistently.
Scorpio EM332A Pros
Low cost: $169-199
Fantastic trigger out of the box: no creep, 4lb trigger out of the box: easily tunable if you want lighter
All the accuracy you'd need out of a rimfire rifle at this pricepoint
Very grippy stock that features steel sling studs
Cons
The bolt knob is small and very tight to the stock, so it's difficult to grab
Trigger travels too far, needs overtravel adjustment
Mag fit was pretty tight on mine. This can be improved by sanding proud edges on the mag smooth
2 different styles of screws used on the adjustable rear sight. WTF were they smoking at the factory?
Very difficult to find mags and parts
A thumbhole stock is silly for a rifle with a safety on the left of the receiver
Very shallow crown at the muzzle that would be easily damaged
Stock cheek rest is made for use with the irons. It should be higher so you can get close to scope height
I hate dovetail rails and prefer weaver or picatinny mounts
Is it better than a Savage Mk II?
This is the real question. The Norinco NS522's at $199 are long gone, so they're not an option anymore but are the Scorpio EM332A's better than a Savage Mk II? At $289, a Savage Mk II is 50% more expensive than the Scorpio EM332A but they come with some huge advantages. They have established parts and aftermarket, there are lots of models models with heavy barrels, regular, and a multitude of stocks.
Really, it's hard to compare the EM332A to a Savage Mk II because the Scorpio is half the price. That $150 could go into getting a better scope or more ammo. Even though the Scorpio is very reasonably priced, I think it makes for a poor beginner's rimfire rifle. It's not as easy to use as a Savage Mk II or a Ruger 10/22, and I'd feel bad giving a raw beginner a rifle with tight bolt turn in, tight magwell, and sharp checkering. If you already have a semi auto 22 and you want a more accurate bolt action 22 for CHEAP, the Scorpio EM332A might fit the bill.