In the land of semi automatic 22's, the Ruger 10/22 is king, while the Marlin 795, Remington 597, Savage 64, and Mossberg Plinkster fight for table scraps. Through what looks to be a complete redesign, Mossberg hopes to challenge some of the king's marketshare with an inexpensive challenger: the Mossberg Blaze. Note for Canadian readers: a version of the Blaze called the Blaze-47 comes in plastic, AK47-esque furniture and is prohibited here in Canada because our RCMP firearms lab is incompetent and consider it a variant of the AK47. The version pictured, which is functionally identical, is non-restricted.
Video Review of Mossberg Blaze
Plastic Polymer For All the Things!
There must have been a polymer receiver 22 LR semi automatic made in the past, but this is the first one that I've held. While all that plastic isn't very confidence inspiring, the rifle did what it was supposed to: fire off round after round without fail. The steel barrel connects into the polymer receiver with a V-block barrel clamp similar to that on a 10/22, while the steel bolt rides inside the polymer receiver. Some of the fire control parts such as the hammer have remained steel, while others are all plastic. All that plastic does have 1 big benefit: the Blaze is very lightweight: only 3.7 lbs. The sling swivels . . .swivel and allow for a sling to be attached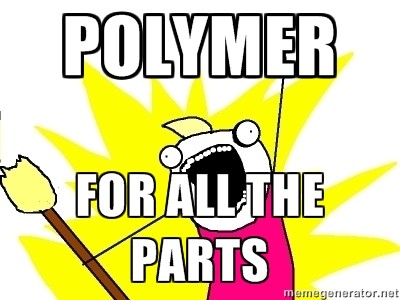 Not only is the rifle primarily polymer, it's also assembled. . .kind of like a big water gun. 16 screws hold the clamshell stock together along a middle seam and you have to remove all of them to get the bolt out. That makes disassembling to clean the bolt a total pain in the rear and increases the risk that you'll strip a screw. This seems to be the biggest downside in this design.
Reliability
Note: I've only had the chance to fire 500 rounds in my Mossberg Blaze so far, so I can't speak to long-term reliability, just out-of-the-box. That said: no failures of any kind. I even used dirty Remington Thunderbolt to see if it'd gunk up the action, and the Blaze just ate it up. The forend got a bit warm at times, but nothing uncomfortable.
Accuracy
I don't think anyone purchasing this rifle is looking for ultimate 22 accuracy. The sights are big and blocky, the sight radius is pretty short, and the optic mounting system is a bit weird. There is a 3/8 dovetail on top of the receiver which is plastic, and I wouldn't mount an optic on it in a million years. Mossberg offers a cantilever picatinny rail that connects directly to the barrel that should be used if you're serious about mounting a red dot or optic. There is also a Blaze that comes with a green dot sight, which would be great for fast shooting, but again is not designed for ultimate accuracy. With the iron sights, I was getting most shots within about a 1-2″ group at 25 yards when shooting at a medium-quick pace. It was also trivial, and fun, to hit a 3″ metal plate at 50 yards, while standing, shot after shot.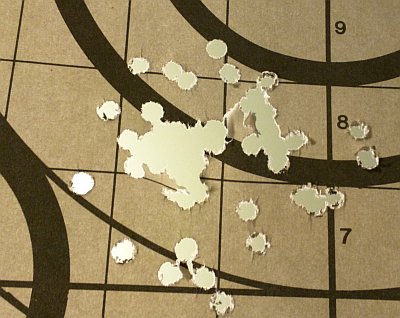 Magazines
I quite like the magazines. They rock and lock into the mag well on a short stroke so you can pretty much jam them straight in, and they're pretty solidly locked in there. They are, of course, polymer. The 25 round magazines seem to shoot forever, and they load very easily because of buttons on the side of the magazine that can be used to hold the follower down as you load rounds.
Summary: Needs to be Cheaper
Most of the misgivings here could be forgiven if the rifle was cheaper. At $159, I don't think it competes well enough with the Marlin 795 at the same price. BUT, it's important to keep in mind that the 795 has been out for a while and is unlikely to get much cheaper, while the Blaze is brand new. The Blaze's cheap plastic inexpensive polymer construction suggests that retail price could be much lower than designs like the 795, which require more cost in materials and labor. As of this writing, Mossberg has a promotion for 2 free magazines with the purchase of this rifle. I'm willing to bet that they can and will reduce the price of the rifle further soon after that promotion is over. At $100, this rifle would be a screaming deal for a kid's 22, a very inexpensive truck gun for small varmints, or just to have a second semi auto 22 around. Do you think the price will get that low? Maybe in time for Christmas so that a lot of Mossberg Blaze's make their way under Christmas trees?