Back in 2006, I had a Marlin 795. It was inexpensive, reliable, lightweight and accurate. More recently, I've been looking at takedown 22s. I've had my hand at the Ruger 10/22 takedown, and wanted to try the Marlin again since it went so well the first time, but didn't see a good opportunity until recently when I saw one on a Black Friday sale. The Marlin 70PSS is a stainless, semi-automatic, takedown 22. My use for a rifle like this could be when I'm hunting big game and want to take a 22 along for grouse and small game. In Canada, we can't use 22 pistols for hunting, and definitely can't hunt with suppressors, so long barrel 22's are about as quiet as we can get while still taking down small game. Yes, a 22 airgun might work too, but the Marlin Papooses are generally more portable than big, bad 22 airguns. In the US, the Papoose goes for about $250.
Video Review of Marlin Papoose
Marlin 70PSS Papoose Specs
22LR only
Comes with 7 shot magazine, but works with Marlin 10 round mags and Pro-mag 25 round mags
Last shot bolt hold open, plus bolt release
Cross-bolt safety behind trigger
Synthetic stock
Stainless barrel with micro-groove rifling
3 1/4 lbs weight
35.25″ OAL
Comes with a compact, floating carrying case
It comes with sling studs, but it's 3 freaking pounds!
Receiver grooved for dovetail scope rings
Marlin Papoose Usability
The Marlin Papoose is extremely easy to use. The only thing that takes any getting used to is the bolt release lever. Other than that, the safety is about right, it's super easy to takedown, the front sight is highly visible, and it all just works.
The barrel nut on mine did loosen in extended shooting sessions unless I used the included barrel nut wrench. In my opinion, this is OK. Marlin chose to use smooth threads that make it easy to whip the nut on or off and will be reliable doing so many times, but they don't give a super snug fit. So to get a tight fit, you need to use the wrench. For a takedown rifle that is used sparingly but carried a lot, this is OK, but the Ruger 10/22 takedown does not loosen with shooting.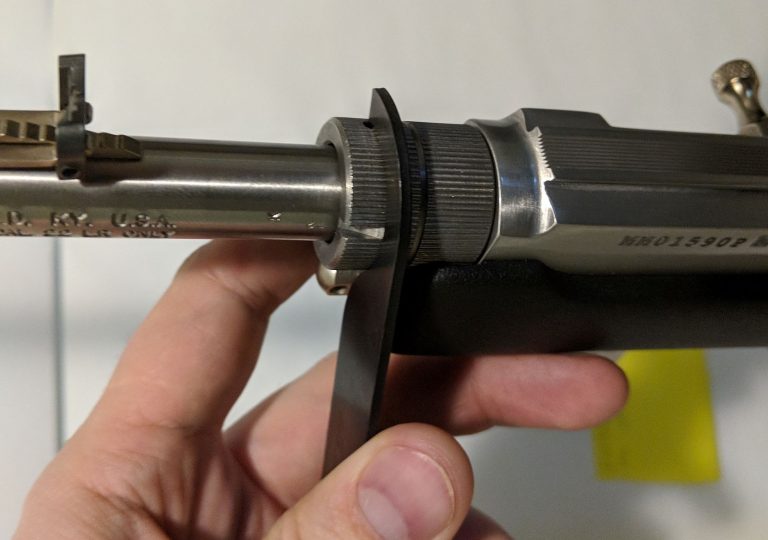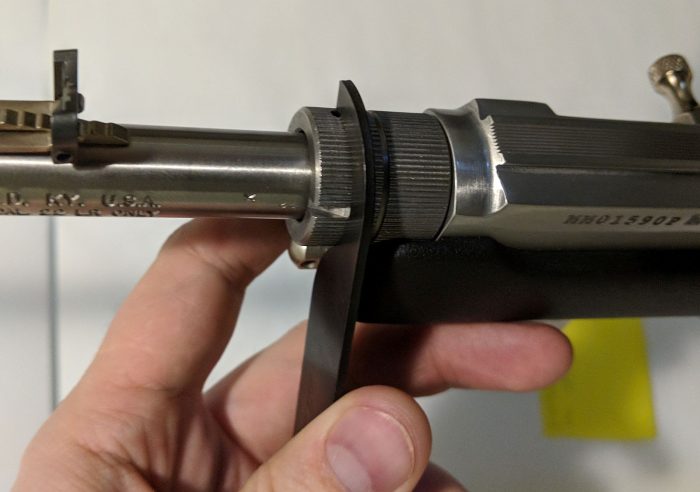 The bolt hold open is a nice touch.
Takedown and Assembly
These are super important for a backpack 22 like this and the Marlin is super straight forward. Line up the barrel so the sights are about at the right spot, stick it in, and tighten the barrel nut. If you're just going to take a few dozen shots, that's enough but if you're going to shoot more, you may want to use the included wrench to tighten the barrel nut more so it doesn't shoot loose. Technically, this system takes longer than the Ruger 10/22 takedown but it's simpler.
The Papoose that I bought came with an Allen gun case that holds the rifle when it's taken down. It feels like they could have used a smaller case, but I guess you could fit some extra ammo and it's really nice. With cases that are too compact, it can be a bit of a pain in the ass to fit everything in perfectly, so maybe the extra space is a blessing.
Summary and Comparison to Other 22LR Takedown Rifles
In terms of competition, the big ones would be the Ruger 10/22 Takedown, and to a lesser extent, the Henry AR7 Survival rifle. The Henry is great for kayaking or using as an aircraft survival rifle because it'd take abuse and the rifle fits into the buttstock, whereas the Ruger 10/22 takedown is a a fantastic shooting rifle for about twice the price. The Marlin Papoose fits in the price range of the Henry AR-7, but is much nicer to shoot. The stainless parts also allow for ease of mind that parts won't rust.
So if you're looking for an inexpensive, simple takedown 22, check out the Marlin Papoose!