The T81SA is a semi-automatic only version of China's Type 81. As such, it's a gas-operated, semi-automatic, magazine-fed rifle in 7.62×39. The Type 81 uses a short stroke gas piston setup and they were very rare outside of China, until now. Tactical Imports had these made by Poly Technologies in China and imported into Canada. Only 20 Type 81S rifles made it into the US before the Chinese arms ban, so they're a bit of a Canadian exclusive for now. Tactical Imports sent me this one to review. They're bringing in fixed stock versions as well as folding stock Type 81's. There's also a quadrail available for the forend.
Type 81 Video Review
Type 81 Design & Usability
The Type 81 is a really unique design made in China; incorporating features from the SKS, AK47, and Dragunov. The gas system has 3 settings: 0 for off/firing rifle grenades, 1 for normal, and 2 for extremely gunked up guns. The gas system can be adjusted by inserting the rim of a 7.62×39 case into the adjustment pawls and rotated. While the short stroke gas system is kinda like an SKS, the bolt rotates into the receiver like an AK47. That rotating bolt makes for a very smooth action. The receiver is stamped steel and the dust cover removes like an AK. The barrel really differentiates this rifle: it's designed to fire rifle grenades and has the front sight very far rearward. Speaking of the barrel, both it and the gas system are chrome lined, which should help with durability as well as cleanup and dealing with corrosive ammo.


The rear sights use a rotating drum to achieve different heights for shooting different distances. If you pull out the left side of the rear sight, you can rotate it to remove the front gas system cover. Kind of a neat way to take it down, and easier than the very stiff locks on SKS's. The front sight can be pushed side to side with an SKS/AK sight pusher tool to adjust horizontally and the front sight post can be rotated up or down to zero the front sight vertically using the same tool.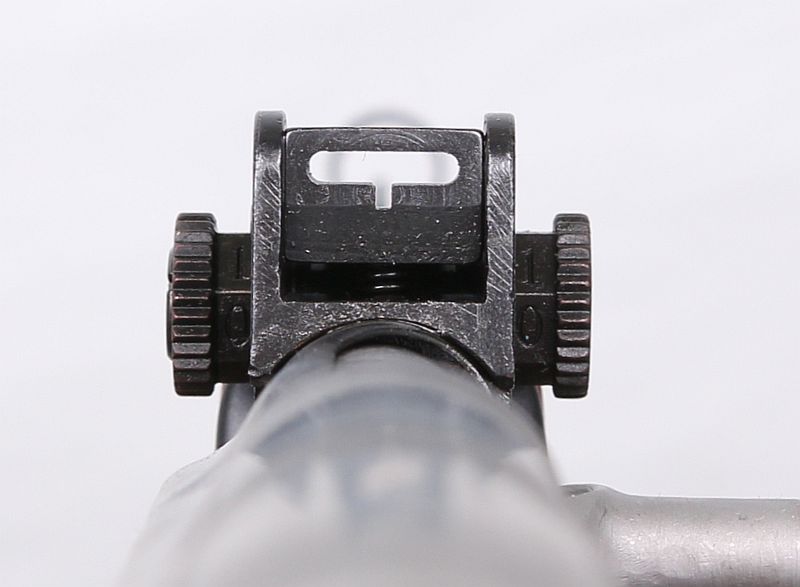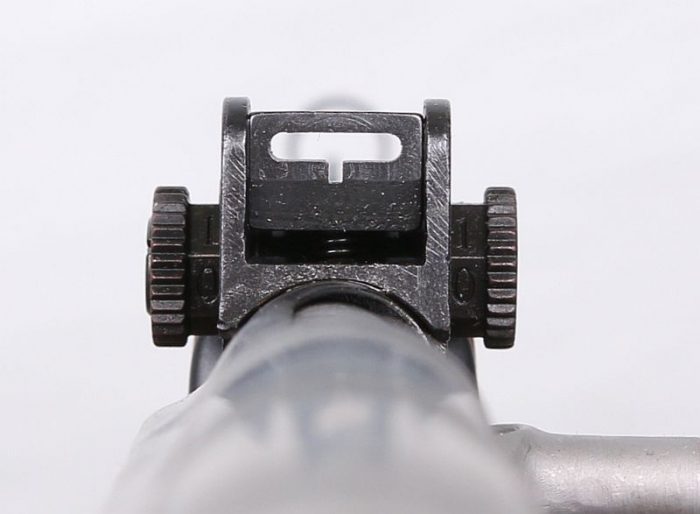 Magazines for the Type 81 are proprietary and are designed to lock the bolt open on the last shot, unlike the AK47 which goes forward and gives you the dreaded "click". They're a pretty heavy duty unit made of stamped steel with reinforced feed lips and what looks and operates like an anti-tilt follower. Some Type 81 owners are modifying AK mags to work in the Type 81 but if you do, just keep in mind that the bolt hold open won't function with them. The magazines rock and lock into place: grabbing on the front first and then snapping the rear up.
The safety is located just above the trigger on the left hand side. It's easy to reach, but does require a full 180 degree swing to activate.
There is no bolt release, just rip back on the charging handle and release.
Speaking of the  action, the Type 81 is fairly long compared with an AK47 or VZ58. This purportedly has positive benefits because it results in more flexibility in ammo without battering the action or short stroking.
Disassembling the Type 81 is fairly quick, but it has its own unique parts. Check out the video for disassembly instructions.
The buttstock contains a trapdoor cleaning kit while the cleaning rod sits up front underneath the barrel. There's an extension piece in the cleaning kit that gets the cleaning rod to 13.5″. Since that's not enough to go all the way down the barrel, consider using a pull through or full length cleaning rod.
The buttstock also has a bit of a dip in it where you can comfortably rest your cheek if you feel like it. I felt. . .uncomfortable having my face that close to the rear of the action. I might get over it with some more shooting.
Type 81 Modifications
Summary
What fun, non-restricted 7.62×39 semi-auto guns do we have in Canada? The SKS at the low end: a low cost budget blaster that has been a favorite plinker for Canadians for decades. The CZ 858/VZ58 used to be pretty cheap at around $650 but more recently they go for around $1350. So when it comes to red rifles in Canada, we have few budget blasters and the price difference between them is large. To be clear, the VZ58's usually have nicer finishing on the metal, but their wood is usually a chipwood "beaver barf" or polymer style and they're also 35% more expensive than the Type 81.
So the Type 81 brings a different offering at a different price point than what has been available on the market. For Canadians who really, really want to own a rifle similar to an AK47, they can buy a Valmet at thousands of dollars, a VZ58 at around $1400, or a Type 81 at $1000. Yeah, the machining is a bit rough where it isn't required for functionality, and it isn't a true AK as much as it's a Chinese offspring of an AK, but many American collectors would LOVE to have such a unique, rarely seen Chinese rifle.
For Canadians, it's really about what they want: if you want a rifle that looks and feels like an AK, you can get a VZ58, or a Type 81. The Type 81 looks closer to what an AK should look like and it's cheaper than the VZ58.