A length of pull for little ones
A few weeks ago, I brought my 6 year old out to the shooting range for the first time. We first went over a simplified version of the safety briefing I give to everyone I bring out, and then headed out. He was pumped! But as soon as I got him on my Marlin 795 22, I knew it wasn't the right rifle. That light little Marlin was perfect for plinking away, but the length of pull was too long! My boy couldn't reach his right hand over to the trigger AND get his face in the right position. Now, maybe that's a lesson that 6 is too young. It is without direct, active supervision, but I don't believe it's too young to try sometimes. What you really need to introduce shooters this young to the sport safely is a rifle with much smaller dimensions. Enter,
The Savage Rascal
The Savage Rascal is a single shot 22 built to a low price point for young shooters. Available in wood, and a variety of colors in a synthetic stock, the Rascal is the choice for young shooters. Importantly, it has a length of pull of only 11.25″. Compared with my Marlin 795's 14″ LOP, it's an advantage. The Rascal is also much lighter at 2.66 lbs vs 4.5 on the Marlin 795. So it's dimensionally a very small rimfire rifle.
Features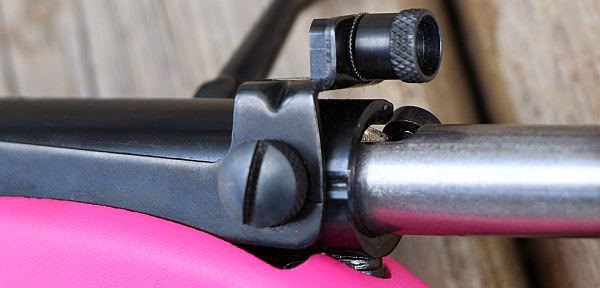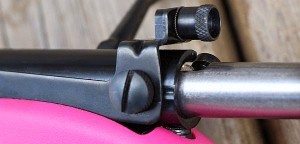 There are very few. Hey, this is a single shot 22, what do you expect? Most importantly, the rifle includes a Savage Accutrigger, an important consideration given how little finger strength 6 year olds have. There's a safety on the right of the action, and a plastic feed sled to help guide shells placed in the action into the breech. The included aperture sights are hand adjustable on the rear, but the adjustments are pretty crude. A low profile red dot might be an easier option if you want the child to pick up shooting quickly, and given the drilled and tapped receiver, is an option you have. Between learning form, trigger pull, gun safety and everything else on a first outting, I'd really recommend going that route to start with. You can always teach them proper aperture use later after they've got enough ground work with other fundamentals. Older kids could probably jump straight to iron sights, but this isn't really a rimfire for older kids.
Accuracy
I have no idea what the max accuracy of this rifle is. Putting a big scope on these looks silly. Does it matter? It hits the cans I shoot at, and it'll be more accurate than the kid shooting it.
Is it for adults too?
You could, but why? I mean, if it's all you have. . .sure, but for the same price you could pick up that Marlin 795, Mossberg 702, Marlin XT-22, Savage Mark II, Remington 597, or a plethora of other non-single shot 22's. It's light, but it'd make an awful survival rifle, so an application as a light aircraft or canoe survival rifle is out. Like Trix, it's for kids. Even bigger kids might want to look to a "normal" sized 22.