Recently, I came across a pretty good deal on a Remington 700 ADL and I had to pick it up. Of current Remington rifle offerings, I've previously reviewed the Remington 783 and 770, but the 700 was usually quite a bit more expensive. Recent loss of demand for firearms has likely lead to pressure Remington putting together this 700 ADL with scope package rifle at a price very close to the 783 and 770. Among centerfire bolt action rifles, the Remington 700 is THE platform. It has been in production since 1962 and is an incredibly popular rifle. In the US, Remington sells 700 ADL package rifles for around $450.
Remington 700 ADL Video Review
Remington 700 Models
Due to Remington making M700's for so long, there are a ton of variants out there. The most common 700 of the past would have been one using a hinged floorplate and wood stock, but times have changed. These days, the 700 SPS is quite popular as well as a few other models.
ADL has a blind magazine. Previously discontinued, it has come back as a low cost option with a synthetic stock.
BDL has a hinged floorplate
CDL is the BDL with a nicer wood stock
CDL DM has a detachable magazine
CDL SF Stainless Fluted barrel
SPS Special Purpose Synthetic. Use hinged floorplates unless it's a DM model. Tactical models use a heavier barrel
XCR Extreme Conditions Rifle
Remington 700 ADL Features
The rifle I'm reviewing here is the Remington 700 ADL in 223. It's a more roughly finished, lower end version of the Remington 700 that uses a blind magazine, but it still comes with the improved Xmark trigger. It uses a 24″ barrel with a 1:12 twist. The 1:12 twist is a really terrible choice for 223. It limits this rifle to bullets in the 50-60 grain range and keeps heavier bullets out of reach. That limits this rifle in range. Remington's 700 SPS Tactical in 223 uses a more flexible 1:9 twist as does their Remington 783.
With this combination of features, this rifle is trying to compete in the budget hunting rifle category. It's a bit confusing, because it competes almost directly with Remington's own 783, and partly with the much cheaper (and far inferior) Remington 770. With a blind magazine, the 700 ADL is missing the detachable magazine that all other budget hunting rifles come with these days. Savage figured this out when they discontinued their Stevens 200, and Mossberg did as well with pushing the Patriot instead of the older 100 ATR. Blind mags are out of fashion, but it looks like Remington is banking on the 700's brand to still get the purchase from consumers.
From the outside, this looks like a really odd move. The Remington 783 goes for around $340 right now with a crappy scope on top, and the 700 ADL goes for $450 with a crappy scope or $350 without. With the pressure on sales right now, it may be a move to activate more Rem 700 production capacity  and better cover the budget bolt action area.
Usability
Usability on the Remington 700 is great and exactly what you'd expect from a time honored design.
The safety on the right hand side of the receiver is activated by your right thumb. It does not lock the bolt.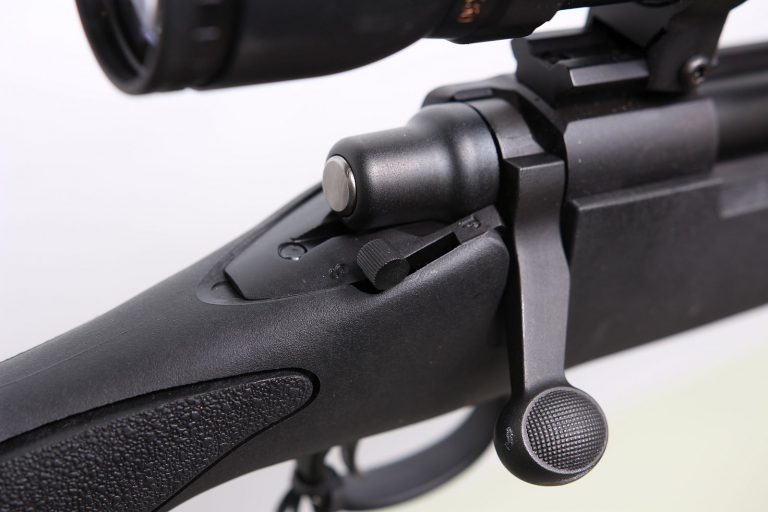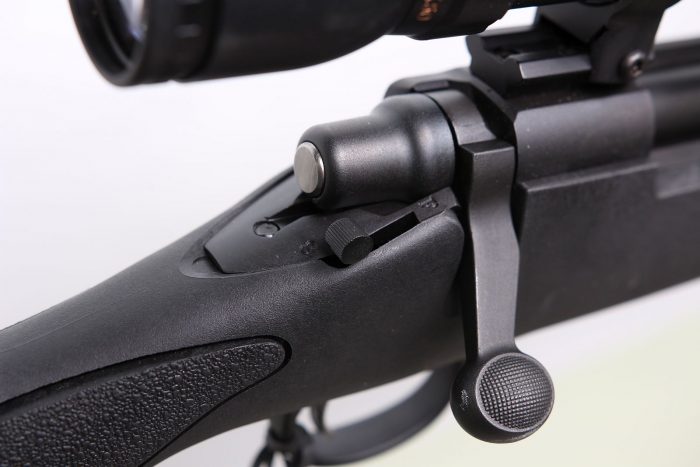 The bolt on my 700 ADL was a bit rough to start, but smoothed as it got worked in.
The blind magazine on the 700 ADL is a downside. Rounds must be racked out of the action one at a time, and it can be easy to load rounds too far forward or too far to the rear and jam it up. On the positive side, the bottom of the stock is completely smooth and you won't damage or forget the magazine at home because you can't! At least the stock comes with steel sling studs instead of the molded in ones that the 770 and 783 use. I've used the hinged magazines and detachable magazines on other Remington 700's and they're great!
The Upside of the Remington 700 platform
So far, what we have with this 700 ADL is a rifle that's inferior to the Remington 783 in my opinion. The 783 uses a floating bolt head, better adjustable trigger, has a detachable magazine, is slightly cheaper, and has a more useful twist rate on the barrel in 223. But the story changes drastically once we look at aftermarket and other possibilities.
Aftermarket parts for the Remington 700 platform are extremely abundant and there is a lot of choice of supplier for those parts. Brownells lists 415 available parts for the Rem 700. Aftermarket triggers, all kinds of stocks in wood, plastic, aluminum, and other materials, bottom metal, bases, bolts, barrels, specialty tools, extractors, lugs, and more are just a click away. The Remington 700 action has been so popular in precision shooting that many aftermarket rifle actions use the Remington 700 action pattern to gain access to the stocks and other parts the 700 platform has available.
So, when you buy a Remington 700, you gain access to a very healthy aftermarket of parts. You also get a pile of gunsmiths who know how to true, blueprint, and otherwise make the 700 really sing. Can't say that about the 783.
Conclusion
I don't think that this rifle is going to be permanently at this price as it competes too closely with Remington's 783 price point. So for a limited time, it's a low priced entry into the Model 700 platform. If that's what you're interested in, check out the 700 ADL.