When it comes to precision rifles, the stock is one of the more important parts. Wood stocks swell with humidity, and inexpensive plastic polymer stocks can be bendy or poorly fitted to the action. An aftermarket stock can improve the repeatability between shots improving accuracy, offer more flexibility in configuration, as well as offering more ergonomic options.
Video Review
The MDT HS3
The MDT HS3 is an aluminum chassis designed to fit bolt action rifles from Remington, Savage, Mossberg, Tikka, and Howa actions. Check their website if you're interested in knowing if it fits your action. The HS3 is designed to take AR-style stocks that use a buffer tube, or a new class of precision stocks that just use the buffer tube interface, but don't actually make use of a buffer tube. Unlike MDT's LSS or TAC-21, the HS3 uses polymer panels on the forend. For me, this was the deciding factor because aluminum forends rob your hands of heat quickly when it's cold out. There's a reason they make heat sinks out of aluminum: they move heat quickly. That little bit of plastic will help and it looks cool.

Installation
Installing the MDT HS3 is extremely easy. On my Savage 10 TR, I removed the action screws, removed the stock, put the new MDT stock on, installed the 2 new action screws and spacer, torqued to spec and had a beer. 5 minutes if you're taking your time, 10 if you're totally OCD very careful with your install.
Features
Beyond the improved stock stiffness and possible increase in accuracy that you get with a full aluminum chassis, the AR stock interface at the rear gives access to a whole world of new stocks, and there are mounting points on the sides and bottom of the stock forend to mount picatinny rail or other accessories.
For the stock, I went with MDT's skeleton buttstock. There are lots of choices out there, but MDT's offering seemed to be very solid for the price and a bit nicer than the defacto Magpul PRS.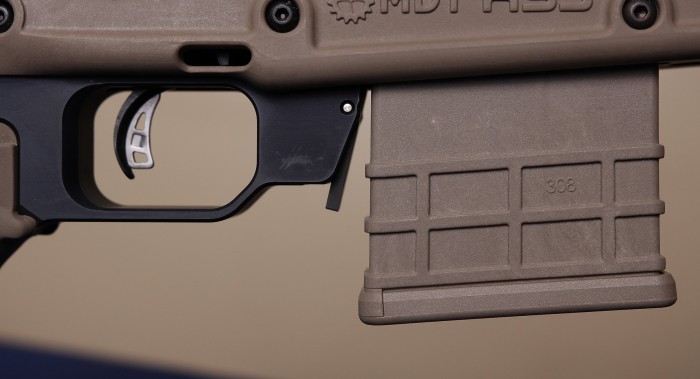 The other important upgrade you get with a stock like this is by moving to a standard magazine system. MDT uses the AICS style of magazines. 5 and 10 round magazines are readily available for this system and the rear toggle release is faster in use and more ergonomic than the factory Savage magazine release. AICS syle magazines are made by AICS, Accurate Mag, MDT, and Magpul.
The HS3 also uses a non-beavertail AR-15 grip. In Canada, it's a bit harder to find accessories than in the US so I was forced to get a beavertail model Ergo Grip and then cut the beavertail off. I opted for an Ergo Tactical Delux Grip with Palm Shelf, mostly cause it looked cool and partly because I wanted to try a grip that used a palm shelf.
Summary
I had a page more of text going on and on about the differences between polymer stocks vs fiberglass reinforced vs aluminum bedded polymer, and ended up cutting it. If you're on this page, you're already looking at aluminum stock options. At a starting price of $499 CAD, MDT's stock is one of the more inexpensive full aluminum models and if you're smart at building your rifle, you might get something close to the price of a Ruger Precision Rifle, but using more premium parts that you picked out to fit yourself best. I'm going to use mine as an entry into precision rifle competitions and as a fair weather hunting rifle. Once I've had a few more seasons into it, I'll update this review with more long term use tidbits.