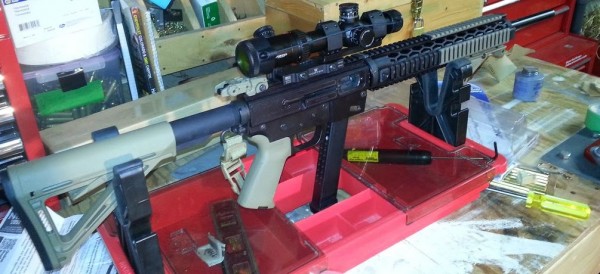 When buying a new firearm,  swapping parts is usually not the first thought that comes to mind. My thought process  usually starts with me going to the store, fondling a potential new purchase and trying to resist the initial urge to buy it.
I will then go home and try to read as many reviews as possible, paying close attention to the negative reviews as well as the positive. Negative reviews will help to point out possible mechanical issues, availability of parts / service and maybe even buyers remorse, the positive reviews will help to ensure the particular gun will be a good purchase. If I'm really fortunate, someone at my range will be using the particular gun that I'm interested in and are generous enough to let me bang off a few rounds. An example of that being the Benelli M4 shotgun that I purchased,  but that's a post for a later date.
I bought my JR Carbine, during a Western Canada road trip with my brothers in the summer of 2012,  I was looking to bring back a firearm as a souvenir from my journey out west, and I was looking to buy a non-restricted and now non-registered rifle black rifle.  While stopping to visit family in Moose Jaw, my cousin and I went to Avolea to visit Pairie Gun Traders (http://www.prairieguntraders.ca/), a fantastic little store, with great service and  selection of firearms for sale.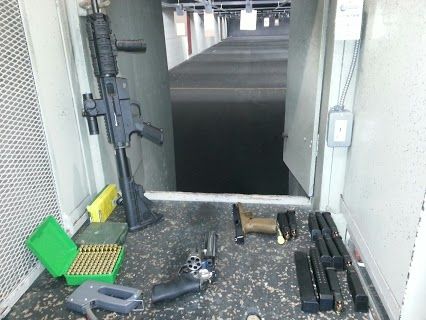 While at Prairie Gun Trader, I fondled several firearms, and I was torn between the Keltec SU-16 and the JR Carbine. I didn't quite like the feel of the Keltec, the polymer receiver was a bit of a turn off for me. I had read negative reviews where the receiver was cracking, and I didn't want to take the chance.  For the JR Carbine, the only negative reviews that I could find, were cycling issues with the 45 ACP version of the rifle.  When I handled my soon to be purchased rifle, the fit, the feel, the finish was great, and the rifle just felt right against my shoulder.
The four  biggest selling points for the JR Carbine:
Firstly, a centre rifle rifle in (relatively affordable) 9×19 mm ammo
Secondly, it used widely available and reasonably priced Glock 17 magazines
Thirdly, the rifle shares many parts as an AR-15, such as the stock, grip, trigger, safety selector, making repairs and possible upgrades in the future easy
But the biggest of all,  the rifle is non-restricted!
When I initially bought my JR Carbine, I was happy with just the factory layout and was running the rifle with a SPARC vortex red dot. However, in the fall of 2013 after seeing other JR Carbine owners upgrades on CGN,  I decided it was time to swap parts on mine.


List of parts added that I purchased for my upgrades:
Magpul M.O.E Stock – milspec
Rainer Arms buffer tube
Magpul M.O.E angled foregrip
Magpul M.O.E grip
Vortex ADR Cantilever QR Ring Mount 3″ Offset W/ Quick-Release
Vortex Viper PST 1-4 MOA illuminated reticule
JR Carbine – Tear down and reassembly with new parts video
After swapping several components, I wasn't fond of the stock 4 rail hand guard, it took some time, but Canadian Tactical Cowboy supplies (CTCsupplies.ca) had the Yankee Hill Machine Diamond forearm rifle length in stock and I snatched one up and performed the swap.
JR Carbine – 4 rail handguard swap video
The biggest hurdle to the swap, was the anti-rotational screws not lining up with barrel nut, this problem was solved, by using a VW transmission drain plug washer as a shim. I sourced the part from a local VW dealership.
JR Carbine – Range video
After swapping out all the components, I'm happy with the way the rifle looks, it definitely catches the eye at the range, however, the biggest draw back is now the additional weight. Sadly, I don't have a before or after comparison for the weight, but the rifle has gained a few pounds.