The ATRS (Alberta Tactical Rifle Supply) Modern Sporter is a Canadian-made, semi-automatic rifle similar to the AR15, but is non-restricted. Sold in upper/lower pairs or built to spec by ATRS, the Modern Sporter is an ergonomic, flexible Modern Sporting Rifle (MSR) platform that you can build to whatever price point, weight, and accuracy you want. The stripped upper and lower combos go for about $1000. This Modern Sporter is on loan from ATRS for this review.
Building a Modern Sporter
Currently, there are two options for Modern Sporter buyers: slick side upper and forward assist uppers. Forward assists are of limited use on an AR15, so some people prefer uppers that don't even have them. Slick sides are very slightly lighter, use a bolt-on shell deflector, and it can be easier to get to the charging handle for lefties when the forward assist isn't in the way. Other people prefer using the forward assist when press checking their rifle or following military doctrine to make a mild jam into a really bad one 😉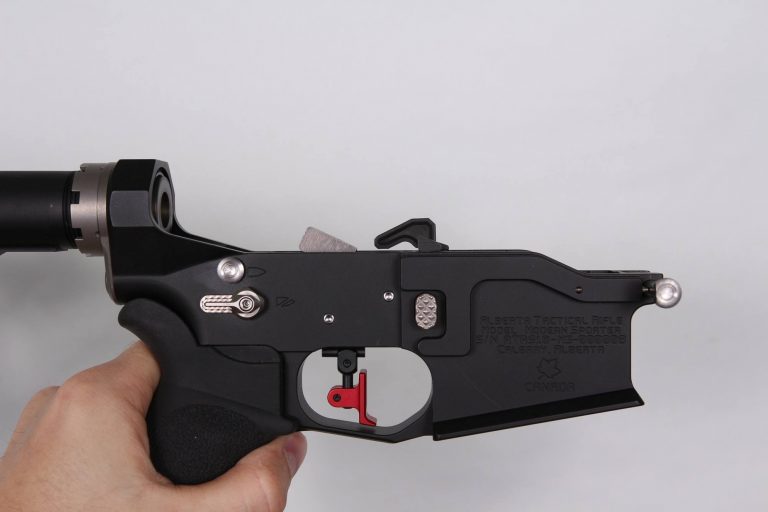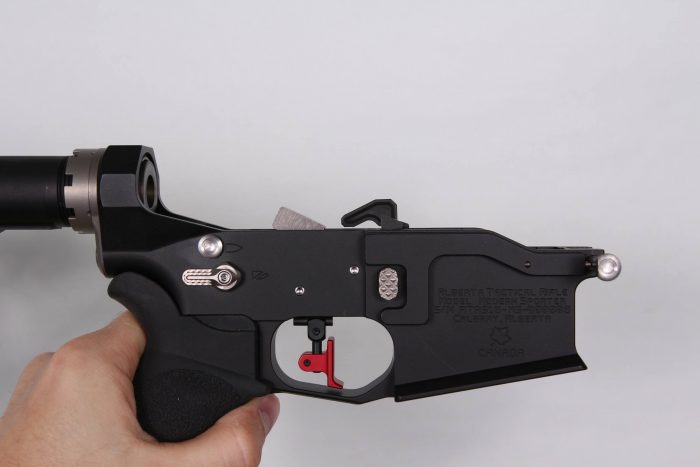 The only practical build difference between building a Modern Sporter and any other AR10 or AR15 platform rifle is that the uppers and lowers go together slightly differently: the rear takedown is a hook and the rear pin does not need to be removed. In fact, it does come with a fixed pin in the rear, but you can remove it if you want to put in fancier parts, such as the case in this rifle. The upper and lower separate just by removing the front pin and sliding the upper forward. While there were a couple restrictions on the first run of lowers, such as needing to use carbine extension tubes and not being able to use A2 buffers, the second production run fixes those issues. So in building one of these rifles, you use standard AR15 platform parts and build whatever rifle you want. You'll probably want a 18.5″+ barrel so that it stays non restricted, and due to the $1000 starting price, most people are probably going to choose premium quality components rather than cheaping out. To see how other people are building their Modern Sporter rifles, check out this thread.
For major components, you'll have to pick:
The barrel is probably the most important decision. High quality AR barrels deliver sub-MOA accuracy. Heavy barrels will generally shoot accurately with more kinds of ammo and take more shots to get hot before a skinny barrel will. If you're building a low weight rifle, a low weight barrel is going to be important. Longer barrels will deliver more velocity, while shorter barrels are handier and lighter. This is also the time to pick a cartridge/chamber: 5.56 based, or something interesting like 300 Blackout or something that can be used for hunting deer like 6.5 Grendel.
A nice trigger is important to enjoy a rifle. Thankfully, there are plenty of really nice drop-in trigger packs that'll work in this rifle and are in the $170-350 range.
Magpul stocks are popular, but some prefer the MFT Minimalist for even lighter weight or they go the other way and get a full sized PRS or UBR stock for maximum comfort and adjustability.
Most people will choose a lightweight aluminum forend with M-Lok slots for flexibility.
There are other flourishes to choose from: what kind of grip, BCG, muzzle device, whether to get extended mag releases or bolt releases, adjustable gas block or non, short throw safety or regular, adding on a buffer tube end plate that has loops or a QD sling connect spot, etc. You'll also need to choose an optic of some kind. Because of the starting price, I'd expect that most people will run an optic of some kind. Low magnification optics like the 1-6 Vortex you see on this rifle are really gaining in popularity, but I'd expect that Modern Sporters setup for hunting would have mid-range magnification such as 3-9 or 4-14. I'd be shocked to see a Modern Sporter with iron sights as the main sighting system.
What's on this rifle?
Magpul enhanced rubber buttpad
Magpul CTR stock
BCM Mil-spec buffer tube
V7 Titanium castle nut and end plate
JP Silent capture spring
ATRS Modern Sporter slick side upper and lower
BCM bolt carrier
BAD takedown pins with additional modification to allow rear pin on receiver.
Timney Calvin Elite trigger
Strike industries dust port cover (polymer)
Geiselle charging handle
Vortex Razor HD Gen II-E 1-6
Vortex Precision cantilever mount
IBI Barrel blank, machine work done by ATRS
BAD Rigid Rail 15" Handguard
SLR Adjustable gas block
Ascend Armory Titanium muzzle brake
Modern Sporter vs Other NR rifles
Here in Canada, we're starting to get a good selection of non restricted black rifles that are similar to the AR15, but are not restricted like the AR15 is. ATRS's own Modern Varminter is a 223 platform non restricted rifle, and they also have their Modern Hunter, one of the first non restricted AR-facsimilies in the larger 308 sized platform. In the 223 platform rifles, the Modern Sporter will compete closest with the Maccabee SLR. Comparing the SLR to the Modern Sporter, the Modern Sporter:
Has a far easier takedown method
Has a nicer finish
No trigger block thing required
Magwell is not overly tight
Roll pin holes are all regular spec
About the only downside is that the Modern Sporter is in high demand and there's a wait time to get one in your hands.
What can you use a Modern Sporter for?
Anything you want to use a non restricted rifle for. Plinking rocks in a gravel pit, taking out to the cabin for some shooting, etc, etc. Bulk, non corrosive, brass cased 223 is super cheap and fun to plink with. Hunting coyotes would be fun because with a good quality barrel, the rifle will shoot MOA or less, AND you have a quick follow up shot or you could take a shot at a second or third coyote. You could also go for a 6.5 Grendel build and hunt big game with it if you wish. It's probably the best rifle platform today if you want to shoot 3 gun with a non restricted rifle.
Conclusion
If your total budget is over $1800, the Modern Sporter is the best non-restricted, semi-auto 223 platform rifle you can buy in Canada. Because of excellent compatibility with the AR15 platform, you have an enormous selection of parts to choose from and build the rifle to your use case. With a good disassembly and no-nonsense construction, it's easy to make a great Canadian NR-AR.