Hi Everyone, Adriel here again. Just like my 2014 in review, 2013 wrapup, and most popular posts of 2012, I thought I'd do a quick year in review. I started this site in February of 2012, and a lot has happened since then. This year, I joined Slam Fire Radio as a host. I'd been on the show before, but now I'm there on a more permanent basis. It's forced me to up my game when it comes to audio and recording, which should help with making even better YouTube videos.


Last year this time, I was seeing just over 100,000 visits with YouTube and the website combined. Now, I'm seeing 115,169 views per month on YouTube and 114,000 sessions per month on the website; about 2.5X the traffic from last year.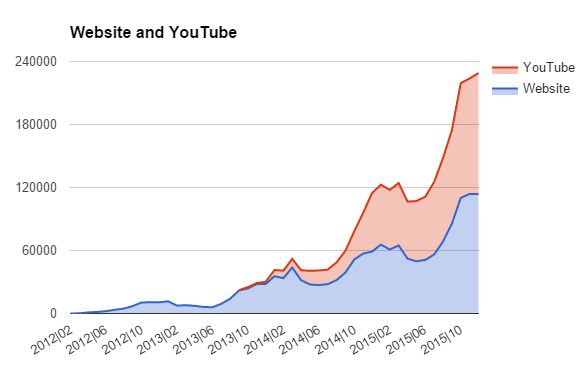 YouTube has proven to be a good companion platform to the website. While there isn't a lot of crossover between the two, there are some things that are easier to show via video, such as installing an Apex Competition Action Enhancement Kit on my M&P. I've also decided to not worry about putting the odd tactical or non-hunting related review up on the site. Lots of shooters out there are hunters, and vice versa. I continue to get hammered in the YouTube comments section for my negative review of the Remington 770. The low price on the rifle attracts a lot of new shooters and I think they take it personally when I talk about the flaws in the rifle.
This year, I purchased a camera capable of 1200 fps so I can do slow motion shots like this as well as an inexpensive camcorder that can do 1080p at 60fps, focuses faster than the SLR I was using, and is handier to take out to locations where I need to shoot.
For the last 2 years, I've been buying more equipment that is popular and readers have been asking for reviews on. My most recent review-specific buy was a Mossberg Blaze. Luckily, more manufacturers and retailers have been offering to send me equipment to test and review. It's hard to justify to my wife buying more than 2 pairs of hunting boots!
What's coming up for 2016?
Coming up for 2016, you can expect some changes in the types of equipment I review. With reviews complete for most of the budget bolt action rifles like the Savage Axis, Ruger American, Remington 770, and Remington 783, I've got most the bases covered there. This year I'd like to review more shotguns, rifle scopes, general hunting gear, and 3 gun gear. I know, 3 gun isn't really hunting, but I think it's fun and there are NO Canadian blogs covering 3 gun and the interesting challenges around gear here. I've got a much higher quality microphone on the way here now so I can squash recording quality problems I've been having on Slam Fire Radio.
In the near term, you can expect reviews on:
Adler A110 Lever Action shotgun
Dagger SAP-6 shotgun
Uzkon BR99 shotgun
Bergara Rifle
Benelli M4 Shotgun
Video review on Ruger Precision Rifle to complement my written article.
Written article to compliment my video reviews on the XMetal AR500 Bear Target and Rimfire Target
As always, thank you for reading and watching the stuff I produce. I enjoy making videos and writing articles, and I'm happy that you like them too.