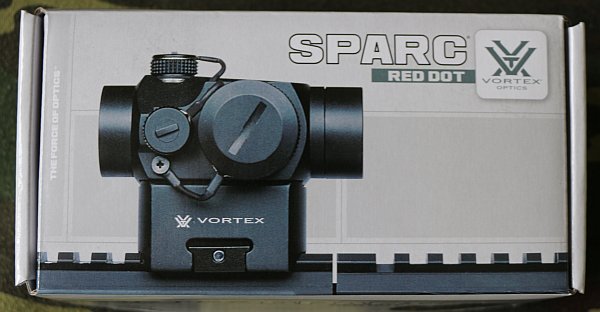 The Vortex SPARC is a midrange priced red dot great for use on AR15's, 45-70's, shotguns and other rifles where short range, fast shots are required. At the low range, you have Tascos, Bushnells, etc for about $100; at your high end, you have EOTech and Aimpoint at $400-$900. The SPARC fits in the middle at about $200 including mounts. That's an important consideration when mounts for the pricier red dots go for about $50-$125.
What's in the box?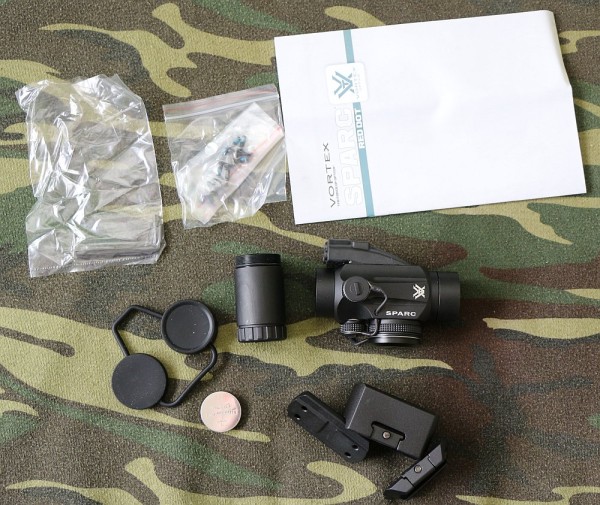 A lot, if you're used to buying riflescopes! The box comes with 2 low height mounting options, an AR co-witness mounting option at 37mm, plus a combo of the two for a 1/3 co-witness. Also included is the rubber lens cover strappy-thing, 2 CR2354 batteries that should each last a bajillion years, and a screw-on 2X magnifier. The 2X magnifier is really handy for sighting in the red dot and giving a little extra oomph when target shooting, but I prefer the SPARC without it. It interferes with good "2 eyes open" sighting that's excellent with 1X magnification, and it really narrows the field of view in the sight. Both eyes open sighting and target acquisition is a bit of an eye opener if you've been used to 3-9 scopes, and it really speeds up finding and engaging new targets. So I relegate the 2X magnifier to sight-in duty only.
Batteries and power
The most critical issue with using a powered optic is how quickly it can be brought to bear and how long it lasts. Thankfully, the Vortex offers a quick touch "on" for the dot. A simple click on the left of the red dot turns it on, while a lengthy 5 second hold is required to turn it off. Battery life at typical brightness is 120 hours, which is pretty good for a midrange optic. A high end optic like an EOTech could last more than 600 hours even on max brightness, while low end optics can come in quite a bit less. The compact 2354 batteries can be easily be fit into a grip hollow or other place on the gun as backup, though I'd be more impressed if the sight used a common CR123 for power.
Usability
Use of the SPARC is VERY straightforward. The typical brightness setting is fine for mid-day, and remained untouched while I used it. I did turn it down as dusk settled in, and that was very easy thanks to the easy up/down arrows on the back of the sight. I would prefer to see the NightVision button as smaller and harder to hit since the majority of users wouldn't use it, and most hits of the NV button would be accidental. It's on the outside of the red dot and is too easy to accidentally bump while using. The power button was easy to use, and while somewhat inconvenient to turn off, I'd hate to suggest something more convenient that would compromise the design or excellent reliability. The rubber "bra" style scope caps suck, regular flip-up scope caps would be much easier to pop up should you emerge from the bush and see a coyote or deer. Adjustment of windage and elevation is easy with the wired adjustment caps, but . . .rough. 1MOA click adjustments is just a bit big in my world; I could live with .5 MOA adjustments, but 1MOA leaves me wanting. The safety wires don't really impede use of the caps and they ensure that the caps don't fall down a sewer grate or down into a field or something silly, which is excellent. I don't know how much experimentation they needed to do to get the tension and wire thickness/braid just right to retain those caps, yet leave them free to spin, but they did an awesome job.
Quality
Build quality is a bit tough to measure, because I'm too much of a wuss to beat the crap out of my SPARC. Thankfully, some nutjob saint has done that for me. PreachermanMATT on AR15.com put the SPARC's claims of waterproof, weatherproof, and shockproof-ness to the test in an epic thread here: http://www.ar15.com/forums/t_3_18/488888_Vortex_SPARC_Review.html. I'm not willing to subject my property to that kind of abuse, so check his thread out if you're interested to know what the SPARC can endure.
Overall
I think the big question most people will want to ask is "can I buy this instead of an EOTech or Aimpoint?" You can't, unless you change your requirements. This sight does not last as long on battery, and will not be as robust as an Aimpoint or EOTech. If you're not going to treat your optics like shit, and you're willing to keep an extra battery around and changing that battery will not mean instant death, I can't see why you wouldn't want to go with a mid-range optic like this. A lot of people out there are convinced that you need to buy the most expensive, best stuff out there, no matter what your mission. But if your mission is to shoot a few coyotes or have a better-than-irons sight on your short range gun, there's nothing wrong with going with a red dot like this. It's certainly more likely to sop up abuse better than a Tasco, and the optics are pretty good. So if you're not engaging OpFor, take it easy on your wallet and buy something "good enough" for moderate civilian use.
SPARC vs Strikefire
If you've been browsing the midrange red dots, you might have come across the Strikefire, also by Vortex, and also in the same price range. Where these systems differ is primarily in size and dot MOA. The bigger Strikefire looks like a mini-scope, and comes with a single 30mm ring to mount, while the smaller SPARC comes with multiple skeletonized aluminum mounts to fit a few different mounting requirements and uses a smaller 2MOA dot. While they both have very similar controls, the smaller SPARC will mount lower and comes with a more streamlined package. The Strikefire offers a larger view, with a 1.45″ objective vs a 1.1″ objective on the SPARC. The Strikefire comes with flip up caps, which in my own opinion, are better than the rubber scope caps that the SPARC comes with. To summarize:
Strikefire advantages:
Better field of view

Better scope caps
Standard tube size: you could more easily customize the red dot height using commercial 30mm rings if you needed more adjustment options.
SPARC advantages
Smaller, more snag-free design

Smaller, finer red dot (2 vs 4 MOA)
Comes with mounting options for several different heights. (2 different low mounts, co-witness, 1/3 co-witness)
Safety wired adjustment and battery cap (you can't lose them)