It's here. The same guys behind M14.ca have started to produce aftermarket parts for the T97. If you look back to my review on the Norinco T97, you'll see that there are 2 issues I had with the rifle: ergonomics and optics mounting. Simply put, the carry handle on the T97 precludes low mounting of any magnified optics. There are native mount scopes, as well as a picatinny rail that you can mount on the native rail, but they still force you to use a bulky cheek-rest, or dealing with a terrible chin-rest. The T97.ca FTU is designed to enable much better mounting of magnified optics. This FTU was provided by T97.ca for review.
Video Review of T97 FTU
I'm making an effort to include more video of with my reviews where it makes sense. Here's my T97 FTU review on YouTube, along with a little bit of shooting action:
The T97 Flat Top Upper as an Optics Mount
This is what I was most interested in, because I wanted to use my Norinco T97 as a coyote rifle. The T97 is compact, easy to carry on a sling, accurate enough, and very fast on follow up shots. As a left-eye dominant, right hand shooter, I get eye strain from using iron sights if I use them for too long. The iron sights on the T97 are particularly small, and the 100 meter setting is outrageously tiny. I had very workable accuracy with the iron sights, even firing on steel plates at 300 or 500 yards, but I just wanted more accuracy and less eye strain. Any scope mount needs:
To be very solid. Fore/aft, side to side, or rotating movements are unacceptable in a scope mount. They have to be rock solid.
To be light.
To offer enough flexibility for scope mounting. 2 piece rifle bases are usually too far apart to use some scope mounts. Picatinny rails offer the most flexibility, and long ones can be used with night vision setups, or red dot + magnifiers. A long pic rail also gives you a lot of options on eye relief and scope mounting distances.
To not get in the way of cleaning. Mounts on "red rifles" are particularly bad for this, with many preventing typical maintenance and cleaning.
Easy enough to install.
Solid: Absolutely. The FTU uses a steel clamping unit on the rear sight post and a sturdy aluminum clamp on the front.. The aluminum upper also has a tight fit on the sides of the sight posts, with some rifles (mine included) requiring additional filing to press fit the rear sight post on. The unit comes with the correct loc-tite and major screws come with side set screws that prevent the main screws from walking out.
Light: Kinda. Picking up the unit in your hand, it's way lighter than it looks, but even after deleting the sight post tops, you're still going to get a bit of weight gain. In exchange, you're getting a full aluminum upper picatinny rail, plus side mounting placements, so it's hard to complain. The entire rifle package, like all bullpups, balances incredibly well even though it comes in heftier than a typical AR15.
Flexibility: Oh yeah. Consider this, an ARMS 18 is $220 and offers a tiny bit of rail space and no where near the solidness of the FTU mount. For a little over $300, you're getting an enormous rail space, new side mount options, and a nice low mount. The ARMS 18 on an M14 usually requires a cheek rest, gets in the way of ejecting shells, and can be finicky to install.
Cleaning: Just a little harder to knock out the gas piston, otherwise a complete non-issue. Stays attached to the barreled action through cleaning, and doesn't get in the way. About as good as you could hope for.
Installation: The gist of the installation can be broken into 3 parts:
Sight post modification.
Charging handle removal.
Fitting and installation.
I wouldn't consider myself a Dremel expert, but I managed to get the sight posts removed in about 10 minutes. Was I worried about permanently modifying my rifle? No way. I bed, stiffen, and tune nearly all my rifles, so the prospect of permanently getting rid of the bad factory iron sights didn't faze me one bit. I did break a lot of cutoff discs pushing too hard, but after I let the disc do the cutting, things went smoother.
The factory charging handle is easy enough to remove with a drill bit and punch. It's not necessary to drill all the way though, just enough to where it's been compromised and can be punched out.
I took my time on fitting and installation. I used a tough enamel paint on any bare surfaces so that rust wouldn't be an issue (once installed, the FTU doesn't really need to be removed) and I took a decent amount of time to sand and get a good fit. After 2 days of firing 100+ rounds, the upper is still rock solid, so I'm happy with the solidness and installation.
Features
With most scope mounts, there aren't any features other than "can mount a scope", but there are a few notables with this one.
The non-reciprocating charging handle is interesting. Deleting the factory charging handle is necessary to get a nice low rail, and T97.ca have chosen to include their non-reciprocating handle rather than a reciprocating one. There are pros and cons to both approach: the non-reciprocating handle adds some resistance to charging the rifle, but it doesn't rocket menacingly back and forth right next to your face like a reciprocating handle would. In any case, the handle is very easy to grab, even with heavy winter gloves.
The upper also includes side mounting points for Magpul or M14.ca pic rail mounts, and while I originally thought I wouldn't use these, I've had a change of mind. While the tactical guys like the flexibility of these side mounts for lasers and flashlights, I think I might use mine for a QD (quick detach) sling mount up front. The factory T97 sling mounts are an odd size, so the closer I get to more standard sling mounts, the better. The side slots will make it a lot easier for me to get standard sling mounts rolling.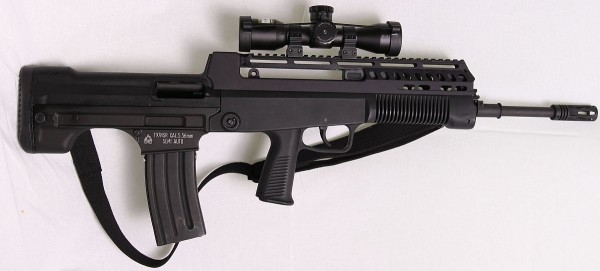 Accuracy
I achieved 5 MOA groups with Norinco CJ95 surplus ammo. The stuff isn't the greatest, and I'm keen to try different reloads. I did get to try some varmint grenade reloads, but wasn't able to get any better than the surplus stuff, which tells me that I need to keep trying other types of ammo. I'll keep this article updated once I've tried other types of ammo.  ****UPDATE****: See my T97 vs AR15 range report. Long story short, I'm getting 2-3 MOA with the T97 and a fixed 3X scope, which is very workable for a battle rifle like this. With a little bit of further ammo testing, I expect to get down below 2 MOA.