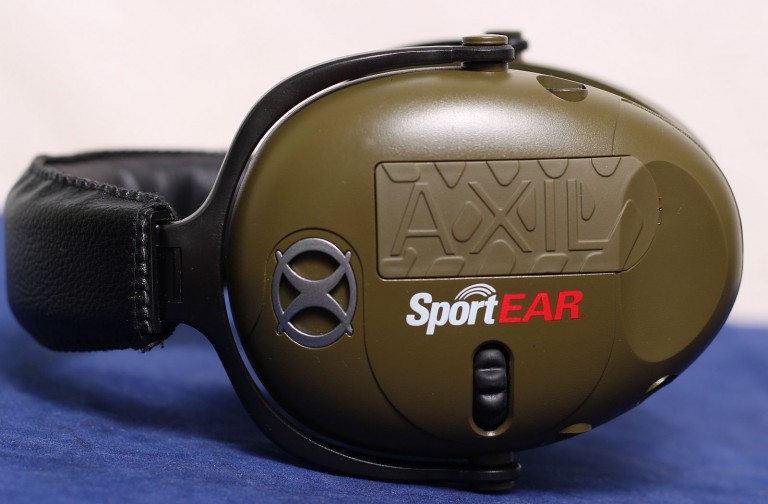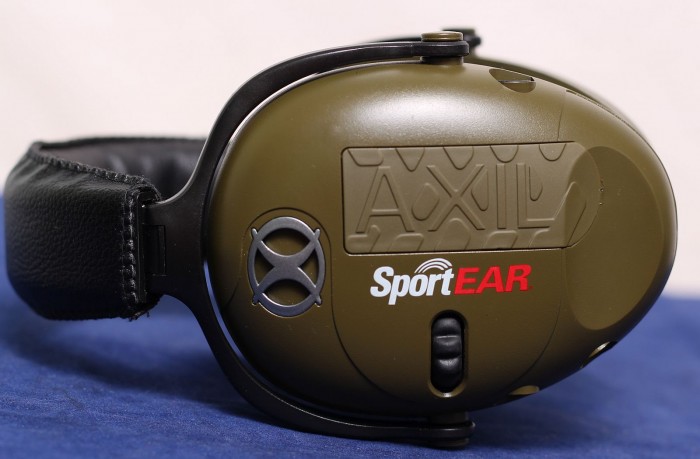 The SportEAR Axil M-4 Electronic muffs are a new entrant into the electronic earmuff category. While you used to have to spend $200 to get a good pair of electronic muffs, sets like this are really driving the price point down. The M-Series got its start on Kickstarter with the 2 microphone M-2 and the 4 microphone M-4, and now has a page on Indiegogo. These muffs use completely separate electronics per cup, and they use sound compression instead of cutoff. Note: this is a pre-production demo unit supplied by SportEars. It's missing the transition pieces that hold the top padding captive. Final production units may be slightly different than this one.
Electronic Cutoff vs Compression
The 2 most common means of electronically cutting out loud sounds like shots are to either cut the mic's power for a short period of time or to reduce just the volume of whatever is being loud. The former, cutting out when there's a loud noise, is more inexpensive to design and build, but it can be hard to follow someone's conversation at a busy shooting range. It almost sounds like you're on a cell phone with a bad connection that keeps cutting in and out. Sound compressing electronic muffs like the M-4 pictured here compress the amplitude of the loud noises instead so you can talk and even hear the supersonic crack of your shot as it heads downrange.
2 Microphone vs 4
Running 1 microphone per cup, you can still locate sounds, but you may have to move your head back and forth a bit to figure out if the sound is coming from behind or in front of you. With only 1 speaker per ear, your ear's natural direction finding capabilities are hampered just a bit. When you go to 2 microphones and 2 speakers (or more) per ear, you get more of that surround sound effect and can directionally find the source of the sound instantly. If you were to need to figure out if a sound was coming from above or below, you'd need another set of mics and speakers, but in our normal hunting and range trip adventures, up and down is usually not of much concern.
This makes the M-4 a better choice in hunting situations where a quick crunch of a leaf is the difference between hearing and locating game and losing it. Who wears hearing protection while hunting? Well, if you're running a brake or a large magnum rifle, or are taking multiple shots in a cull, you should really look into it. Hearing loss can be permanent and I know people who made poor decisions when they were young (who doesn't!) and lost big portions of their hearing. If you're just heading the range, a 2 mic setup will be fine.
SportEar M-4 Controls & Features

Recessed Microphones. Rather than using large exterior microphones, these muffs use small entrance holes and microphones inside the headset. This reduces the chance of damaging the microphone or ripping off the foamy windscreen (like I did on my Caldwell eMax muffs).
Dual power/volume adjustment dials are conveniently placed and are easy to actuate. Again the dial on my Caldwell is quite tight and is somewhat hard to get to when you're wearing the muffs.
Dual aux jacks in. Part of the deal with completely separate electronics per cup is that you end up with a jack per cup. That means you'll need a splitter if you want to listen to music in stereo, but it also means there's no exposed wire running between the cups and it also means you can plug in to listen to music on one ear and leave the other for listening. If you plugin on one of the jacks, it turns off the microphone for that cup so you just get your tunes.
25 NRR on the M-2's and M4's is better than many other electronic muffs. I found it was fine for standard rifles/pistols, but you may want to add earplugs if you're shooting anything really big, or anything with a muzzlebrake. I found that they were great for pistol shooting in indoor shooting ranges, though I needed to add earplugs for rifle shooting indoors and when shooting my braked AR15 with a roof overhead.
The cups themselves are thin enough to keep out of the way for me while shooting. I had no problem running these muffs while blasting clays with my shotgun. It's important to note that they squeezed out 25 NRR in a slim cup design, because usually the slim cup versions lose a few db. In my opinion, "fat" or full sized cups are only really useful for pistol shooting as they get in the way of a good cheek weld for rifle or shotgun shooting. Each cup is powered by 2 AAA batteries that are easily accessible from a sliding door on the outside of the cup
SportEar M-4 Quality
I feel like this is really where the rubber meets the road. The M-2's are comparable in price to Howard Leight e-muffs, but the difference in finish and materials is pretty big. On the SportEars, the cup surround is thick and the pressure that the headband applies to them is solid. This results in an excellent seal around your ears, even with shooting glasses on. The lack of external wires and microphones gives the headset a simple appearance and would likely help with durability, but I'm not about to crash test these muffs to find out. The headband itself is plastic with padding that uses a system similar to Walkers.
SportEar eMuffs vs Competition
The SportEar M2's compete in price range with Howard Leight Impacts and Walker Game Ear's while the slightly pricier M4's compete directly with the Walker Quad Muff and some of the Peltor units. For the price, the SportEar's are very competitive. Even more so at their current Indiegogo pricing because the M-2's are $56 and the M-4's are $87. So if you're in the market for a set of electronic muffs, take a look at the Axil SportEars.