Going camping when it's cool out, there are 2 things that are annoying: getting dressed to go take a leak in the middle of the night and getting out of bed to start up breakfast. The sleeping bag is so comfy and it's cold outside. What if you were the sleeping bag? Well, that's the idea behind the Selk'bag; an adult onsie snowsuit/sleeping bag thing. I asked for one in bright red because I thought it'd be hilarious, and I think I was right.
Good for around 5C (40F), but best around 10C (sleeping)
Good for up to -15C during the day when you're doing stuff. (IMO)
Weighs 2kg (4.5 lbs) in XL size
Cell phone pocket on right side upper thigh
Right size zipper to access inside pants or to stealthily rub one out
Zippered leg vents for cooling off
Folding hand covers
Insulated hood
Booties that zip off so you can use regular footwear
The Selk bag comes in a bag about as big as a regular sleeping bag, but it's wearable. The idea is that you can leave your regular sleeping bag at home and use this instead. It also pulls double duty in that you can wear it to the washroom or early in the morning to start up the campfire.
Beyond the convenience of going to the washroom while staying nice and warm, the Selk'bag has a few extra zippered spots to get access to internal clothing or to adjust temperature. You can unzip the 2 leg vents, unzip the large right pocket that also serves to provide quick access to your pants pocket, you can zip off the booties (which I think are more meant to be used inside while you use your regular footwear outside), pull off the hood, or you can unzip the large zipper at the top to lose heat. These all add up to a more flexible sleeping bag that gives you more options for cooling off if the night is a bit warmer than you anticipated. If it's a bit cooler, you can tighten the hood or put the hand covers on to retain more heat.
Little touches like the cell phone pocket and front pouch for your hands are nice. The suit doesn't have a pile of stuff you won't use and keeps it simple.
I took it out in -15C (5F) weather with jeans and a t-shirt underneath and a toque on (cause I'm bald) and it was absolutely fine. So long as I was moving around, I was perfectly warm inside. It made it super quick to get dressed too, I could get out the door in 30 seconds flat.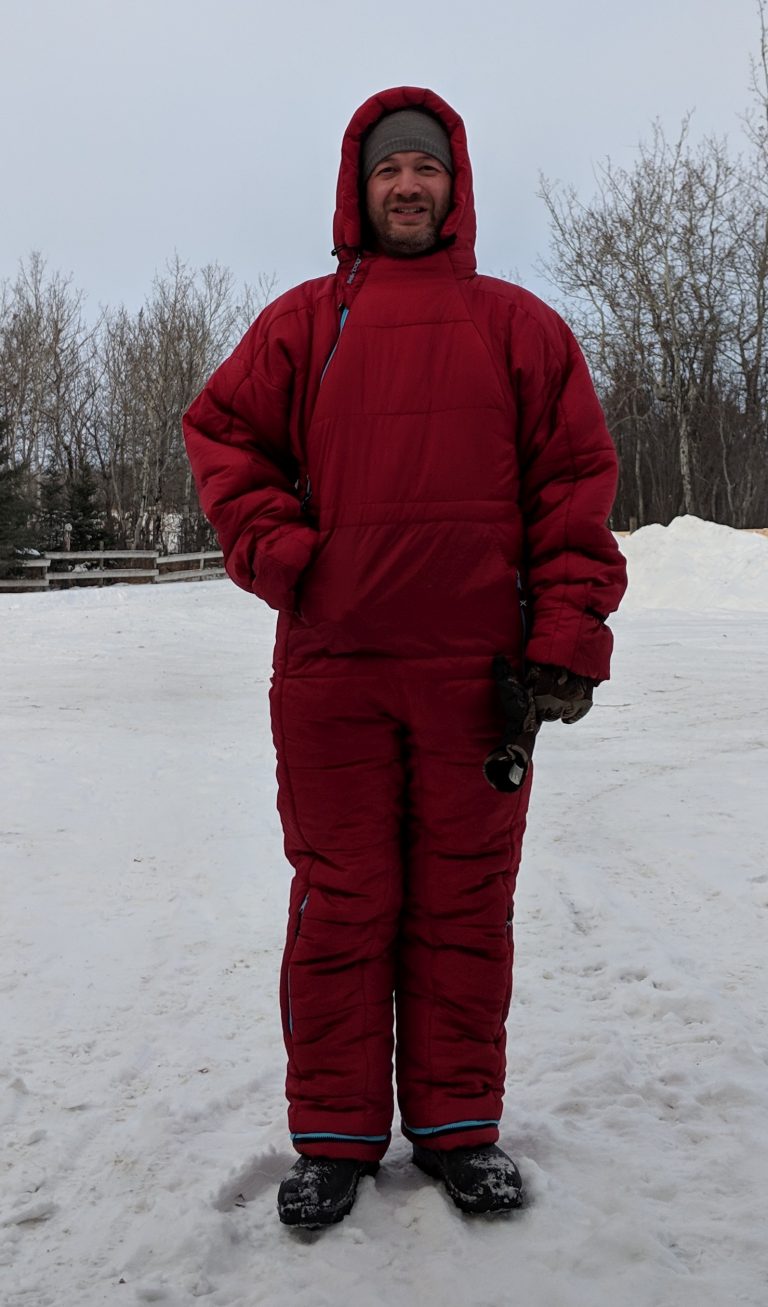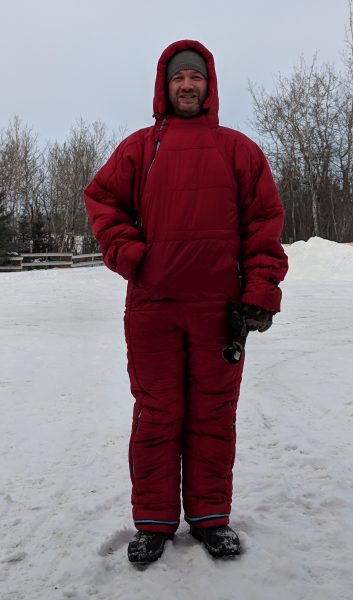 Cons
You look like a kid in a snowsuit
No rear flap for nighttime #2's
Really, I think the utility of a garment like this is that you can reduce what extra clothing you need to take on a camping trip. Tent, sleeping pad, Selk'bag, and go. It'll mean less bulk to pack, and you might be able to get away with leaving a jacket or heavier pants at home. If that sounds like something you'd be into, check out the Selk'bag.