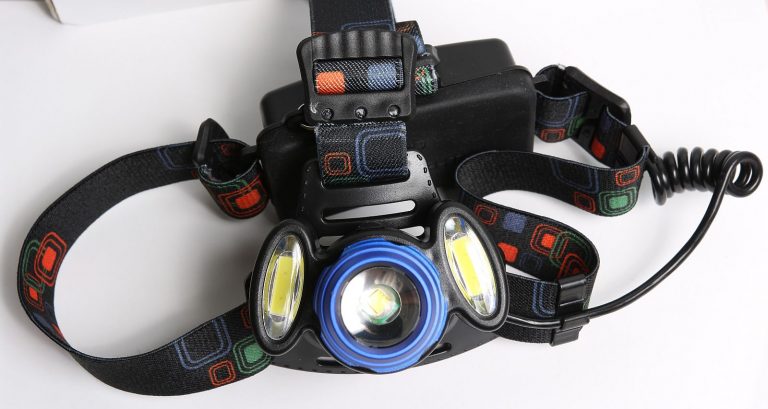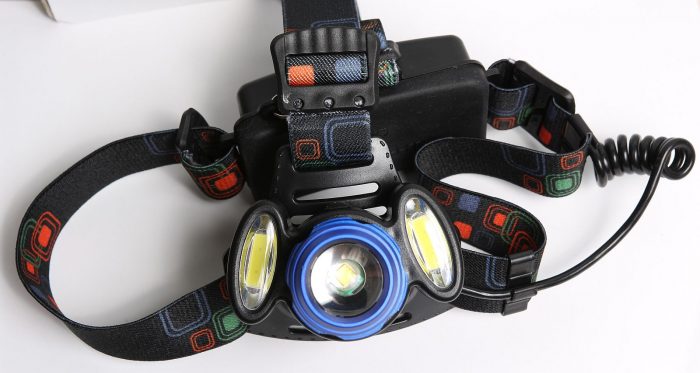 The Probe Shiny 3 LED headlamp is probably the oddest looking headlamp that I reviewed. It uses a main single XM-L LED with a click-zoomable lens, and is flanked by a couple of COB-style LED's. The product listing page claims that this combination results in 15000 Lumens, which is laughable. This combo would be lucky to hit 1/10th that claim. The main LED puts out a blue, poor quality color light, and the side LED's create an oddly tall X pattern of light that isn't really usable. At 237 grams, this light is a bit heavy and you're going to look goofy AF wearing it.
The light offers several settings: main light on, side lights on, main and side lights on, and strobe all.
When fully zoomed out, the light spreads evenly across 50 degrees. When fully zoomed, it makes a diamond shape in a very tight, 10 degree beam. The blueness on this light was very nearly the worst of all tested. The beam color is a very blue/purple color. The side lights were very dim and diffuse.
Summary
The side lights offered a beam pattern that was pretty much useless. I can't think of a use case where such a diffuse, randomly scattered beam would be needed. With the main LED putting out a terribly blue-tinted light instead of a clean white, I can't recommend this headlamp.