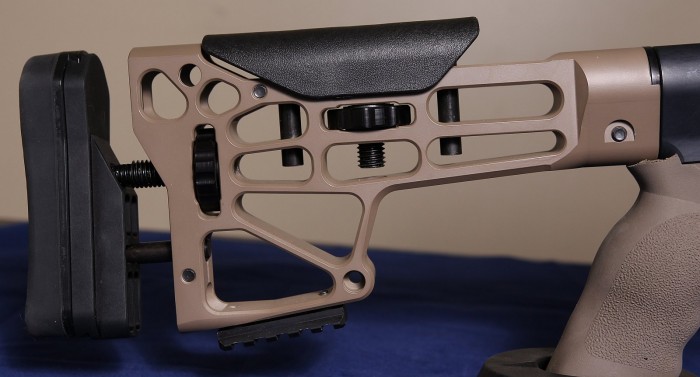 MDT's Skeleton Buttstock is an aluminum buttstock designed to attach to an AR-style buffer interface, but not use the buffer tube. Many precision tactical rifles use this style of interface to get access to the incredible range of AR-15 buttstocks. One of the most popular precision rifle buttstocks is the Magpul PRS (Precision Adjustable Stock.) But where that stock is mostly polymer, MDT's Skeleton Rifle Stock is mostly aluminum. V3 of the buttstock (pictured) has a shorter cheekrest so that you can remove the bolt from a short action.
Video Review
Adjustments
Precision rifle stocks should all offer excellent adjustability to maximize ergonomics, and the MDT is no exception. The cheek rest can be adjusted up and down, and be locked in place. The buttpad can also be adjusted for length of pull and locked. The butt can also be slid up and down in its track and/or tilted from right to left to better fit your shoulder.
Other Features
The stock features upper and lower QD sling attach points on both left and right sides. In my opinion, QD is a nice, clean way to offer lots of sling attach options without getting in the way.
The bottom of the stock is angled to ride bags, but is also drilled and tapped in case you want to mount a rail and use a rear monopod.

Installation
To install the stock, install the stubby extension tube (pictured above), loosen the crossbolt on the stock, insert the stock, and tighten the bolt. Easiest thing in the world, but make sure that the stock is fully seated on the stubby extension tube so you don't get any wobble once you're tightened down.
At 2.4 lbs, the MDT stock is heavier than the Magpul PRS at 1.9, but remember that you need to add in a buffer tube for the PRS. Other options that you may want to look at are the CTK Precision LUTH-AR, and LMT DMR556.