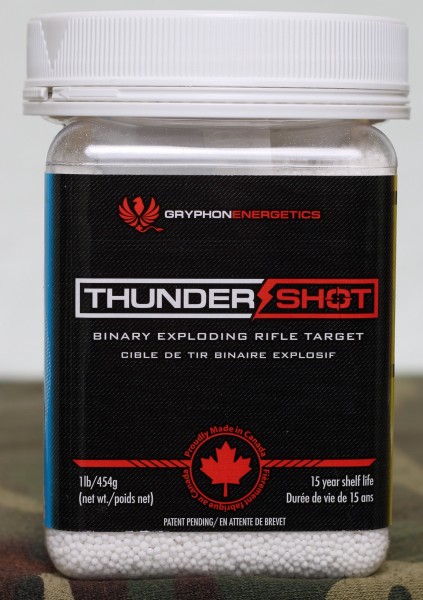 Thundershot is a Canadian manufactured, binary exploding target. Binary exploding targets were approved for use in Canada in February, 2014 and Gryphon Energetics was the first Canadian manufacturer on the scene. While many retailers started offering Tannerite or Shockwave at first, many more now offer Thundershot instead. I asked one retailer in a small town why they offered Thundershot instead of Tannerite and he gave me a simplistic answer, "Bigger boom".
I didn't believe that shop owner. When you look at the different types of exploding targets, it's all just white beads (Ammonium Nitrate) and grey powder (Aluminum) that you add. How could one have a more energetic explosion? Now that I've compared Thundershot against Tannerite and Sure Shot via some really crude experiments as well as slow motion video capture, I can confirm that it's more energetic, but I don't really know why. Thundershot looks like it comes with more Aluminum powder and it's slightly different colour, maybe that's it? Whatever the reason, it fit what the shop owner said.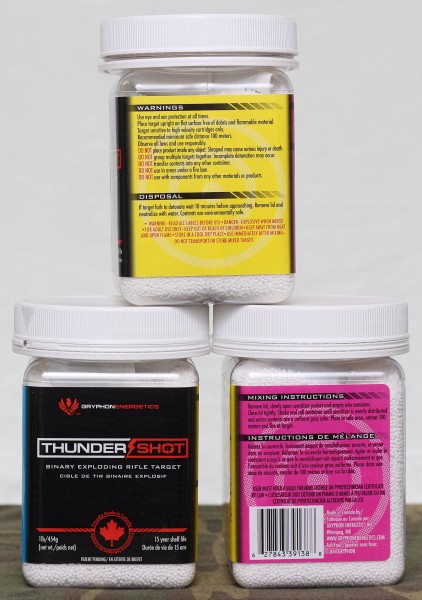 Packaging
Binary exploding targets come in a few different styles of packaging. Tannerite requires use of a second mixing container and transferring the powder a few different times. Sure Shot comes with a plastic bag that you mix in, Shake and Bake style. Thundershot uses the container that it comes in; all you have to do is open the aluminum package, mix, and use. After shooting a few containers worth of targets with other systems, you might end up with aluminum powder all over your hands. It's kinda sticky and gets everywhere, so less handling is always better. The Thundershot is the easiest to mix and use. Once mixed, the Thundershot mixed powder doesn't reach the brim of the container, but it doesn't seem to matter at all.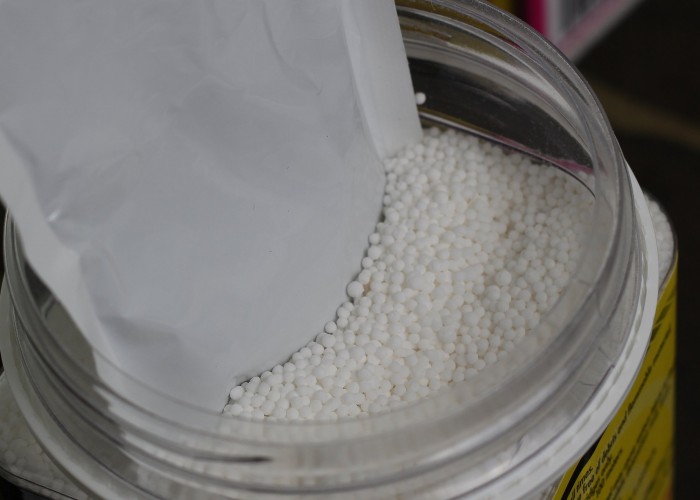 Cost
Most binary targets go for $100 for (10) 1lb targets, which comes out to about $10 per target. There's no practical cost difference between the three targets I tested. $10 per shot is relatively cheap when you start to compare it to the cost of fireworks and how easy and safe it is.
Overall
At this point, I don't know why Canadians would buy any of the others. Bigger boom, sure, but Thundershot is also easier and cleaner to mix, and the various label colours even give some options if you need more contrast with a different coloured background. It should be the obvious choice of exploding target for Canadians.
Slow Motion Video
Video Review