I thought I'd crack out a quick review on the Bushnell Trophy XLT 1.75-4 x 32mm Circle X scope. This is a mid to short range, compact, value priced scope. You might look to a scope in this class to top off a beater 30-30, truck coyote rifle, or even a shotgun or crossbow where compactness is very nice to have, and price needs to stay reasonable. Keep in mind that the optics aren't going to be stellar; this scope runs a claimed 91% light transmission, but there's a lot of ground being made up on quality you get for the value priced scopes. If compactness isn't important to you, go on up to Bushnell's 1.5-6×42 or even a 3-9×40.
Bushnell Trophy XLT 1.75-4×32 vs Bushnell Banner 1.75-4×32
Yep, Bushnell has 2 scopes that are this close in price range with very similar capabilities. So what's the difference between them?
The Trophy XLT has fully multicoated lenses vs the (not fully) multicoated optics of the Banner.
The Trophy XLT comes with Bushnell's Bullet Proof Money Back Guarantee
Slightly nicer construction (but keep in mind these scopes' price range before expecting amazing finish)
The Trophy XLT comes with butler creek flip up caps.
Given the minor price difference between them, I believe the XLT version to be the better deal.
Form Factor
If you read my Nikon 3×32 P223 review, you'll know I have a thing for small form factor scopes. This scope creeps in a bit bigger than the Nikon 3×32, but still keeps reasonably compact, and offers some versatility in magnification compared to the fixed 3x of the Nikon. It also comes in a bit shorter in length compared to something like the Millet 1-4 DMS, yet has a bigger objective. That's important, because I've found that the Millet can't last into those last few minutes of dusk at max magnification. The 32 mm objective of the Trophy XLT 1.75-4×32 (isn't that a mouthful?) can keep it going until the last minute of legal hunting light, especially when limited to a maximum of 4X magnification.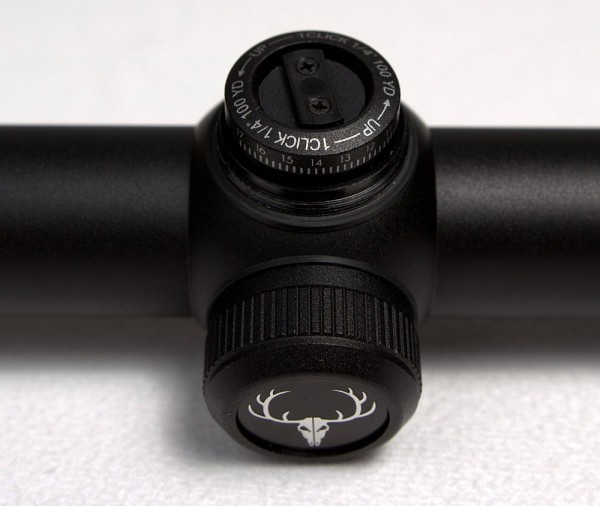 Scope Adjustments
I wanted to point this out, because this attribute felt pretty good considering this is an inexpensive scope. Under the scope caps, you'll find typical finger adjustable knobs, except that they're marked so you can see what setting you're at. I don't think anyone will seriously use these like turret adjustment knobs to hit something far off, but they're a nice, inexpensive add-on to check your adjustments. and quickly return to zero if you switch between ammo types.
Circle X Reticle
I'm somewhat curious to try out the circle X reticle. Not because I think it's going to be mind-blowingly awesome, but because I'd really like to see what kind of drop .223 will have with the scope, and whether the bottom edge of the circle matches up with a usable hold over at an easy to remember distance. Hopefully the bottom of the circle coincides with a handy distance like 300 yards so it's usable as a pseudo-BDC. Stay tuned for findings on this.
Summary
To be direct, this scope has a pretty small application. If you can afford the space, a 1-4 will give you the ability to shoot with both eyes open. Heck, if you can afford a little more space than that, you can go for a straight 3-9×40 and get a lot more flexibility on the long end. On the compact/low zoom side, you have red dots and magnifiers, but most of those setups will come in at a higher cost. What the Trophy XLT 1.75-4 does well for an inexpensive scope is combine a medium sized objective with usable low end zoom and compact size. A small niche, but a necessary one.