A while back, I put out a YouTube video on different hunting face masks and got an email from Phil at BunkerHead saying that their system was better than the masks I had. They were so confident, they sent me one of their mossy oak systems for review.  Check out my article on Best Hunting Face Masks.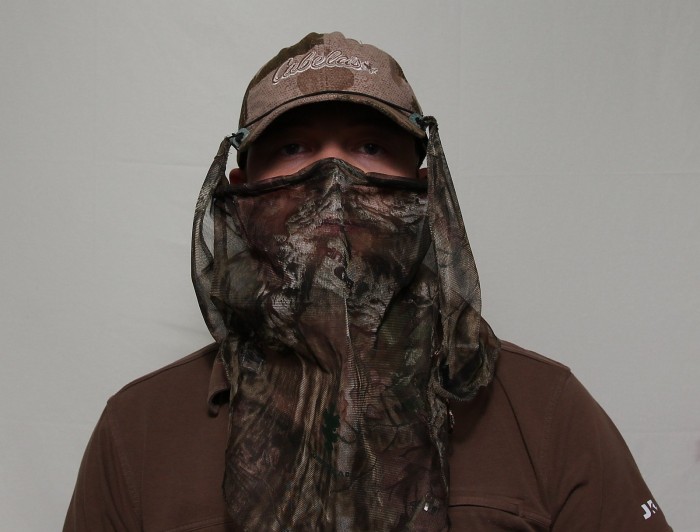 The main idea of their no-touch facemask system is that it attaches to a baseball hat, or any brimmed hat really, instead of your standard over the top mask. It uses a lot of bendable wire so that you can shape it and keep it off your face and ears, but still cover yourself well. That's really different than most face masks that keep close to your face and ears. I have a real problem with face masks that keep close to my ears because they make noise every time there's a brush of wind or you slightly move your head. The only time I wear a face mask is when it's super cold outside, or when I'm expecting game to be really close, like when I'm bow hunting. Covering your face is a good idea when hunting close because it cuts down on the amount of skin tone color shown and human skin color is NOT seen much in nature. But when doing so means that you hear SWISH SWISH every time you move your head one iota. . .it's a big tradeoff.
Video Review of the BunkerHead Hunting Mask
Primary Features (for me at least)
The BunkerHead face mask is different than my other face masks because it doesn't sit right on my face or right on my ears. It's also a very light fabric so it won't block much sound. It'd also be crap in cold weather but hey, that's the trade off for light fabric. They have a fleece version that'd work better for hunting in cold weather. I like the light fabric version, because bow season is usually pretty nice here. In rifle season, I hunt big expansive fields where I don't expect to need to hear deer walking up on me, so I can go for heavy duty balaclava's and toque's (wool knit cap for my American readers). For bow season, this is clearly the better way to roll, because it doesn't sacrifice your hearing for good coverup.
Other Features
The bendability of the mask is really important if you're out hunting for long periods of time. Sometimes, condensation from breath means that you need to open your mask up. I have a balaclava that's worn and loosened because I had to shift it around some days so it didn't get wet from breath. Hiking out to your hunting spot, you need your face open so you don't get the mask humid. The bendability on the Bunkerhead will give you the ability to do that pretty easily, as well as to drink water, scratch an itch, etc, without screwing up your mask too much.
The cord across the front can be used to retain sunglasses or other paraphernalia. I don't hunt with glasses, but I think adding foliage in that cord is neat and I'll probably do that for bow hunting season.
There's a drawstring for the mask that you can keep around the back of your neck to keep the mask from flopping around in high winds.
It's hard to deny the function of having it attach to a baseball hat. As a hair-deficient individual, I wear hats when I hunt. With this system, it's very convenient and comfortable to pop on a hat and get a mask along with it.
If you get the rear piece and the mask, they velcro together to keep them together and to keep them from moving about too much in wind.
The mask can be formed to fit pretty much anyone. I easily fit it to myself as well as my 7 year old son.
Downsides
When I first got the mask, I had to take it off the hat and look at where the bends were so that I could bend the mask to cover up my face from the side.
This system will never be as warm as a balaclava for very cold weather.
Conclusion
With most masks going for right around the $20-$25 mark, I find it hard to justify not getting one of these masks. It's more convenient and WAY more flexible than the slightly cheaper over the head style, and it doesn't interfere with hearing, which is the most important to me.