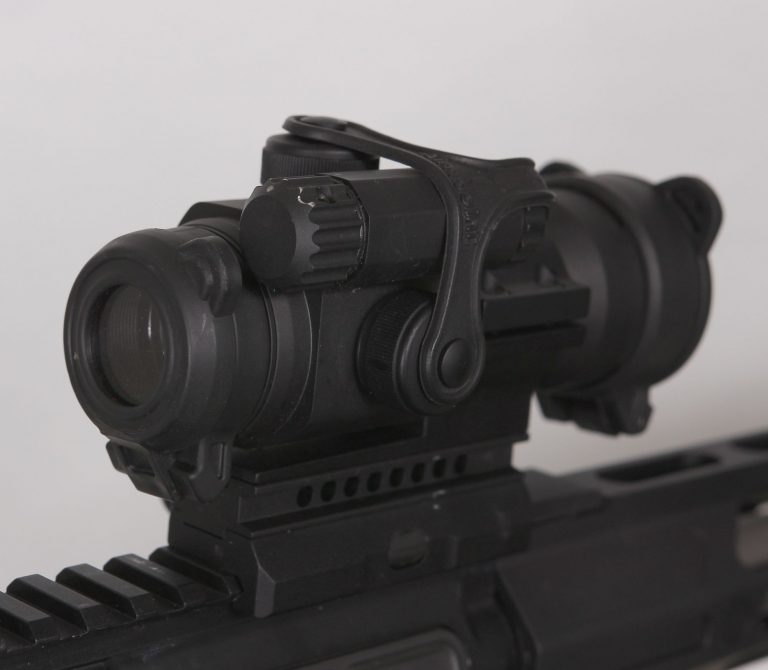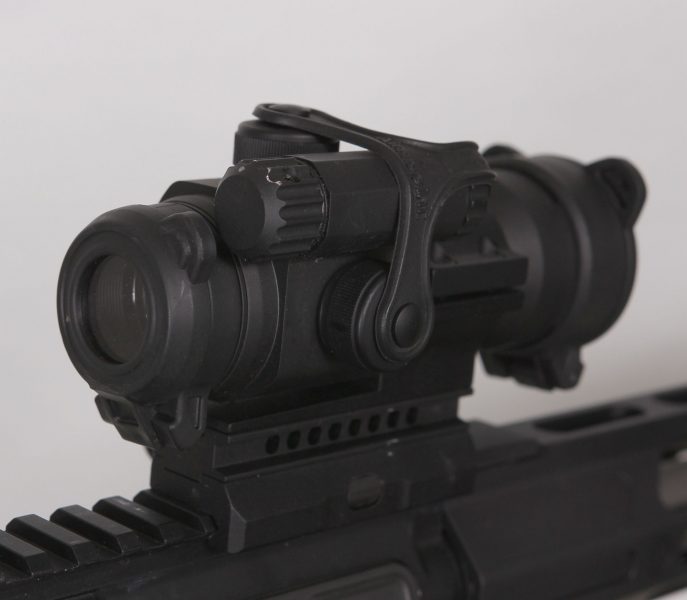 The Aimpoint PRO is a mid to high end red dot optic used by police, military, and civilians. My Aimpoint PRO (pictured) is slightly different than newer models in that it retains the scope caps and battery cap with a connected rubber piece and I've also turned my scope caps upside down so that they flip down. This is because I use my Aimpoint PRO in 3 gun and caps flipped up tend to tear off on props and other stuff in the way. It is $449 in the US.
Aimpoint Quality at Lower Cost?
I purchased this optic for 3 gun in Canada. I wanted a bomb-proof red dot that wouldn't let me down in a match. I had looked at some of the up and coming red dot brands, but I wanted something durable and I really liked how the Aimpoint PRO lasts for 3 years always on. Forgetting to turn a red dot on, or having a red dot automatically turn off partway through a match is not something I wanted to think about.
While the Aimpoint CompM4's and Micro H-2's clock in at about $1000 in Canada, the PRO is much more affordable at around $600 new, or $400-500 used. They used to sell at around $475 about 6 years ago, but have gone up in price. Funny note: although it's called the Aimpoint "PRO", it's actually one of their cheapest red dots, and "PRO" stands for "Patrol Rifle Optic", which is what their other red dots are designed for too.
Features
2 MOA dot
9 brightness settings (4 really dim for night vision use, 4 non)
30mm body if you want to change the mount
Comes with QRP2 quick mount for AR-height
Comes with flip up caps
3.5 years of battery life at setting 7, ALWAYS ON
2L76 or DL1/3N battery
The Dot
Probably the most boring part of this article: it's a clear 2 MOA dot in the middle of a large, 30mm tube red dot. The glass is clear, and while there is a lot of crap on the outside of the optic that gets in the way, it won't show up if you shoot with both eyes open. Strictly speaking, since the rear scope cap is clear, you could shoot with the dot on and scope caps closed as long as you shoot with both eyes open.
The dot's brightness is adjusted by a rotating dial at the top right of the red dot. I found that the most bright (setting 9) would bloom out and be difficult to get accuracy out of for long range shots. I found that setting 7 was good for long range, 8 if I needed a ton of brightness.
I carry a spare battery in my range toolkit just because 2 is 1 and 1 is none, but don't think I'll need to use it anytime soon. The batteries are kind of a pain in the butt to find, so order 2 at a time from Amazon and that'll set you up for 6 years of use.
The Mount
The QRP2 mount that the Aimpoint PRO comes with a spacer (the piece of metal with all the holes drilled in the side) that sets the optic at the correct height for mounting on an AR15. You can remove that spacer to mount it lower if you want to mount it on another firearm that needs a lower mount. The large knob on the side of the mount allows for quick tensioning of the mount to your rail. Just rotate it until it clicks 3 time and you're good to go.
The big knob on the side looks weird, but I just love this mount. It's not go-fast cool like a quick take-down lever, but it requires no maintenance or tools to adjust and is completely idiot proof. If you want to really trim weight down, you'd replace the mount, but if you really wanted a low weight optics you'd probably go with a different red dot altogether.
Conclusion
My Aimpoint PRO has been completely reliable and very easy to use in matches. I shoot out to 400 yards with this red dot, and it works great. It's not quite as fast at making hits at those extra long distance than a scope, but it's easier to use at close distance shooting and the 2 MOA dot is more than enough to make "3 gun difficulty" hits at long range.