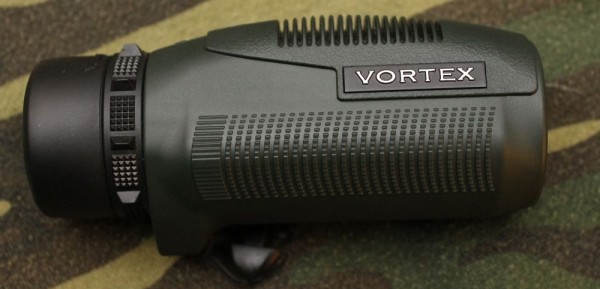 Why Hunt with a Monocular?
How much stuff do you pack on your person when you hunt? If you hunt in the cold Canadian North, you're wearing multiple, heavy layers of clothing, gloves, toque (woolen hat for you yanks), flashlight, knife, tags, your rifle, maybe a call or rattling horns. . .it can get a bit excessive. I'm really hesitant to add on extra fluff but at the same time, I don't really want to aim my rifle at something unknown. I would be upset if someone "scoped" me to see if I was a person or a deer, and I want to keep that same level of respect for other hunters out there. So if I don't have my 4X laser rangefinder with me, I carry this monocular from Vortex. It's very small and I usually have it hanging from my neck, ready for a quick glimpse to see if I'm looking at a deer, human, or a bush. The weight and bulk of a monocular is much more conveniently carried than a full set of binoculars but as you'll see later on in this review, a minimum quality should be maintained.
Overall Quality
The Vortex Solo 10X25 Monocular doesn't scream "high end", but it doesn't scream "baby me" either. It's encased in a respectable amount of soft rubber and plastic and I would expect it to take a fall off a cliff and survive. The lanyard material looks slightly nicer than standard, but the quick connection clip is a total bastard to use with heavy gloves on. Same goes with the chincy focus ring and quick-to-fog "fogproof" glass. Well, the glass might be fog resistant but if it's -20C (-4F), out and you have to hold the monocular to within half an inch of your eye, the heat difference is going to cause fog no matter what. It fogged worse when I used the twist up eyecups.
Use in the Field
Know what's nice about an inexpensive set of binoculars or monocular? You don't need to fret about the glass, you don't need caps, and you don't have to care about using a carrying case or holster. This particular Vortex unit goes for about $50, and for that price I'm not going to worry about smudging or even scratching the glass. I'd rather have a cheap unit hanging from my neck, ready to use, than an expensive unit in a hip sack or backpack with caps on. That said, there was 1 glaring issue with this monocular: it's not quite bright enough. Too much magnification with too small an objective equals not good enough in the closing minutes of hunting. In fact, I found the clarity and brightness dropping off sharply a good 30 minutes before close each day. My riflescopes were still capable, but my monocular wasn't. I thought to myself, "Man, I wish this thing came with a bigger objective." Well, Vortex does make one with a bigger objective. The Vortex 10X36 uses a relatively much larger objective and is twice the price of the smaller 10X25. If you're going to use a monocular for hunting, buy that one instead. And whatever you do, DO NOT, I repeat, DO NOT buy one of the $10 mini binoculars or monoculars. They're total crap, and you won't be able to use them anywhere near dark.