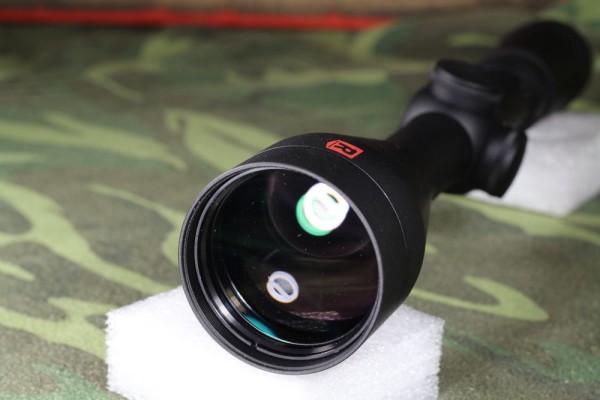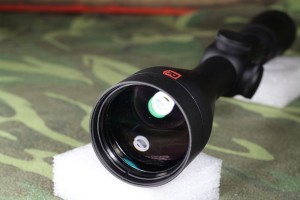 I have a personal sweet spot in riflescopes where the optical quality is "good enough" for hunting and the reliability is too. For me, that spot is most standard riflescopes that are $200-$500. There are plenty of great scopes in this range, such as Bushnell Elites, Vortex Diamondbacks, Classic Weavers, Nikon Monarchs and ProStaffs, Millets, Burris Fullfields and more. If I had to borrow a rifle to hunt and it came equipped with any of those scopes, I'd be fine. With a new rifle that I had on order, I wanted to try a newcomer to the field.
Redfield Revolution
Redfield scopes are Leupold's "fighting brand", a brand name that a premium product maker uses to duke it out with lower cost competitors without ruining their premium name. With the Redfield name, they can load a scope up on features, keep production costs low, and fight it out with the scopes I mentioned above without losing a potential $600 sale for one of their more typical scopes. Redfield Revolutions are made in the US with very good lens coatings at a very decent price.
Why a 50mm Objective?
The objective of the scope (the end pointing at the deer you're about to turn into supper) gathers the light that is then presented to your eyeball through the ocular lens (eyepiece). If you want more light into the waning hours of the hunt, you could buy a scope with better light transmission, say from 91% to 95% but that's only a minor difference. Going from a 40mm objective to a 50mm objective makes a massive difference, just like how a 40″ TV is puny compared to a 50″ TV. But it comes with consequences. The size of your objective limits how close your scope can come to the barrel of your rifle. For most hunting rifles, the closer your scope to the barrel, the better; a tall mounted scope is hard to get a good cheek weld on. It also means more weight, since you're carrying around more glass. The last consolation you need to make is on price. A 50mm objective scope will always cost more than the equivalent 40mm because of the big difference in size of glass and the difficulty in getting all that glass to the same level of quality.
Last year, I shot a deer from 300 yards at the end of legal hunting light and it laid down in a thicket to die. I had a good vantage point and should have been able to track the deer through the scope to it's final resting place, but after it entered the thicket, it simply vanished. The 3-9×40 scope I was using was at max power simply wasn't passing enough light for me to see that deer anymore. A 50mm objective may have given me the extra bit of light I needed to see where that deer laid down and saved me the time in tracking in the dark.
The Redfield Revolution 3-9x50mm
So, I was looking for a new scope for a rifle I had on order, and I had it narrowed down to a Redfield Revolution in 3-9×40, a Viper Diamondback in 3-9×40, or a Nikon ProStaff in the same. After comparing the three scopes, I found I disliked the optical image that the Diamondback gave me, and the Prostaff image wasn't quite as clear. The Redfield was the clear victor. As I went to buy the reasonable 3-9×40, I asked how much the 50mm version was. The 4plex version was $30 more, while the ballistic version was just a bit more than that. Remembering last year's hunt, how could I refuse the upgrade to a 50??
Pros
The 3-9×50 Revolution is very solidly built. The metal has a coating on it that's all business. The metal knurling is sharp and grippy.
The lenses are fully multicoated.
The accuplex reticle option is an inexpensive upgrade (on a Bushnell Elite, the difference between a 3-9×40 with regular reticle and DOA600 reticle is $100!!).
The 50mm objective is an inexpensive upgrade (also a $100 upgrade on a similar Bushnell Elite).
Windage adjustments don't require a dime or a screwdriver or whatever.
Cons
The windage and elevation adjustments click, but they don't feel really great. There's a lot of lash (play).
It's a 2 piece tube scope (Vortex Diamondbacks and Bushnell Elites are 1 piece).
The light transmission is "meh" at 90-91% (Bushnell Elites claim 95% light transmission).
I'm not a super fan of the rotating eyepiece to adjust focus and resulting exposed threads and locking nut. It seems like an out of date solution.
Warranty isn't as good as Vortex's.
Conclusion
If you're building a rifle on a budget (who isn't?) and need good glass at an affordable price, don't be put out by hunting buddies that claim you need to buy a scope that's twice as much as your rifle. You only really use your scope for 10 seconds on the hunt. It needs to keep its zero and be clear enough to see your game and your opportunity to make the shot. The Redfield Revolution in 3-9×40 or it's bigger brother the 3-9×50 are fantastic scopes for the money and would be great companions to any of the budget bolt action rifles that are out there these days. The 3-9×50 in particular, is a bit of a unique beast, with only the Vortex Diamondback for competition. In any case, like many of the great $200-$500 scopes out there, you can't really go wrong.