The Savage 64 is a semi automatic 22LR. Previously known as the Cooey 64, Winchester-Cooey 64, and Lakefield 64B, the Savage 64 is an inexpensive rimfire rifle that has been around for decades. Savage is bringing out its new A22 design that will compete with the Model 64, so we may not see too many in the future. The Savage 64 is about $170 in Canada, and about the same in the US.
Savage 64 Models:
Savage 64F: synthetic stock, no scope but dovetailed receiver. This model is in the review
Savage 64FXP: same as above, but with an included scope
Savage 64G: wood stock, no scope
Savage 64FSS: Stainless Steel barrel and receiver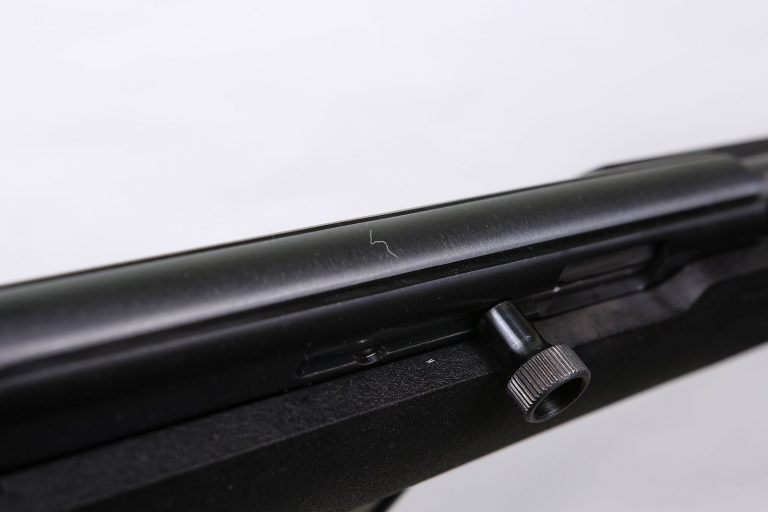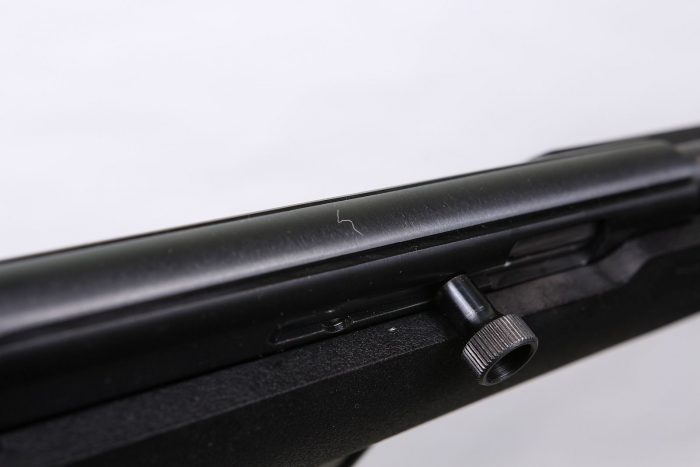 Savage 64 Features
As the design is decades old, there are a few features missing, and a few old features that still stuck around
Box magazine
No bolt release, bolt handle lock to hold bolt to the rear
Steel receiver, dovetailed for rimfire scope mounts
21″ barrel
Steel sling swivel studs (seeing these less and less)
Rear iron sight ramped for elevation adjustment, front sight driftable
Blued finish
Savage 64 Video Review
Shooting the Savage 64
Right away, inserting the magazine in this rifle is weird. The front mag catch is a weird spot that requires you to use your index finger.
The safety is also in a bit of a weird spot right up on the right hand side of the receiver. It's not terrible to access, but either you need to break your grip and use your thumb, or use your index finger to flick it off.
In general, the receiver on the Savage 64 is really long: the length between the front of the trigger and the breech is 6 1/8″ compared with 4 1/4″ on a Remington 597 and 4 1/2″ on a Ruger 10/22. That's an extra 2″ of receiver and it makes the gun a bit longer than it really needs to be.
Savage 64 Accuracy
I trust that some of you have very accurate Savage 64's. This one. . .not so much. I saw massive vertical stringing in targets shot at 50 yards that resulted in 3″+ groups. Even with a scope that cost multiple times more than the rifle on top, first shot accuracy was incredibly off from the group with some ammo.
**Accuracy Update**
After playing around with different torque settings on the action screws, stringing was substantially reduced and I was able to punch some 1″ groups at 25 yards. Still not amazing accuracy, but a lot better than the groups I got with the factory torque settings on the action screws!
Savage 64 Reliability
Some people out there have reported issues stemming from bad magazines, while others need to keep their Savage 64's well oiled. This one ran like a top: 100% reliable through about 500 rounds in a single range session using all sorts of different ammo.
Savage 64 Summary
It's hard to recommend this rifle when it lacks the aftermarket support and accuracy that the comparatively priced Marlin 795 comes with. There's also the ubiquitous Ruger 10/22 at a somewhat higher price point that comes with better finished parts and WAYYYY more aftermarket support. But, if you don't intend on making changes to your rifle and you find a Savage 64 on for a fantastic sale, don't hesitate.