*Editor's Note: June 13th, 2016. I know a lot of visitors are reading this article to better understand Canadian gun laws and what firearms we can legally own in the wake of the Florida shooting that happened on Sunday morning. I'd argue that you're looking at the wrong cause but if I can convince you to spend 5 minutes reading more information, I'd highly encourage you to check out my article on Canadian Gun Stats and my article on twisting gun stats.
Black rifles, some hunters love em, some hate em, but we've undeniably benefited from the technology gleaned from them and some of them make for handy hunting rifles. I'd love to take my AR15 out hunting, especially considering all the cool AR15 parts we can get in Canada, but I can't because it's restricted. (See my top 10 restricted firearms list if you're looking for restricted) I thought I'd count down the top 10 non restricted black rifles in Canada. Some of these would be great for deer, while others would be fantastic little coyote blasters.

The Norinco M14s is one of the rifles that makes our American compatriots green with envy. For a mere $600-$700, we can get a 308 semi automatic rifle that's built for reliability and can be tuned for accuracy. While the fit, finish, and head spacing can be on the rough side, the forged receivers are worth the price all on their own. Copies come in shorty 18.5″ barrels and regular 22″ barrels. While the original style M14 was laid in a nice wood stock, recent imports of the Norinco are all in practical black synthetic stocks, qualifying them as our #1 non-restricted black rifle in Canada.
Strengths: cheap, can be accurate, powerful enough for deer and other big game, great aftermarket support, cheap magazines.
Weaknesses: factory headspace commonly quite generous, expensive scope mounts, accuracy enhancing aluminum stocks are heavy, barrels indexing can be off on some, the manual safety sucks.
Who sells Norinco M14s: Calgary Shooting Centre, Wolverine Supplies, FOC, Cabela's, Bullseye London, and many local gun stores.

Another rifle we had access to before the Americans but now are made state-side. The Canadian Tavors are almost all Israeli made with a barrel length that satisfies non-restricted status. The Tavor is a high quality bullpup that has seen rave reviews here and in the US. If you want to see it in action, check out Jerry Miculek's video review.
Strengths: High quality bullpup rifle, common STANAG magazine well, very compact, easy field strip, decent ergonomics, extremely sexy, decent accessories available, very reliable.
Weaknesses: the trigger pull sucks, may have issues with PMAGs, quite expensive.
Who sells Tavors in Canada: Cabela's,  Wolverine Supplies, Tenda,

M14.ca does a flat top upper for the original T97, there's a V2 T97 that includes a flat top from the factory, and M14.ca also has an upgraded lower.
Strengths: Cheap bullpup, early reports indicate very good accuracy of 2-4 MOA, may replace pistol carbines for non-restricted fun, flat side feels great when slung.
Weaknesses: Bullpup triggers usually aren't as great as others, ergonomics on mag release/safety are pretty bad, carry handle and top charger design precludes a decently low optics mount (solution now available), no forward rails, not ambidextrous, some mags are very tight/impossible to get in.
Who sells the Norinco T97: Cabela's regular, Cabela's with FTU, Al Flaherty's, Wolverine Supplies, FOC, Tenda.

#4 BCL 102
Accurate by all accounts, AR10-ish, and Canadian made, the Black Creek Labs (BCL) 102 is a semi automatic 308 platform rifle.
Strengths: Some users are getting excellent accuracy, uses many AR components and therefore has excellent ergonomics and flexibility. Inexpensive for the Canadian market
Weaknesses: It's a relatively new rifle.
Who sells RFBs: SFRC, local gun stores as well.

Likely the most ergonomic black rifle available in Canada, the XCR is a modern sport rifle that blends a lot of the advanced in technology over the more recent times.
Strengths: Modular design, nice long top rail, folding or telescoping stock, available in 308 in the XCR-M or 223 in the XCR-L, easy cleaning piston driven system, adjustable gas, ambidextrous, uses STANAG magazines in 223, very nice trigger, cool bolt release.
Weaknesses: It's twice the cost of a high end AR15, front heavy compared to an AR (now resolved with new variants), some owners have issues with accuracy.
Who sells the XCR: Wolverine Supplies, Calgary Shooting Centre, and Cabelas.

A black rifle that might get you a pass with your more traditional hunting buddies. I've owned them in the past, and I know my readers would be ticked off if I didn't include the original mini 14 in this top 10.
Strengths: Low maintenance design, simple reciprocating charging handle, several models available, plenty of aftermarket support, new target model is supposed to be decently accurate, and the Mini Thirty is upsized for 7.62×39 fun.
Weaknesses: The old style mini 14 is **edit: supposed to be inaccurate**, new style rear sights may shake loose without locktite, non-STANAG mags, action is a bit outdated compared to more modern designs.
Who sells Mini 14's in Canada: Cabela's, iRunGuns, and more.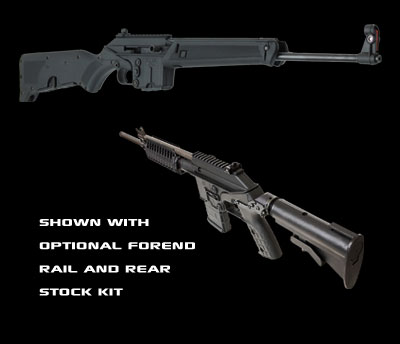 #7 Kel Tek SU-16
Another pretty unique firearm from Kel-Tec. Who else would make a folding, bipod forearm, double mag storing buttstock, 223 for cheap?
Strengths: Easy to mount optics, forend can be used as a bipod, 2″ groups with good ammo typical, extremely light (4.5lbs), piston driven, standard STANAG magazines, can fold down and fit in a backpack with just a bit of barrel peeking out, lots of aftermarket parts to modify looks.
Weaknesses: The plastic receiver has cracked for some users and the process to warranty the rifles isn't fantastic, the fiber optic front sight is a bit hokey looking and inconvenient to adjust, takedown pin is not captured, weak buttstock, forend bipod changes POI.
Who sells SU-16's in Canada: Brought in by Vault Distribution. Sold by Frontier Firearms, The Shooting Centre, Jo Brook Outdoors, and more. Like many Kel Tek products, constantly in poor supply.
#8 CZ858's,  VZ58's, WR762
As close as you can get to owning an AK in Canada, the CZ858 and CSA VZ58's are a semi-automatic 7.62×39. There are also versions in 5.56, but I think if you get a rifle like this, you GOTTA get it in the original calibre.
Strengths: Pretty good aftermarket support from companies like Zahal, CTC Supplies, SFRC, etc, very reliable action, I've found them more accurate than SKS's.
Weaknesses: All barrel-length appropriate versions are NR again. Short barrel versions are still Restricted. Still kinda hard to scope, though the CZ 958 Hunter should solve that by using a receiver with a built-in picatiny rail on top.
Who sells them: West Rifle, Frontier Firearms, Kelly's, Al Flaherty's.

I might have been tempted to add the SUB-2000, but I thought I had enough Kel Tec and I needed some variety. The JR carbine in 9mm or 40S&W would make for a great little rabbit or gopher gun.
Strengths: Very accessory friendly, front rail system, standard rear buttstock assembly, common magazines, high build quality, reliable.
Weaknesses: Heavier than the Sub-2000, I've heard of some issues with the more powerful cartridges, no last round bolt hold open, weird mag release, factory trigger isn't that great (but can be easily upgraded),
Who sells them: Cabela's, Bullseye London and more.

#10 Famae SG 542
I had to include another 308, because I realized my list was lacking in deer rifle options. This Chilean-built, SIG-designed rifle will definitely turn some heads.
Strengths: Easy take-down, decently accurate, top rail available, fixed and folding stocks available, choice of black or green, adjustable gas regulator, piston driven, decent iron sights.
Weaknesses: Pretty expensive, few aftermarket parts, pretty mean on brass.
Who sells them: The Shooting Centre, Tactical Imports
Honorable Mention:
SKS with some aftermarket goodies
Kriss Vector
Bushmaster ACR with long barrel added on or the precision version that comes with a NR length barrel from the factory
Swiss Arms PE90 (Black/Green Special) I'll re-instate this one once it's passed its RCMP review.  **Update Feb 26, 2014: This rifle has been reclassified by the RCMP as prohibited.  **Update August 2015: As per passed bill C-42, the Swiss Arms is now NR again.
Valmet Hunter
Robinson Arms M96
Disagree with my choices? Did I miss a quintessential Canadian black rifle? Let me know in the comments?