The CZ 958 is a newly designed take on the SA Vz. 58  series rifles. It is a striker-fired, magazine fed, 7.62x39mm rifle. Wolverine Supplies and CZ together designed 2 versions: the 958 Tactical, and the 958 Hunter. The Tactical version comes with iron sights, a muzzle device, and a folding wire stock, whereas the Hunter omits the iron sights and brake. I like simplicity, so I asked to review the Hunter and Wolverine Supplies was kind enough to loan me a pre-production model. This rifle is not yet in full production, watch Wolverine Supplies' blog for more news.
CZ 958 Hunter Features
Upper Receiver picatinny rail
Wood stock with maple leaf highlights in checkering
Toggle style safety
Last shot bolt hold open
Bolt hold open button
Rock and lock style, aluminum magazines (5/5 or 5/30 available)
Short stroke gas system
Reciprocating charging handle (on bolt carrier)
Video Review of the CZ 958 Hunter
Shooting the CZ 958
One of my buddies used to have one of the CZ 858's, so I've used the platform before. One of the most striking things that you notice about the 958 Hunter is the use of real, non "beaver barf" wood. The regular CZ 858 uses pressed-wood that looks, well, unappetizing. The 958 uses bright, classy wood and it makes the rifle stand out among the common black tactical rifles. It isn't something I'd usually mention, but my wife and my friend's wife both separately commented on how good and compact the rifle looked. I'd struggle to call this a red rifle, because the fit and finish are so much better than other soviet military style rifles we have here in Canada.
The rifle is very compact and lightweight. My fish scale says 6.6 lbs or just over 3 kg with no magazine or optic. That's lighter than an AK47 or SKS and it has a picatinny rail built in. The trigger on this unit broke at 6.5 lbs and was fairly long.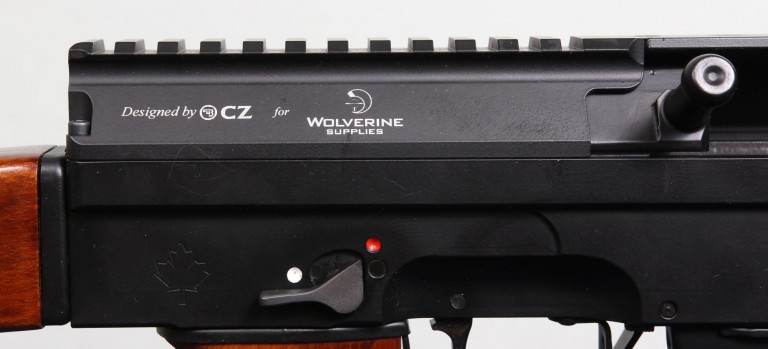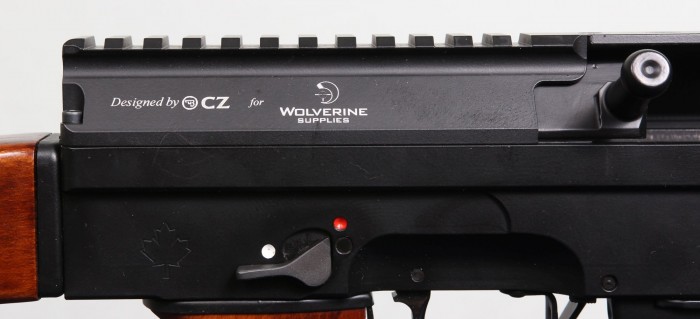 I really wish the safety was on the left hand side instead of on the right, but it's trainable and if it really bothers you, NEA makes an ambi safety for the Vz58 series rifles. The magazine release is at the front of the trigger guard and it helps keep the magazine very tight to the trigger guard and shorten the overall length of the rifle. Because it's only accessible from the left side, it may be troublesome for left handed shooters to use.
Magazines are aluminum and are a bit tight in the magwell to start. Once they're used a bit, the paint/coating on the mag sides wears a bit and makes it easier to insert and remove them. The mags rock and lock into place very solidly, but the 5/5 round magazines offer a bit less to grab onto compared with 5/30 magazines. That said, the 5/5 mags are a WAY better choice for hunting. Speaking of hunting, I really like where the sling swivels are on this rifle. Situated on the left hand side of the rifle, it makes the rifle very easy to carry slung and the lack of protrusions on the left hand side of the rifle means there will be nothing digging into your back or front depending on how you carry.
Shooting the rifle, it's very apparent how compact everything is. Length of pull is under 13″, the grip is a bit small and everything very tight. Recoil from the 7.62×39 rounds is light and manageable. As this is the hunter model, there is no thread for a muzzle brake and I prefer that. I don't see the point of a brake on a such a small round in a hunting rifle and we can't use suppressors in Canada.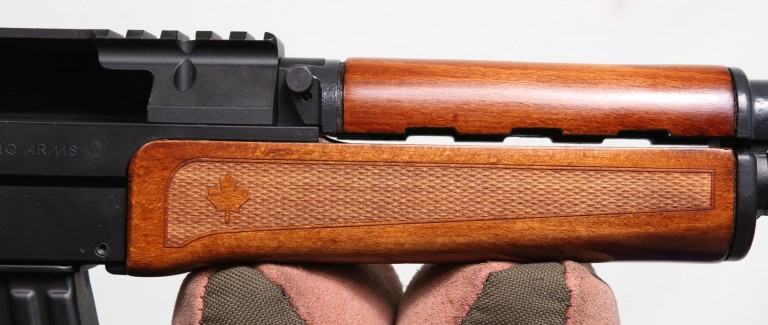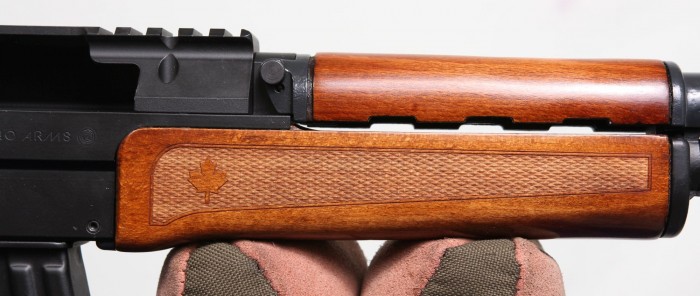 Accuracy from surplus Soviet ammo was pretty good at around 3 MOA. With Hornady's steel case 123 grain SST loading, I was getting closer to a 2″ group which is pretty good for a rifle like this. This particular rifle did NOT like Winchester white box 7.62×39 FMJ, and I could do no better than a 4″ group. That's OK by me, as it was one of the pricier options anyways.
Mounting Optics
Talk about straight forward! You can mount a scope or a red dot on the CZ958, but I'd recommend going with a red dot, 1-4 scope, or a compact scope like the Nikon 3×32 if you're going to use corrosive ammunition. That's because you need room at the front of the receiver to take off the front handgard to get to the piston and clean it. If you're only going to use non corrosive ammo, you could go with a longer scope that covers the top of the front handguard because you wouldn't need to get access to it as often.
Conclusion
We're nowhere near deer season right now, so I'll have to do this from a theoretical standpoint. A bolt action rifle will be more accurate for hunting, but I think there's an interesting use case with this rifle. In my opinion, it doesn't need to be more accurate because 7.62×39 is a decent deer cartridge at 150 yards or less. At those ranges, 2 MOA is fine. The cartridge and fast firing rifle also combine to make for a fantastic hog hunting rifle. Now, 7.62×39 offers something that most hunting cartridges can't: it combines very low recoil with CHEAP practice ammo. Here in Canada, surplus corrosive and non corrosive 7.62×39 is readily available and is very inexpensive. Soft point hunting ammunition from MFS and Hornady is also easy enough to find. So if you want a gun that's very fun and cheap at the range, gravel pit, and as a low-recoil hunting rifle with a red dot or scope, the CZ 958 Hunter fills that unique niche in the Canadian market.
Thanks again to Wolverine Supplies for loaning this pre-production rifle to me for testing.