The BCL102 is a non restricted, semi-automatic, 308 rifle made in Canada. It's based on the AR102 design, which predates the AR15 design and so it's not an AR15 variant and can be non restricted with a 18.5″+ barrel here in Canada. Because it's non restricted, you could use one of these to hunt with or just have fun in the gravel pit. Note, this is Gen3 of this rifle. While I was thinking of buying a Stag 10, this rifle was in-stock for $1378 on sale and my wallet chose the much cheaper option. This was a mistake.
Comes with
Ceracoated Black, ODG or FDE color schemes. (my "black" finished rifle was more of a really dark green)
BCL adjustable stock
Ambi safety
Ambi bolt release
Standard A2 grip
(1) PMAG 5/20 mag
Aluminum free float forend with MLOK compatible slots and picatinny rail top
1:10 twist, fluted, 18.6″ barrel, black nitride finish
Flash hider (it's kinda long at 2 3/4″)
Lifetime warranty
Comes coated in preserving oil that smells like cinnamon!
Shooting the BCL-102
My BCL-102 ejected with all the force of a anti-vaxxer's kid with polio. I gave BCL months to fix the issue and helped by shooting slow motion videos to show that the issue was ejection related. They sent me a new extractor that didn't fix anything, then they didn't respond at all after that.
The real issue was in the bolt & ejector design. BCL opted to use an ejector with a sharp angle on it that also sits below the bolt face, low ejector spring tension, and a bolt with a very shallow "pocket". These design choices probably help the rifle feed well, but the result of this combination was that the rim of the ejecting case slipped out of the pocket and off the claw instead of hanging on to it and flicking it out of the port. In my opinion, this is an unforced design error. The Americans make and sell 100X more AR-10's than we do in Canada. Any deviation from the known working formula should be viewed with suspicion.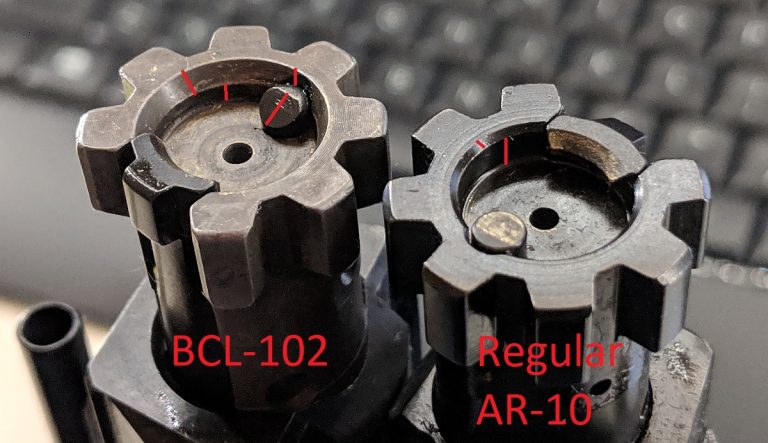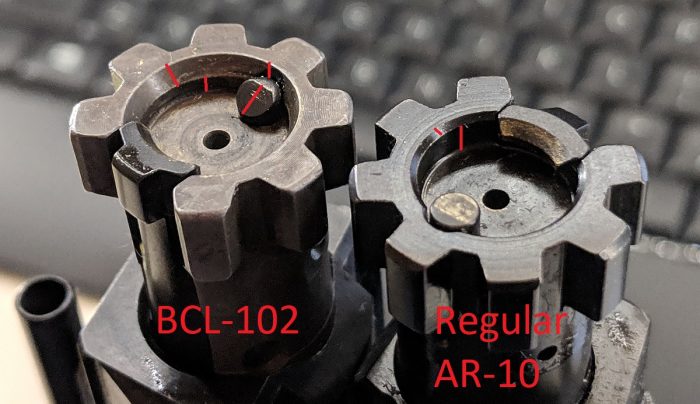 I gave their support 3.5 months before I just fixed it myself by installing a $5 off-the-shelf ejector. Once I replaced the ejector, the rifle ejected just fine.
**Update: April 30, 2019: BCL sent me new gas rings, ejector, ejector spring, extractor, extractor spring+donut. I installed all that stuff and now it's ejecting correctly.**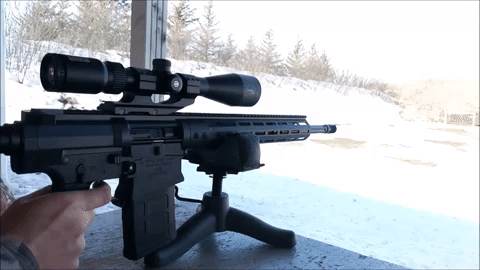 The factory trigger on my BCL102 was decent for a factory AR trigger. The single stage broke at around 6lbs with almost no creep or grit. It was good enough that I didn't feel the need to upgrade the trigger.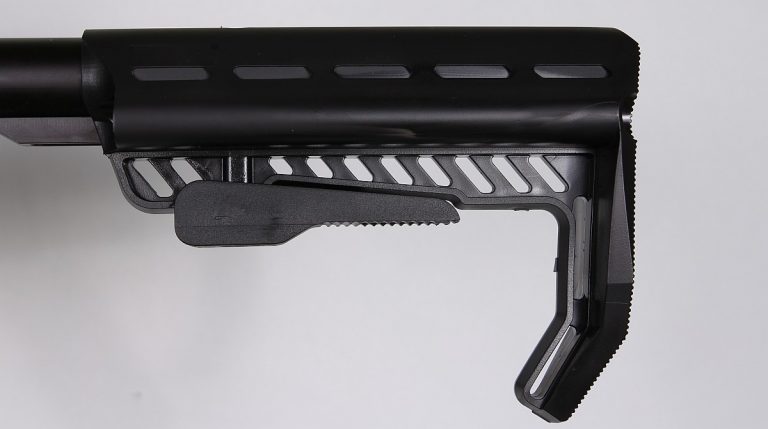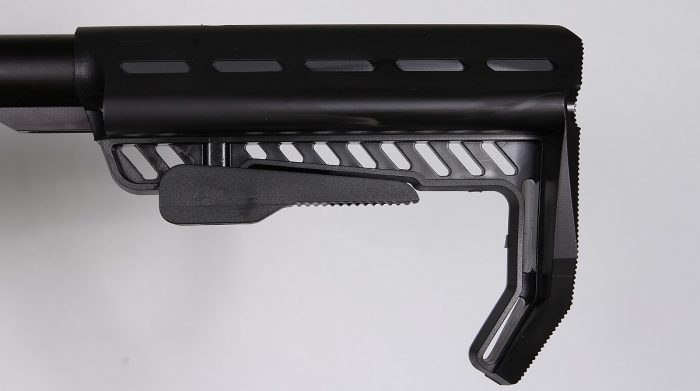 The stock that comes on the gun from the factory has adjustment fingers that extend below the stock. These can catch on a rear shooting bag and cause the stock to collapse under recoil. Replacing the stock with a quality aftermarket stock would be an improvement you should look at if you own a BCL102 and this stock.
The factory flash hider that the gun came with was 2 3/4″ long. I replaced it with a Hex brake for effective recoil reduction and to cut 1″ off.
While you can use the included 5/20 mag, you could also buy 10 round XCR mags to use in it instead. I prefer the C Product Defense versions and found some at SFRC for a great price.
Specs/Compatibility
Note: unless otherwise indicated, I haven't personally verified these.
Trigger is AR15 compatible
Stock is AR15 carbine stock compatible (milspec tube)
Grip is AR15 compatible
Fits AR10/SR25 mags
Muzzle is standard 5/8-24 30 cal. (verified, I put a different brake on it)
Charging handle is AR10, some people have had to do minor fitting to theirs (filing the ears)
Barrel uses a DPMS barrel extension
Handguard is DPMS high with Armalight barrel nut thread
Upper and lower are proprietary. Upper has a shell deflector and no forward assist
V3 of the BCL-102 has lost some weight. While the older BCL102's were 8.9 lbs, I measured mine to be 8.3 lbs dry with no mag. I contacted BCL and they confirmed that they've shaved some weight.
The Forend
I weighed the forend and it was 13.9 oz (V1 was 23 oz including the barrel nut). That's VERY beefy for a 14″ long handguard. As a comparison, the SLR Helix is 8.8oz for a 13.7″ handguard including the barrel nut. So you could  get the rifle down to ~8 lbs just by swapping to a lighter forend.
It's cool that the forend is M-Lok compatible and has QD sling mount sections, but IMO, there's no reason to have a forend this heavy in this day and age. The forend that came with my WK180C is about the same length but it was only 189 grams, less than half the weight.
Note that because the upper blends in with the BCL upper, they might look goofy with a new, lightweight forend.
BCL102 V1 vs V2 vs V3
I don't know much about the V2 of the rifle, but my rifle was a 2018 model and it varies from v1 of the rifle as reviewed by Calibre Mag in the following ways:
Dust cover design greatly simplified in V3 (flat)
Weight: V3 is 8.3lbs dry, while V1 was 8.9lbs
Brass deflector design changed to a rounded feature instead of typical triangular deflector on AR15's
Upper now comes in to the lower and matches lines of the lower
Ambi bolt release on right hand side in V3, absent in V1
Upper receiver round matches with forend
Safety design changed (no more knurling, now has ridges cut into top and bottom of safety)
Trigger guard bottom no longer incorporated, now pinned in place
Comes with a flash hider instead of a brake
Barrel looks more deeply fluted
BCL102 Pro's
Priced lower than you can get a Stag 10
I liked the ergonomic bolt release button on the right hand side
Trigger was totally acceptable from the factory
Accuracy looked pretty OK for mine: 1-2″ at 100
BCL102 Issues
Issues I saw myself:
Weak ejection issues causing stovepipe jams due to ejector design
The finish was not the correct color
Forend is very heavy. Any aftermarket forend would be much lighter
The stock it comes with is not great. Even a standard collapsible M4 stock would be better
You have to close the dust cover when mounting the upper on the lower or else it'll get in the way. The dust cover should have a rest or bump on it that keeps it from jamming on the lower when you reassemble.
Finding compatibility details is a pain in the ass. BCL does not publish specs or when specs are changed (such as the change from muzzle brake to the looong flash hider)
BCL102 vs Stag 10
OK, it comes with some issues, but is it better than the Stag 10 at a lower price point? The BCL102 goes for around $1500, while the Stag hovers around $2200, but you can build for cheaper if you want. At $2200, you get a lightweight forend ($250), a Magpul ACS stock ($120), a Hogue grip ($20), an end plate with mash hooks ($20), a VG6 brake ($80), an extended trigger guard ($10), and high quality Stag parts throughout. The parts I mentioned above add up to $500 of difference and I haven't brought up the dust cover or ejector. The BCL102 has the right side bolt release as an advantage over the 10.
Price per feature wise, the Stag 10 and BCL-102 are actually really close once you add everything up like this. For that reason, I have to recommend the Stag 10 over the BCL-102. Because if you were to upgrade your BCL102 to match the features of that $2200 Stag 10, you're still on a BCL102 platform. You still have parts whose specs aren't well documented and may not fit off-the-shelf upgrades, a support department that takes months off at a time, and BCL quality parts instead of Stag.
A buddy of mine bought a Stag 10, so I bought this BCL102 to compare the two. If you can get the BCL on sale and don't intend on upgrading it much, you might be ahead. At around $650, an upper/lower Stag 10 kit is a better budget choice that allows you to build the perfect rifle to the price point that you want.
Conclusion
When the BCL was the only non restricted AR10 analog, people could deal with the design bugs because it was the only game in town. With the Stag 10 in the market, it's hard to recommend the BCL-102. If you want the absolute cheapest non restricted AR10 analog and you're not going to upgrade any parts, it still fits, but it's still a bad recommendation compared with the Stag 10.