In Canada, AR15s and variants are restricted-class firearms, which means that they're registered and they go to the range and back; that's about it. They can't be used for hunting or plinking and you need the upgraded restricted class license in order to own one. Since that's so much of a pain, most people would prefer a non restricted firearm, but many of them just don't approach the accuracy, ergonomics, cost, and flexibility of the AR15 platform. In recent years, the ATRS Modern Varminter and the very new Maccabee SLR have started to pop up, but they're typically over the $2000 mark to get a complete rifle. The Wolverine Supplies WK180C is a ~$1100 variant of the non restricted AR180B. It's a semi-automatic, piston-driven rifle in .223/5.56 made in Canada.
Note: The WK180C as pictured has been customized by me. I've replaced the trigger with an RRA NM 2 stage, the stock is a Magpul CTR, I've put a Vortex Viper 1-4 on top, I've added a QD mount to the left hand side of the forend, and I've put some Magpul M-Lok rail covers over the right hand slot to act as a shell deflector + slot cover. The WK180C in the first part of the video is closer to stock:
WK180C Video Review
WK180C vs AR180B
The AR180B was sold from 2001-2007 with mostly low cost in mind. The WK180C is still designed to hit a certain price point but it comes with several important upgrades over the older 180B.
WK180C Advantages over AR180B:
Receiver picatinny rail: this saves having to buy a $80 rail mount
Aluminum upper+lower: the old lower was polymer and had a tendency to crack at the front pivot point. The lower also uses standard AR15 grips
Aluminum forend with rail top and M-LOK slots. This is light, stiff, and much more flexible.
AR15 buffer tube and stock mount adapter: this raises the stock so that it's in-line with the barrel (reducing muzzle rise) AND it enables use of the plethora of AR15 stocks
AR15 style barrels+barrel nut: they'll still need to be 18.5″+ and use a carbine gas port, but at least there's more options for barrels
Left side or right side charging handle (I LOVE left hand charging handles)
Ambi safety selector
So the WK180C is a substantial upgrade in terms of ergonomics, flexibility, and quality of materials used compared with the AR180B.
Access to the AR Platform, but Non Restricted
The big plus to the WK180C is access to many of the AR platform's infinite aftermarket parts. AR compatible parts include:
The barrel (though it must be carbine gas length, we already have retailers selling barrel upgrades)
Muzzle brakes/flash hiders
The forend (though it must fit the gas block example)
Stock/buffer tube/end plate
Pistol grips (no beavertail)
Trigger
Unlike a true AR15, you can get a folding stock for it without a care for your buffer and spring (since it doesn't have one in the buffer tube), and the bolt doesn't get as dirty because it's piston driven.
WK180C Weight and Balance
I thought I'd do some measurements.
WK180C with no optics (empty): 3.18kg
WK180C with a 1-4 Vortex Viper and Magpul CTR stock: 3.74kg
AR #1 (16″ SPR barrel, 1-6 PA scope, ACS-L stock): 4.02kg
AR #2 (16″ M4 barrel, no optics, no trigger/hammer, M4 stock): 2.73kg
Balance point on the 180C is about 3/4 to the front of the magwell, at the pivot point on one of my ARs (SPR barrel 16″), and very front of the magwell (16″ M4 profile barrel). Magwell to grip relation is identical on both guns, but the 180 has a longer rear by about 1.5″ due to the stock adapter. Functionally, that'll mean you might have to use 2 positions less on your 6 position AR stock to maintain the same length of pull, but the balance should be nearly identical to a well kitted out AR. Of course, a lighter profile, shorter barrel(12-14.5″) AR is going to balance further to the rear.
The weight of the WK180C forend is 6.65oz (189 grams), pretty good!
WK180C Accuracy
I found the accuracy to be excellent given the price point. Group sizes for commercial hunting-grade 223 were around 0.75″-1.5″, and "blaster 223″ gave me around 2-3" groups.
Cons
Some of these are because the gun is new and I'd imagine they'll be resolved in time.
Factory trigger is kinda poo. I changed mine out immediately for a nice aftermarket set. I'd recommend the ALG ACT if you're looking for a low priced trigger upgrade (~$80)
There aren't many 18.5″+ barrels with carbine gas ports. Most come with mid length or rifle length gas systems
Trigger/hammer pins aren't AR compatible and they need an anti-rotation/anti-walk option
Gas block touching the forend
No shell deflector, so the brass starts to mark up the finish (unless you put on those Magpul rail covers)
It's got a chunky ass. Some guys are into that though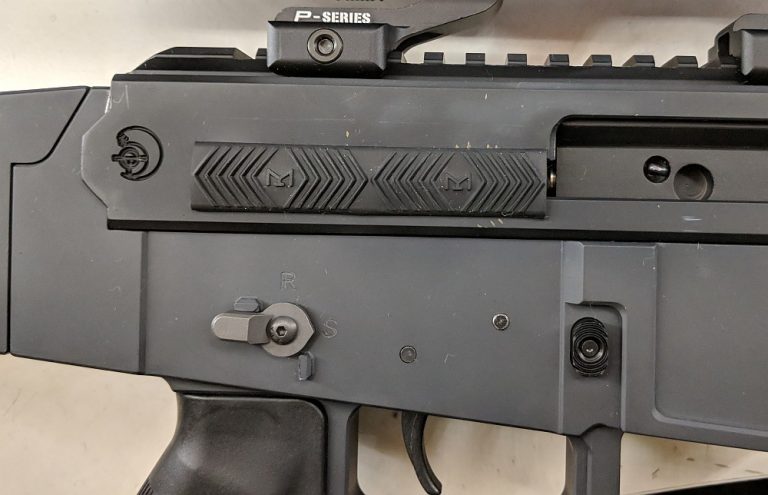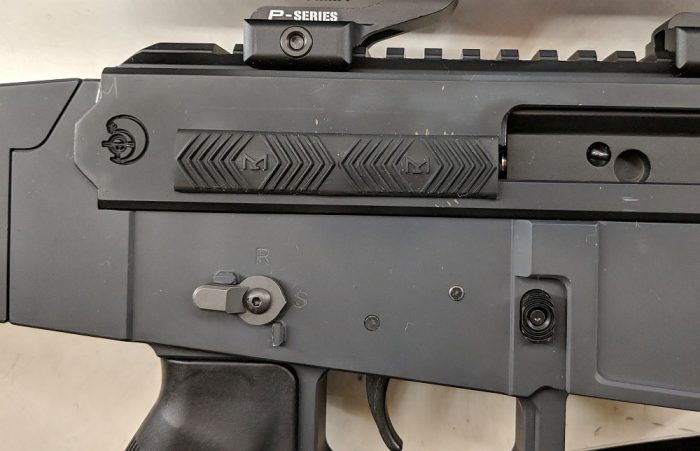 Conclusion
Non Restricted access to AR platform upgrades for $1100 using mostly aluminum construction that should last longer than plastic. Unlike most of our non restricted rifles under $2500, this would be entirely suitable for shooting a 3 gun match after you've upgraded the trigger. Price point wise, it's competing against firearms with worse ergonomics like the T97, less AR-like platforms like the Mini-14, and the plastic fantastic SU-16. None of those grant the upgrade-ability and customization available in the WK180C. As an intro to the platform, it's completely unmatched at this price point. For about the same money, you can get into an SLR or Modern Sporter which offer a more true AR experience while still being non restricted, but you'll still need to spend another $1000-$1500 to build the dang thing so it's hard to compare them head-to-head to the WK180C. Overall, it's a good platform at an excellent price, and it's easy to see why it's such a runaway success in sales.