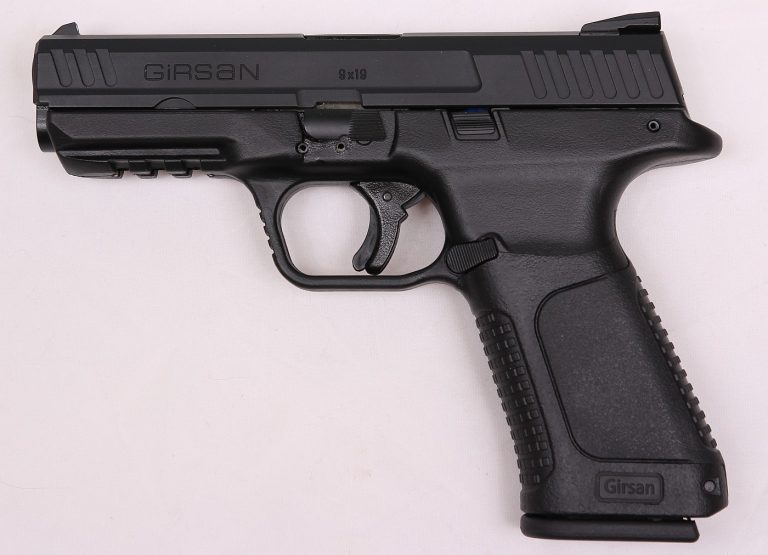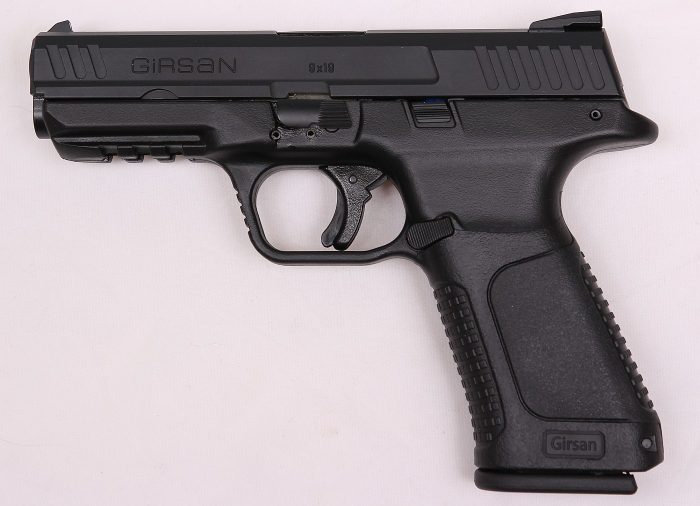 A buddy of mine runs a Girsan Regard for 3 gun: it's Girsan's copy of a Beretta 92, and it's a good one. The Girsan MC28SA is a Turkish made, semi-automatic handgun that copies a lot from the S&W M&P. But here's the real kicker, I got this pistol for $289 Canadian dollars! Due to the Turkish Lira losing half of its value since 2015/2016, it's cheaper, by far, than anything we can get in Canada other than surplus Tokarev's and some Norinco pistols.
Note: I primarily use pistols for 3 gun in Canada, so I treat them as tools for competition. We can't legally carry pistols in Canada, so I'm not reviewing the MC28 as a carry pistol. Instead, I'm reviewing it with the viewpoint of an inexpensive intro pistol for 3 gun or other competition sports.
Note 2: YouTube reviews. I noticed a lot of the other YouTube reviewers claiming things about this gun that are too generous. They gush about the crappy included cleaning rod and the stupid box, or the value-priced finish. I won't do any such things in this review.
Video Review of Girsan MC28
Girsan MC28SA Specifications
Weight: 725 grams (1.6 lbs) empty
Comes in 9mm and 40 S&W
Barrel Length: 108mm (4.25″)

97mm (3.8″) on the compact model

Slide finish: parkerized then ceracoated steel
Sights: 3 dot, white (supposed to be compatible with Sig sights if you want to swap em)
Magazine capacity: 15 (10 in no-fun Canada)
No manual safety (MC28SAS comes with one, but to hell with that)
It's has no ambi slide release but I'm not a cursed leftie so I don't care.
The magazine release can be swapped to the left side
Shooting the Girsan MC28
It's a striker fired, polymer framed, pistol in 9mm. It shoots like EVERY OTHER striker-fired, polymer framed pistol in that:
The trigger pull is long, but has a decent wall at the end
The gun doesn't weigh a lot, so it'll recoil more than a steel-framed gun
It's generally pretty reliable and will go bang when you want it to. I found that mine needed factory loads. My light competition rounds wouldn't cycle.
If you ram the mag in, the slide might go forward. Neat!
I tried the MC28SA with factory brass cased, 124 grain FMJ. It ran fine. I don't run steel cased 9mm because the price difference is very small between steel and brass cased in Canada.
Modifying the Girsan MC28 to take CZ75 Mags
Some articles report that CZ75 mags work in the MC28. Those guys don't know what the fuck they're talking about and have never tried it. I believe the factory Girsan mags are Mec Gar made because they're so similar to my CZ75 Shadow 2 mags. They vary in 2 ways as far as I can see:
The basepad is a bit larger and goes forward a half inch more
The magazine release is a larger square: it's cut at the same height on the top, but goes lower to accommodate the Girsan's larger mag catch.
Specifically, the Girsan MC28's mag cutout is 4.68mm tall and the release is 4mm tall, while the CZ75 Shadow mag cutout is 3.3mm tall. The top cut is the most critical one, because that's what the mag catch retains on to hold the magazine at the appropriate height. The plastic basepad keeps the magazine from being over-inserted, so Girsan MC28 mags actually work great in CZ75's (at least they do in my Shadow). So that leaves you with 2 options to modify your MC28 to take CZ75 mags:
Modify all your CZ mags by dremelling the mag release cutout about 1mm lower. The mags will continue to work in your CZ75 since the lower part of the cutout is not critical or used. You have to butcher your nice CZ75 mags, but you maintain the ability to use the left or right magazine release.
Modify your Girsan mag release to work with CZ75 mags by cutting about 1mm off the bottom surface. By dremelling the bottom of the magazine release to make the release thinner and fit CZ75 mags, you don't need to modify your mags. BUT, the bottom of your magazine release is the top if you swap it to the left hand side, so you lose the ability to swap the magazine release to the other side if you go this route. Also, kiss your warranty goodbye.
I opted to modify the magazine release because I'm not a leftie and I'd rather mod 1 part than modify a pile of mags.
Of course, there's always option 3 if you're going to upgrade to a Shadow in the future: just buy Girsan MC28 mags and use them with your Shadow. They work just fine and are the same other than having a bigger basepad. They're about the same price as CZ75 Mec Gar mags, so tomato tomahtoe?
Pros
THE PRICE IS AMAZING
At this price point, I'm happy they included 3 grip panels
Uses CZ75 mags (with modification) and mag pouches
Steel 3 dots fixed sights are super reasonable and not dumb.
Front and rear slide serrations
Fits M&P holsters
Cons
Triggers take a few hundred rounds to work in and some are AWFUL from the factory. (Mine was 7.5 lbs, but worked down to 6.5 lbs quickly. Very similar in weight to my FNS)
Some users are reporting that their front and rear sight set screws loosen off. Remove yours, clean the threads off with alcohol, and re-install with loctite.
Aftermarket support is dodgy at the moment and full of statements like, "maybe this part for the M&P will work if you fit and file it a bit"
You could be left stranded for parts if the company stops making parts or if the importer drops them
The grip is not grippy enough to my taste. Easily solved with skateboard grip tape if you care.
I don't really trust the finish. The texture is a bit rough, I just think it'll wear quickly. I have nothing to back this up other than a guess.
Summary
Does this seem like I'm being too mean? I actually like this pistol because for the price, it's simply unbeatable. You can't buy another new duty pistol like this in Canada at this price point. For someone starting out, they could easily start with an MC28 and then upgrade to a Shadow 1 or Shadow 2 later and use the same mags and mag pouches. In fact, if you're going to shoot 3 gun, get a Safariland 579 holster (see my review here) and you could re-use it with a Shadow or most any other 3 gun relevant pistol and it offers some retention with their grip lock system.
If you're starting out with an MC28, use it, love it, but don't spend a ton of money customizing and accessorizing it: treat it like a trainer. Once you've got a year or two under your belt with it and you want something better, sell it for barely less than you bought it for and upgrade to a better pistol.
Not mentioned because they don't matter to me at all:
The cocking indicator at the back. If the gun goes click, I tap-rack, I'm not going to look at the back of my gun to see if it's red or not.
The box with lots of space taken up by stupid crap like awful bore brushes, a crappy cable lock that all guns come with, spots in the foam for cartridges, etc.
The crappy magazine loader (get a uplula)
The non-clicky reset. Mine was fine.
The witness port. Press checking is quick and easy
I don't care that the barrel is cold forged or that it's 6 groove right hand
The M&P has a sear release lever way in the guts that you can use instead of pulling the trigger when disassembling. It's lame and I'm glad the MC28 doesn't have one