Here in Canada, a recent (2014) ban on CZ858 rifles as converted autos and then subsequent amnesty on owning those guns has introduced some potential risk to future "take backsies". Canadians love the VZ58 pattern rifles and want more in country, so West Rifle and Kodiak Defense came up with the WR762: West Rifle 7.62. These are unique, non-restricted, semi-automatic rifles made in Canada. Although they looks similar to an AK47, they're very different: using different magazines, striker fired, a short stroke gas system instead of long, and are generally a higher quality rifle made from a milled receiver rather than a stamped one. These rifles were loaned to me for review.
WR762 Specifications
7.62×39
Non restricted
18.6″ non-chrome lined barrel
Short stroke gas system
Striker fired
Last round bolt hold open
WR762 vs CZ858
The primary fundamental difference between these two rifles is the receiver. The WR762 uses a different, proprietary receiver made in Canada that's different enough from the 858 that it's considered its own rifle. Within the receiver, the trigger and sear setup is different and has been improved. On the outside, the barrel is new and made in Canada, same with the wood and some of the internal parts. The rest is straight CZ, which means that many of the aftermarket parts will work with this rifle. And yes, because we're in Canada, those big magazines are pinned to 5 rounds each.
Video Review
Versions:
There are currently 2 versions available, and they vary only on stock material. One uses the wood-impregnated resin stock affectionately known as "beaver barf" along with a metal buttplate, while the other uses a more appetizing traditional wood stock with rubber buttpad. Stock curves differ slightly between the two as well, though I found cheek weld when using the iron sights to be about the same. For everyone who saw these rifles and really liked the nicer wood, there were beaver barf advocates as well.




Usability
The WR762 rifles are identical in use to the VZ58 style rifles and are somewhat similar to AK-pattern rifles in use.
Magazines rock and lock in place, though the magazine release is nice and compact and very easy for someone to use their left hand to actuate. Magazines also include a follower that actuates a bolt stop, a nice feature that the AK47 does not have. Note that while new, some magazines may be tight until they wear in, especially ones that are painted.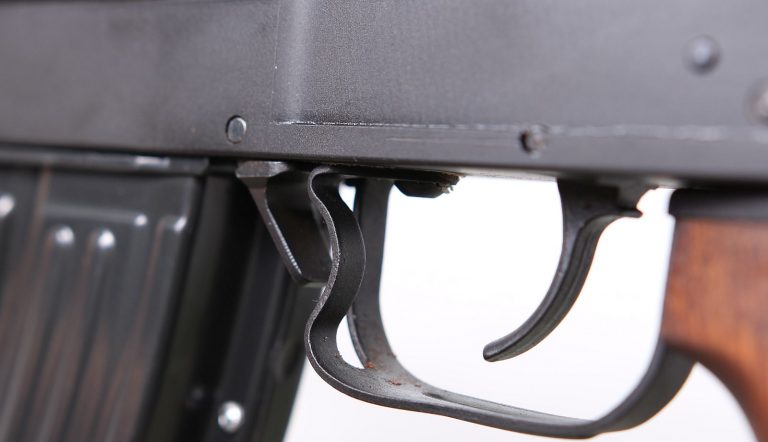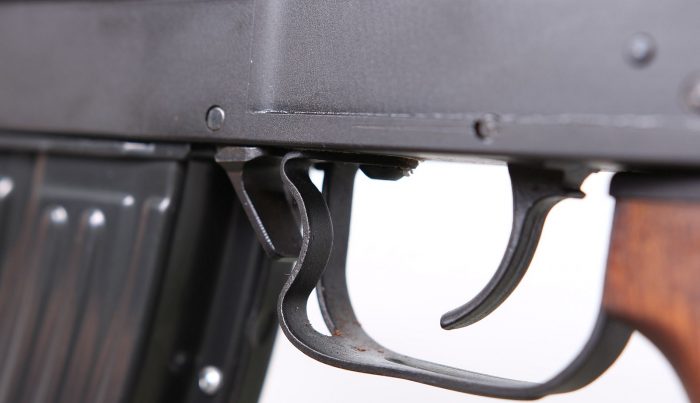 On the bottom of the action there is a bolt stop button that allows you to hold the bolt open, another nice creature comfort.
The right hand side safety feels backwards and clunky for someone familiar with an AR15.
The rifle sling loops are in excellent position to naturally carry the rifle across your chest, ready to use.
Field disassembly is very easy due to the clever design. Check if the rifle is empty, strike it out (pull the trigger), push out a pin and you can quickly remove the rear cover, and bolt assembly. The front gas system also easily comes off with a pin.
Aftermarket Parts for WR762, VZ58, and CZ858 rifles
There's a pretty thriving aftermarket industry for the VZ58 rifles that the WR762 handily works with.
If you end up going with a side mounted scope, you may need to add in a padded cheek piece or an adjustable cheek height stock to get correct cheek weld. Some of the railed forends can get a red dot sight pretty low, and are a decent optics option as well. Magazines are also widely available in Polymer, Aluminum, and Steel versions for a variety of (pretty reasonable) price points. Stocks are available in wire folders, chip wood, regular wood, polymer, collapsible M4 style, and more. There are bayonets for this rifle that will fit on the bayonet lug if you want to go down that path.
Summary
With a new design and designation, the WR762 series of rifle offers something interesting to the Canadian market: peace of mind that political parties won't repeal its amnesty. As a new firearm in the Canadian market, it's also kind of interesting in that it's helping further establish the CZ858/VZ58/WR762 rifle pattern as a platform rather than as an individual rifle, kind of like the FAL or 1911. That means lots of aftermarket support and lots of options for growth. Because it's non restricted, some owners may use this rifle for hunting with soft points and others might just use it for fun in the gravel pit. The inexpensive 7.62×39 ammo means that practice is cheap, and the rifles themselves are very reliable. So if you're looking for a magazine-fed, piston driven rifle in 7.62×39 with a ton of flexibility, check out the WR762.