For a beginner hunting rifle, I often recommend a budget rifle but what if you have a few extra dollars to spend on a better quality rifle? Within the midrange of hunting rifles ($600-$1000), there are 2 rifles that I hear most often recommended: the Browning X-Bolt and the Tikka T3 Lite. Tikka is Sako's "fighting brand" and competes with midrange priced rifles, leaving the higher end rifle competition to the Sako A7 and Sako 85. Note: this review is on the older Tikka T3 Lite and not the new Tikka T3X that goes for about $1000 in Canada and $750 and up in the US. Because the T3 was being discontinued, I picked up this T3 Lite from Ellwood Epps for a great price!
Tikka T3 Lite Features
2 stage safety. On-safe locks the bolt closed
Cocking indicator
Adjustable trigger: 2-4 lbs, factory set to 3 lbs
Free-floating, cold hammer forged barrel (stainless or chrome-moly). Hand crowned
Single stack magazine (3 rounds from the factory for near flush, but 5 or 6 round mags are available if you don't give a damn about the magazine being flush)
Dovetail groove instead of standard drill & tapped for scope bases
3 shot, 1 MOA guarantee
Bolt release button on left hand of receiver
Fiberglass-reinforced copolymer polypropolyne (polymer stock)
Tikka T3: Plastic Fantastic
The Tikka was one of the earlier examples of 21st century modern manufacturing processes and materials being applied to a hunting rifle. Some people loved the durable, weather resistant plastic stocks, while others really hated them. With its plastic stock, plastic single stack magazine, and lack of a true short action, the Tikka T3 Lite is a rifle built to a price point with some compromises. Personally, I think compromises are OK as long as the firearm delivers where it matters. To me, the Tikka T3 does a few things to near perfection.
Tikka T3 Pros:
Accurate
Great trigger
Fantastic bolt feel
Lightweight
Tikka T3 Cons:
Kind of expensive for its featureset
Only 3 rounds in a magazine and it still sticks out the bottom??
Checkering is not very aggressive
How about good old drilled and tapped for scope bases instead of this dovetail business?
Short action cartridges still use the same long action and a blocked magazine

Tikka T3 Lite Accuracy
Is 1 MOA required for hunting deer? I'd argue that it isn't really, but it's reassuring and it's most definitely required for hunting coyotes. More manufacturers are starting to offer 1 MOA guarantees on hunting rifles these days so this is a smaller advantage than it used to be, but Sako has been doing it a long time for a rifle at this price point. It's also great to get a rifle that is accurate at a light weight like the T3. The skinny barrel will heat up quickly though, so don't mistake the T3 Lite for a range blaster, it's better left as a dedicated hunting rifle.
Tikka T3 Usability
Right off the top, I have to talk up the bolt. This bolt is what all bolt action rifles should feel like. Solid, impossible to bind when running it, and it requires practically no extra effort if you've fired. It feels effortless and utterly reliable. It's a 2 lug, 70 degree lift design that's quick to run and still leaves lots of room for a scope.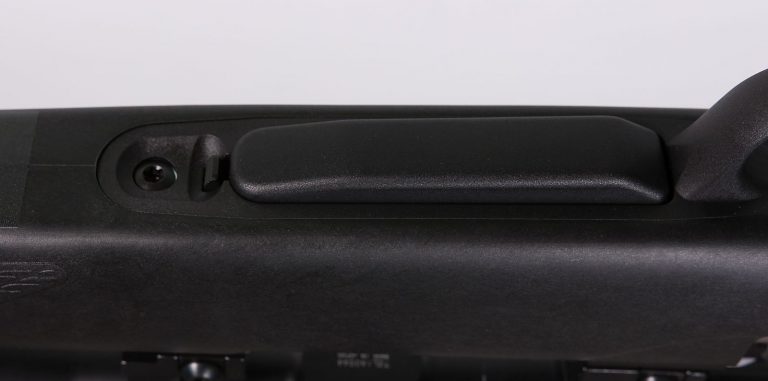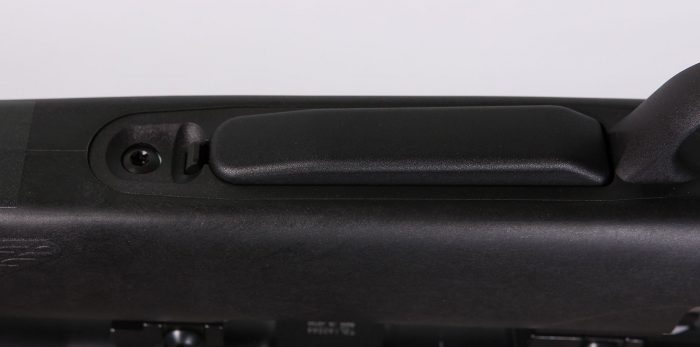 Despite my complaints about the magazine capacity and the flimsy feel to it, the magazine works flawlessly. It inserts straight and because there's a spring steel part instead of a second latch at the back of the magazine, it's impossible to latch it in place incorrectly. The center latch at the front of the magazine is easy to operate and drops the mag right into your waiting hand. The single stack magazine also feeds boringly reliable. The magazine cannot be loaded by snapping rounds in from the top, they have to be fed in with the magazine out of the rifle.
The trigger is fabulous out of the box. While more inexpensive rifles need to use a trigger shoe, Tikka's have a great, adjustable trigger without needing a trigger lever. From the factory, mine broke very cleanly at 3.3 lbs. If you're used to something lighter or heavier, it can be adjusted from 2-4 lbs.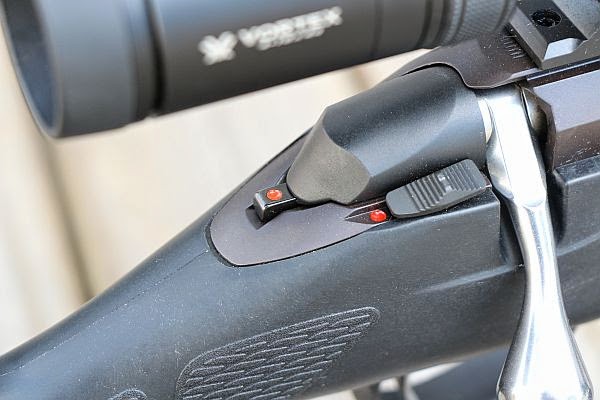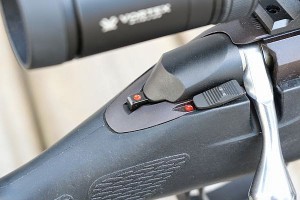 The safety is located on the right hand side of the action, but it should be accessible by righties and lefties alike, even if you have short thumbs. Due to the construction of the safety button, it has a simple, rocker feel to it rather than a slide or toggle. It does audibly click when you actuate it, but if you carefully ride it, you can turn the safety off quietly. The safety locks the bolt if you turn on the safety while the bolt is closed, but if the bolt is open, you can kind of put it in a "half safety" that allows you to run the bolt but it still blocks the trigger. I wouldn't trust that half safety position, as it's too easy to bump it and have it flick back to firing mode.
The cocking indicator is clear and shows brightly at the rear of the bolt shroud. Here, I think it'd be nice to use a slightly different color or shape than the safety so that you couldn't confuse the two at a quick glance.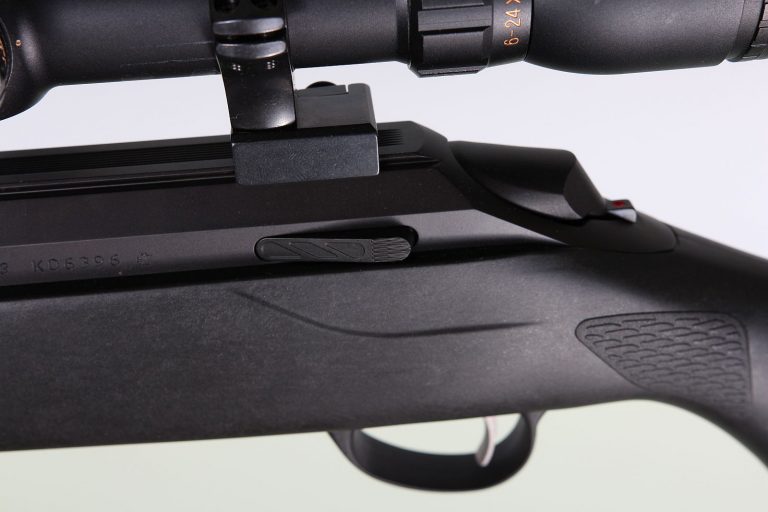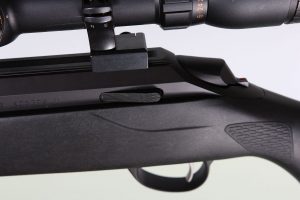 Along the left hand side of the receive is a bolt release. It's spring loaded and is a quicker and safer way to remove the bolt compared with pulling the trigger or pulling the trigger and pushing down a cocking piece like on a Savage.
Hunting with the Tikka T3 Lite
Hunting with the Tikka T3 was a treat because it's exactly what the rifle is designed to do. I could hardly notice the lightweight rifle while slung, and even carrying it at low ready while stalking, it didn't wear my arms out. It can be carried in hand and the magazine does not really get in the way. I'd also consider the bolt handle to be the perfect distance away from the stock. It's not so far away that it snags on brush and doorways, but it's far enough away to sneak a finger in and grab the bolt handle with some sureness.
As a hunting rifle, it's great because it gets out of the way. Hunting is not really about shooting, it's about hiking, waiting in blinds, and freezing your butt off in the woods. This year, I clocked in 36 hours hunting before I took my shot. The Tikka didn't need special consideration or babying during that time.
Conclusion
I wrote this article with the newer T3X already released, but there are so many T3's out there that will live on in the used market that the rifles will still be around for decades to come. Tons of people already recommend this rifle, but I'll throw my hat in the ring too. The Tikka T3 Lite is a fantastic hunting rifle. It's light, accurate, inoffensive to carry, has a great bolt, and is very easy to use.