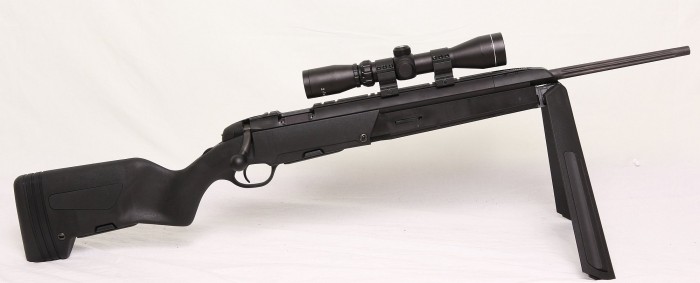 And now, for something completely different. While I have been doing a lot of reviews on budget bolt action rifles, here's a decidedly non-budget, yet still utilitarian bolt action rifle. Here in Canada, the Steyr Mannlicher Scout clocks in at around $2,500 while in the US, it goes for around $2,000. And while I'm not qualified to spout on about the scout rifle concept vs other military rifles, I can handily compare them for the purposes of hunting and on overall features. While this particular version is in .223, the Scout also comes in 243, 7mm-08, and most commonly, 308. Some Steyr Scouts come as package rifles with the Leupold M8 2.5X Intermediate Eye Relief (IER) scope.
The Scout Rifle Concept for Hunting
The Scout Rifle in concept is a lightweight rifle, usually mounted with forward-optics to give better view and awareness than a traditionally mounted scope would give, with a short-ish barrel (19″). Other features that were desirable to the concept were:
Built in bipod
Detachable magazine
2 MOA or better
6.6 lbs or lighter
This style of rifle matches well for hunting where you expect a lot of stalking or short range snap-shooting.
Features
Wonder why the Steyr Scout is so damn expensive?
It's made by Steyr and is complex compared to most bolt action rifles
It is CHOCK full of features
The magazine is a polymer affair that takes 5 rounds. In 223, the mag has a bulbous nose to share stocks with the 308-family versions. The magazine features 2 latch positions, where the first *click* in does not feed rounds, but offers up a spot to hand feed rounds into the action. Position 2 feeds rounds as normal. This 2 position system would be useful when first loading the chamber and then pushing up the mag for a total of 6 rounds. Should anyone need 6 rounds when hunting? Normally not, but maybe if you're on a cull or if you've got a damn good spot varmint hunting it'd be nice. The Steyr Scout's double stack magazines are very easy to load, but I somewhat dislike the 2 position mags. Whether you're in position 2 or if you forgot is just one more thing to worry about when hunting, and I like to keep things simple.
One magazine feature that I really like about this rifle is the capability to house a second mag in the buttstock. 2 mags covers your butt if one gets lost or damaged and in this rifle, helps bring the balance a bit more rearward.
While there are 10 round mags available for 308-family cartridges, I wouldn't bother. The thin barrel heats up so quickly that the extra capacity isn't super usable and the (2) 5 round mags are fine.
Rather than using standard sling studs, the Steyr uses push in, "hammer head" sling attachment points. Several of these attachment points are available and they're mostly focused on supporting a Ching Sling. I found I couldn't get any of them to allow for a 2 point "diagonal ready-down" sling carry with a regular sling without having the rifle want to turn over. The sling attachment points would have to be higher up on the rifle to support this style of carry. I think this sling attachment system would have been really wicked when the Scout first came out, but these days there are plenty of fast disconnect options that work with standard sling studs and the hammer head sling swivels are kind of hard to find.
The trigger itself was pretty good on this rifle. Very crisp with about a 1/2″ of clean takeup.
The stock also has adjustable length of pull achieved through spacers at the rear of the stock. Unlike some of the newer stocks, the adjustable spacers are OK to look at. I find most of the newer stock spacer systems look a bit ugly.
The built-in bipod is a decent backup unit if you really need to use it. Is it as good as an inexpensive bipod? Of course not. But the bipod you have (built into your rifle) is better than the one you left at home because you didn't think you'd need to make a long shot from prone that day. The height is a little bit high, but that's OK because it gives some flexibility in being able to shoot a bit higher than a really low mounted bipod. I wouldn't put the built-in bipod through a lot of abuse, as it seems to have too many little parts that may break and ruin your day. It's also too high to use from a bench, but that's a necessary evil considering its field-usable height.
The plastic and style used in the Scout is starting to show its age. In parts like the trigger guard, the plastic looks like it belongs on a $300 rifle, not a $2000+ rifle.
The Manlicher Scout features a very long rail along the top with lots of mounting options. You can do the forward optic thing if that's your game, or mount it over the action like every other bolt action rifle. It's not a big, mean picatinny rail (and may not work with your picatinny accessories) like on a lot of tactical rifles, but offers sensible mounting options. On the underside of the rifle, there's a UIT-rail.
Along the rail are flip up iron sights. The rear is a rather large ghost ring, while the front sight is an inclined post. Cool idea that would do the trick for a close shot if you were in an emergency survival situation.
The thin barrel is fluted for additional weight savings and is a very handy length. You won't be catching this rifle on branches, doorways, or getting in or out of vehicles. The profile of the barrel makes it a poor choice for dedicated varmint blasting or work at the range, but is light and really pushes the center of gravity towards the rear on this rifle.
Video Review
Usability
Usability in the Scout is generally good, with a few idiosyncrasies that you can quickly learn.
The tang mounted safety is a rotating dial thing instead of a plain, sliding style safety, but in use is the same. It offers 3 positions: fire, safe, and safe with bolt lock. The bolt lock position is also the bolt release position. Simply have the bolt unlocked, and then switch it to that position and the bolt comes sliding out back. That bolt lock position also allows you to lock the bolt just a little bit tighter to the rifle where it'll be even less likely to snag on things.The safety does have a bit of a muffled *click* when moved to fire, and it makes that sound no matter how carefully you ease it down.
The bolt. . .oh man. ..the bolt. It's pretty complicated looking, but ultimately works like every other bolt out there. I found that it needed more force to turn the bolt than most of the other bolt action rifles I've handled, but still not terrible. The bolt is also starting to wear into the receiver where it is interfering. For a rifle at this price point, I'd really like to see smooth operation right from the factory.
The bipod clicks into place quite loudly, and isn't something you'd want to be deploying unless you're sure no game are around to hear the loud *click. . . click* of the two sides deploying.
Optics
Using an intermediate or long eye relief scope on the rifle comes with pros and cons. Yes, it makes for a quick, 2 eyes open shot. Yes, it makes it easier to see other game coming in. But it also is less precise to use for longer range shots and offers less utility as a magnified view to watch game before firing. It's more difficult to compare two game animals side by side in an forward mounted scope.
If you're a deep bush hunter, you might consider mounting a red dot. They're somewhat faster to use compared with a 2X optic and there's something confidence inspiring about placing a glowing red dot on the vitals of a deer before pulling the trigger that you don't get with crosshairs.
Of course, you also have the option to mount your optic in the traditional, over-action spot and use this rifle like any other standard rifle. Seems like it defeats the purpose though.
Summary
I think that people looking to buy this rifle are really buying into the scout rifle concept and for that concept, this is still the best rifle. It is not, however, the best scout rifle for the money. That'd likely be the Savage Scout. It comes in a LOT cheaper, comes with Savage's famous accuracy, and much better aftermarket support. For the rest, who want the features and focus of the scout platform, the Steyr Manlicher Scout is still likely the way to go.
For more great information on the Steyr Mannlicher Scout Rifle, see http://www.steyrscout.org/project.htm