I don't review many .22lr rifles, and I really should. I think the only other one I have reviewed is the Marlin 795, an inexpensive semi auto. The Browning T-Bolt is a very different 22. Available in wood and synthetic stocks, the T-bolt is a very handsome 22, and you can tell that every effort has been made to make these rifles very slim. In this article, we review the T-bolt Composite Sporter and at $750 for the 22LR model tested, we are outside the realm of budget 22's and are getting into the high end for refined rimfire shooters. (There's also the very sexy T-Bolt Sporter Maple)
Video Review of the Browning T-Bolt
Straight-Pull Action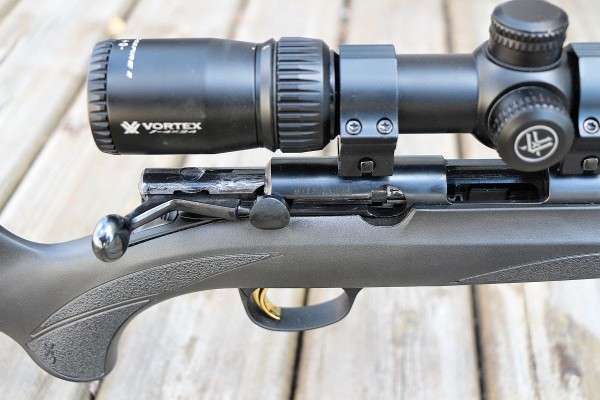 Let's just get it right out of the way: this rifle is interesting because of its straight-pull bolt action. Like a Swiss K31, Blaser R8, or Olympic Biathalon rifle, the idea is that the rifle bolt is quickly cycled with a swift pull back and push forward. This offers appeal to shooters in more highly regulated countries where they may not be able to use a semi automatic 22, because the straight pull offers a slightly higher rate of fire than a bolt action. It also works flawlessly with suppressors, so the T-bolt is offered with threaded muzzles in countries where the government doesn't hate fun. In practice, the straight-pull is still nowhere near the speed of a semi and you still lose sight picture cycling the bolt unless you have a very solid rest. On a busy gopher field, follow up shots from the T-bolt won't be fast enough if your buddies are running 10/22's, 795's, 597's, or other semi automatic rimfires.
Another thing you'll notice working the T-bolt when new is how stiff and jerky the action is. Take a peek through the gallery below, and you'll see that the action is toggling in a "button" on either side of the action that holds the bolt in place. Working that toggle from a straight pull action can deceive you into thinking the bolt is all the way forward, when it still needs an additional slap forward to close the buttons in. Even after running this rifle through 500 rounds, it still had that extra bit of herky-jerkiness. Compared with the slick actions of bolt action rimfires anywhere near this price range, and this straight pull action quickly looks gimmicky and over-complex.
Usability
Thankfully, Browning opted for drilled and tapped action with Weaver style bases instead of dovetail mounts. I hate the dovetail system included on most 22LR's. The Weaver bases will enable a secure optics mount on the T-Bolt. The rifle safety is up on the tang, my favorite location for safeties because of how easy it is to see and manipulate when aimed on a target or animal.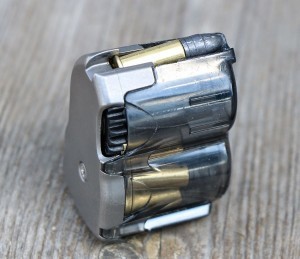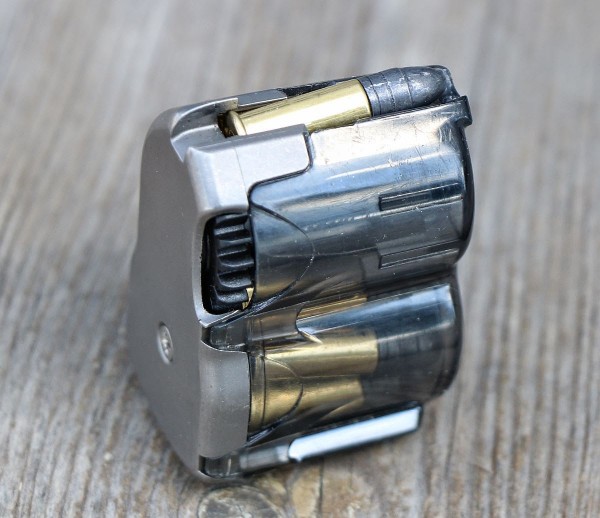 The magazine uses a take on Ruger's rotary magazine, except in a  "double helix" configuration. They kind of look like an "8" from the front, and the important part is that they hold 10 rounds without extending past the bottom of the action, and have a gear on the side to make loading new shells easy. They also have a positive, spring-loaded ejection, which makes mag changes fast and easy. At least on the synthetic model, there's also a spare mag that fits into the rear of the buttstock. Loading 22's isn't really all that bad, but after a long day shooting gophers, my 795's mag had made my fingers a bit sore while my friend used the T-bolt magazine gear to to pre-load the magazine springs and basically throw the 22 LR's in. No wearing your fingers against feed lips. I think Browning really got the magazine system right, as it's cheap, reliable, and easy to load.
The trigger on the Browning T-Bolt is excellent, though at this price, it has to be. Disassembly is a little finicky in that you need to push down a lever at the back of the bolt as you pull the bolt back to release it.
The stock, as mentioned earlier, pushes for slim in every way possible and delivers. It's incredibly sleek and feels great in the hands. But, the focus on slim has some negative outcomes. The front forend is too slim to properly fit many standard bipods; they wiggle loosely due to the excess of room in their cradles where they're supposed to be contacting a normal sized forend. With a weight of only 4 lbs, 9 ounces (2.07kg) unloaded, the rifle is both sleek and lightweight.
Summary
This rifle is a bit of a dichotomy: it's got an ultra-modern magazine and synthetic stock paired with a revived, but outdated operating action from the 60's. Just taking into consideration the competition this rifle gets from lower priced  Marlin XT-22, Savage Mark II, or more expensive Ruger 77/22, CZ rimfires or Anshutz, it's a tough market to throw this action into. Personally, I think they nailed it with their new magazine system, but it's not enough to make me want to pick this rifle over a CZ 455, or at this price range, a custom Volquartsen or Clark 10/22. However, if you love the Browning brand or remember shooting a T-bolt as a kid, maybe this is the rimfire for you.
Browning T-Bolt Review
Written by:
Adriel Michaud
Date Published: 05/11/2014
Slim with solid new features, fancy new magazine, and excellent reliability.