There are general purpose bipods, heavy weight precision bipods, lightweight bipods and then there are ultralight bipods. Ultralight bipods like the Spartan Precision made, Javelin Super-Lite are built focused on a very particular activity: making a long range shot while hunting, while needing to keep weight to a minimum because long hikes or mountainous terrain are involved. It clips onto your rifle forend using magnets and provides the necessary stability that a bipod does only when you need it. Thanks to Ultralite Hunting for providing this bipod for review.
Removable Bipods vs Always On
Most people use bipods that stay mounted on their rifles. Popular bipods like the Harris and Atlas are meant to stay on the rifle. A potential problem is that they can make it more uncomfortable to wear the rifle with a sling by hitting the back of your head, adding bulk to your rifle, and potentially changing the balance point so that your rifle frustratingly wants to spin back and go muzzle down. And then there's the fact that the vast majority of hunters don't bother with a bipod because the bulk and weight outweighs the benefit of maybe needing one for a long range shot in the unlikely circumstance that you need one. They also add to bulk getting in and out of vehicles, casing a rifle, and can get snagged when bush whacking.
The Javelin Super-Lite is designed as a removable bipod. At 144 grams (~5 ounces), it's lightweight and made to sit in a pocket or bottle holder until it's needed for use. Instead of mounting a rail or screwing onto a sling stud, you install an adapter that stays on the rifle. That adapter provides a magnetic contact point and sleeve for the bipod to engage with.
So instead of having a bipod on your rifle all the time, you run your rifle clean almost all of the time and only pull out the bipod and mount it if you need to make a long shot. It magnetically clips into place, you flick a leg out, adjust length if needed, and make your shot. It fits hunting in rough or mountainous terrain very well, perfectly suited to a mountain sheep hunt where cutting weight to a minimum is important.
Video Review of Spartan Precision Equipment Javelin Super-Lite MKII
Javelin MK-II Super-Lite Features
Magnetic connection to adapter
Adapter comes with sling stud connection
Rubber, removable feet
Tungsten tipped feet (under the rubber covers) for use on ice or rocks
Adjustable cant
Lots of swivel
Adjustments & Usability
The bipod can be canted left and right a LOT and friction is adjusted with a dial that is on the front of the bipod. This is one spot that was a bit confusing to me, because I thought that having the dial on the back of the bipod (facing the shooter) made more sense than facing it away and not being able to see it. In any case, most hunters will adjust the cant friction once and very infrequently need to adjust it afterwards.
The amount of swivel available is non adjustable since the adapter has stops built into it. Friction on swiveling is also non adjustable and is a function of friction between the magnet and adapter screw. It's a bit light, but I'd rather have some swivel built-in than none.
Adjusting leg length is done by rotating the base of the legs counter-clockwise, pulling them to a set length, and then rotating them clockwise to set them in. It's very quiet because there are no springs or metal contact points at work. While you can adjust the leg length while the bipod is on the rifle, it's also convenient to adjust them prior to mounting the bipod on the rifle. Version 2 of this bipod (the one pictured) includes stops to keep you from removing the legs completely, while V1 had a visual indicator.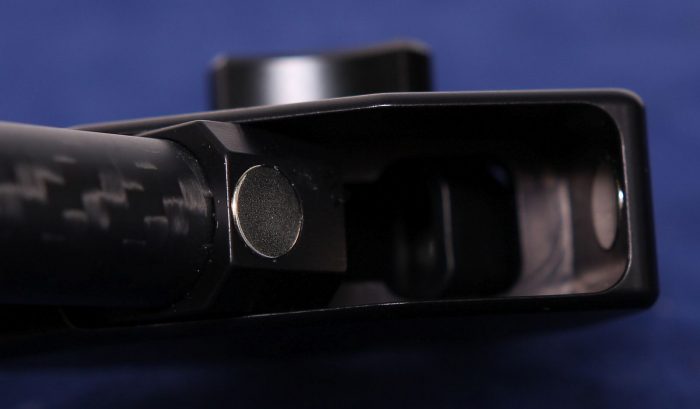 While normally stored, the bipod keeps its legs closed to stay compact. A strong magnet keeps the legs together. When you deploy the bipod and spread the legs, another magnet holds the leg in the extended position.
Adapters come in:
Sling stud replacement, flat bottom stock
Sling stud replacement, round bottom stock
Recessed gunsmith option (recesses the mounting slot into the stock so nothing sticks out)
Picatinny rail adapter
Given that most hunting rifles use a sling stud connection, most hunters would be well served with one of those. If you found that you REALLY liked your Javelin bipod, the gunsmith option is a slick way to fully recess the mounting slot and clean up the forend.
Fit and Finish
Fit and finish on this bipod is amazing. By design, it needs to use lightweight materials, but it does not feel cheap. The rubber on the feet is soft and fits tightly over the feet. The coating used on aluminum parts is very durable and difficult to scratch. The carbon fiber legs are very stiff for their weight. And finally, all the little things are done very well: it comes in a nice looking box, presented beautifully, the logos look great, and the plastic bearing surface that the screw acts against fits utterly perfectly. Lots of guns and gun accessories are utilitarian in packaging, but this felt more like unboxing an iPhone.
Conclusion
This bipod is somewhat unique in application. There are other ultralight bipods out there like the polymer Neopod, but it's quite a bit more expensive at around $500. Harris makes an ultralight bipod, but it's nearly twice the weight and the adapters that allow for quick connect/disconnect can add quite a bit of height and bulk. By opting for a magnetic interface and a proprietary adapter, Spartan Precision skips the bulk of a picatinny rail and the slow connect of a sling swivel stud. At $250 USD for the standard height (6.5-9.5″) MKII or the same price for the 8.5″-13″ model, it's quite a bit more than a standard Harris, but it's clearly built for a different purpose and to a different standard of quality. Hunters hiking through the mountains, facing the prospect of a long shot on a sheep, but needing to keep things light and trim would be well served with the Javelin MKII.
For further reading, check out 6point5x284's review on Long Range Hunting.