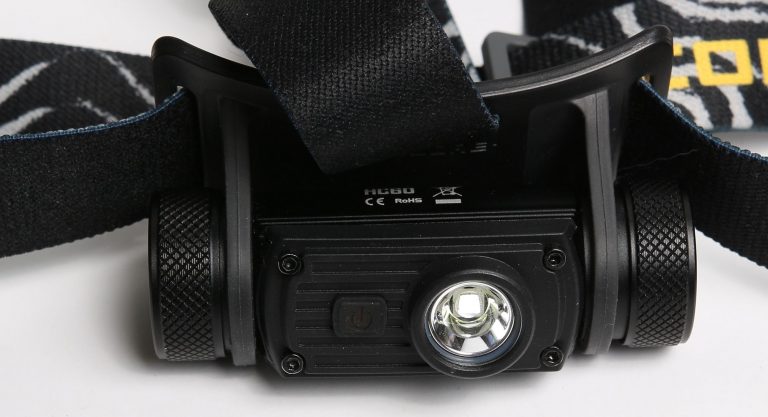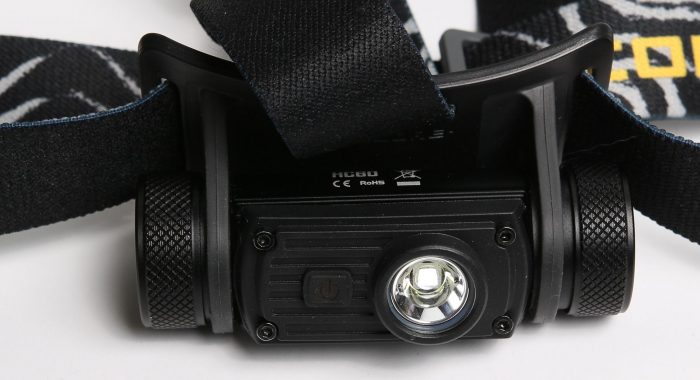 It's really not fair to lump in a $60 headlamp with a bunch of $7 ones, but I thought it'd be interesting to review a headlamp that uses a very different design. It also comes with a $30 18650 battery, so it's practically a $30 headlamp. The NiteCore HC60 uses a single 18650 battery horizontally mounted right up front. They chose a CREE XM-L2 U2 for the LED. The "L2" part means it's newer and more efficient than most of the other XM-L powered headlamps. The "U2" bin is for the color of the light, which is a nicer, yellower color of light. The HC60 is clearly higher quality than all the other headlamps tested. It uses a rugged metal housing for the headlamp and it's mounted via rubber loops which also serve as the angle adjustment.
At 153 grams with the 18650 battery inside, this headlamp is about twice the weight of a AAA battery powered headlamp, though it is quite a bit more powerful and will last much longer.
Usability
The HC60 comes with a ton of different settings, making the headlamp usable in more situations. With 5 power settings, it's easy to choose the correct amount of power, and it remembers what level you were at when you turned it off. Double clicking the button from off sets it onto burst modes. The first burst mode is a rapid strobe, the second blinks out the SOS pattern, and the third setting strobes every 2 seconds. The button placement is a bit hard to get used to though, being right on the front and somewhat small.
The headlamp can be charged via micro USB or by removing and separately charging the single 18650 battery. The button glows to show that it's charging. The included 3400 mAh Nitecore battery is high quality and high capacity.
The Nitecore beam color was one of the best balanced to daylight. The beam has a hotspot just over 20 degrees total and a wider spill at 100 degrees. It was also the brightest tested headlamp in this series.
Summary
Out of all the headlamps tested, this would be the one I'd take on a hunt or hike where I really needed to depend on the headlamp and I needed something that could go super low power AND high power. The ultra dim setting on this headlamp would be perfect for long distance hiking on a moonless night, while the high power setting offers nice, clean white light that'd be great for tracking shot game.