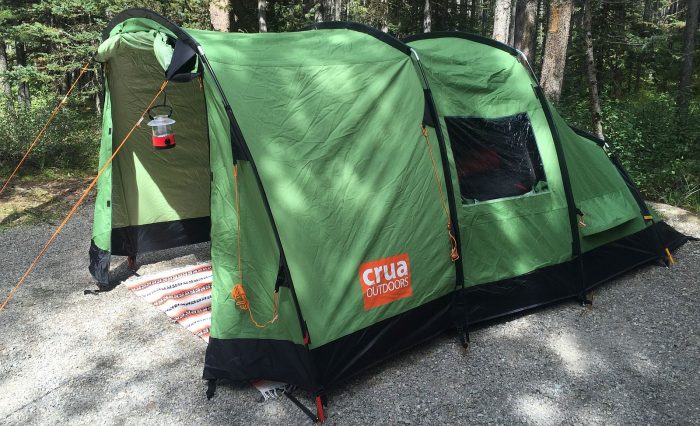 Crua Tri Thermal Insulated Tent
Tents come with some built-in disadvantages. They don't do a heck of a lot to keep heat in, forcing you to use beefy sleeping bags and making you dread having to put on cold clothes in the morning. They get bright as soon as the sun comes out, so they're not the greatest for sleeping in. But what if you could erect a blanket fort inside your tent, insulating it? Well, you'd have the Crua Tri thermally insulated tent. The Crua Tri is a 3 man insulated tent made with premium materials. It's waterproof, extremely wind resistant, and is perfect for sleeping in, if that's what you want. This demo tent was provided by Crua.
Thermal Tents
The unique part of this tent is the thermal insulation inner tent. You could think of it as a blanket cocoon that you buckle to the outer tent and then get into. The thermal insulation is made of polycotton, hollow fibre breathable insulation while the outside layer is a TPU laminated polycotton similar to rubberized canvas, but a lot lighter. The insulation does a few interesting things:
Most obviously, it makes for a warmer sleeping area. I slept in the tent with my wife and 2 young boys on a night when it rained and got down to 2 degrees Celsius and inside the thermal cocoon of the tent it was somewhere around 18 degrees Celsius. Not warm enough to quite go without a sleeping bag, but definitely warm enough to where a thin bag was fine. Already, this is something that is difficult to do in a regular tent. A rainy 2 degree night would normally be a no-go with young kids, but it was fine in the insulated Crua. It was also really nice to get dressed in a warm area. I hate getting dressed in a tent when it's a frosty morning.
It makes it a lot darker inside the tent. Now, I'm most definitely NOT a morning person, and in normal tents I have to wake up with the sun. Not the case in this tent. The thermal lining doesn't give a 100% blackout inside, but it makes it dark enough to easily sleep in. It even fooled my boys, who normally wake up at dawn, to sleep in until 9:00am.
It makes it a little bit quieter. It's not as good as a wall, but the thermal insulation does quiet things down inside the tent. Again, a bit of a help in getting a good night's sleep.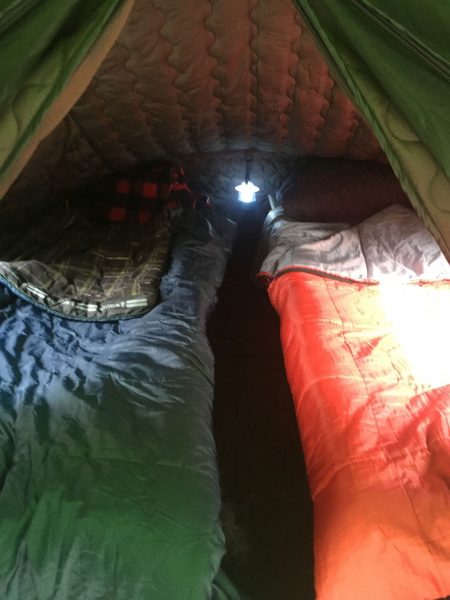 These are some pretty big advantages, but they come with some disadvantages too:
The extra insulation makes the tent pretty heavy (53 lbs) and bulky. This is not a backpacker's tent, it comes with wheels. But given that the majority of that bulk is insulation, you can leave some of the supplemental blankets or sleeping bags at home.
It makes for a bit of a more involved setup and tear down than a basic 3 man tent. The buckles are really quick to use to setup or tear down the insulated portion of the tent, but if you do this in the rain, you may need to air things out when you get home.
Features
The Crua Tri is made to be used with or without the internal insulating "cocoon", so many features are smartly duplicated in the cocoon and outside.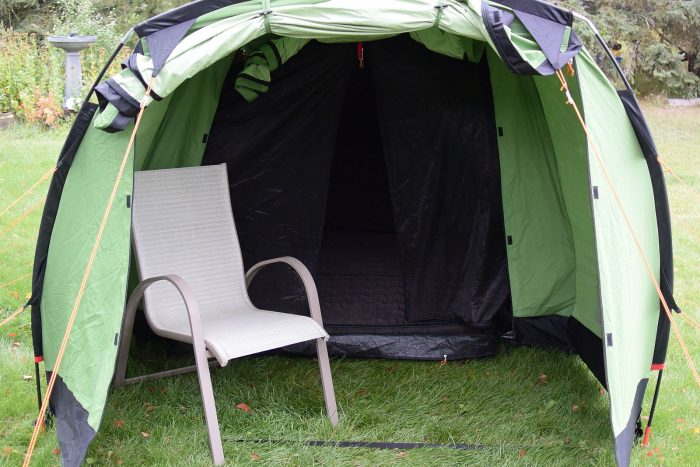 Front Vestibule (porch)
At the front door of the tent is a vestibule or porch. It's a great spot to put on your shoes or boots before stepping out into a cool morning. The vestibule has a roll up door with zippers on either side and is roomy enough to fit 2 chairs inside. That's handy if it's raining and you want a spot to read a book. The vestibule has a gap at the bottom of the tent of 2 inches to provide ventilation, so if you're going to leave luggage out there, you may want to bring a small mat or tarp to keep it off the ground.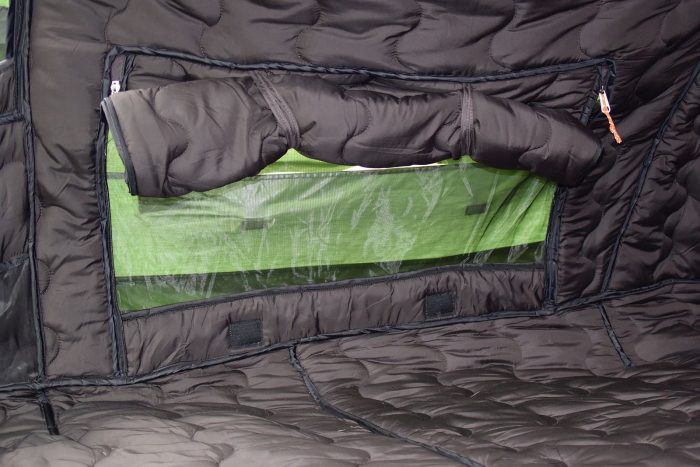 Venting
The outside of the tent has 3 vents while the cocoon has 2. The two inside vents are on the sides of the thin edge of the tent and they match up with 2 vents on the outside of the tent so you can get direct fresh air. The other vent is on the inside door of the tent. It doesn't have a matching vent on the cocoon, but would give some ventilation around the cocoon or be used if it was hot out and you were using the tent without the cocoon. Outside vents are lined with mosquito mesh to keep the mosquitoes out and have flexible velcro tabs to help pop them out. When deployed, the vents have a bit of a cover overtop to keep rain out yet still offer some air.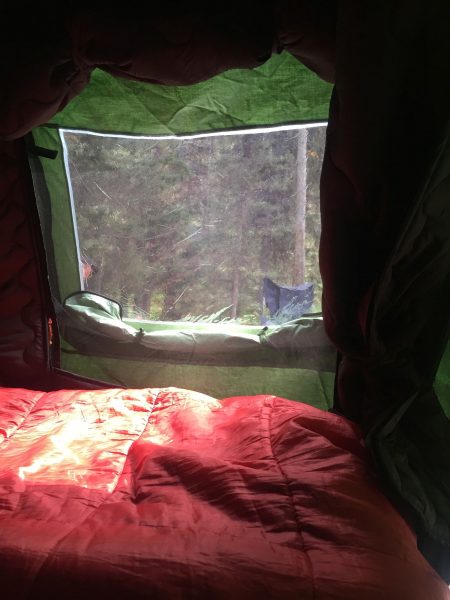 Windows
There are 2 windows on the tent. They both use clear PVC plastic to keep things water-tight, but still offer some light in the tent when you need it. The two windows have a corresponding cover on the outer tent, as well as a matching cover on the cocoon. This means that the windows can be blocked whether you use just the outside of the tent or use it with the cocoon.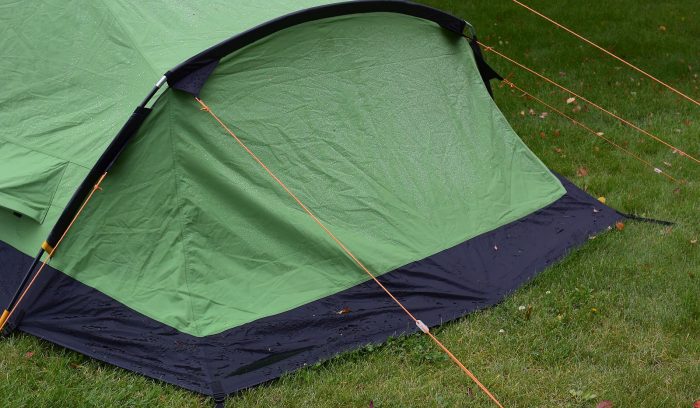 Wind Resistance
The Crua Tri is a large tent, but maybe due in part to it being designed in Ireland, it's built to take high winds. The tent is streamlined with 1 very thin edge which should be pointed into the wind, but even the back door is angled to cut down on the effect of the wind. There are also plenty of guy lines to keep things nice and steady. Interestingly, the guy lines include that 3M reflective material that really lights them up when they're hit with a flashlight. That's handy when you're stumbling around in the dark. The guy lines are held in place by (really nice) orange-anodized aluminum stakes.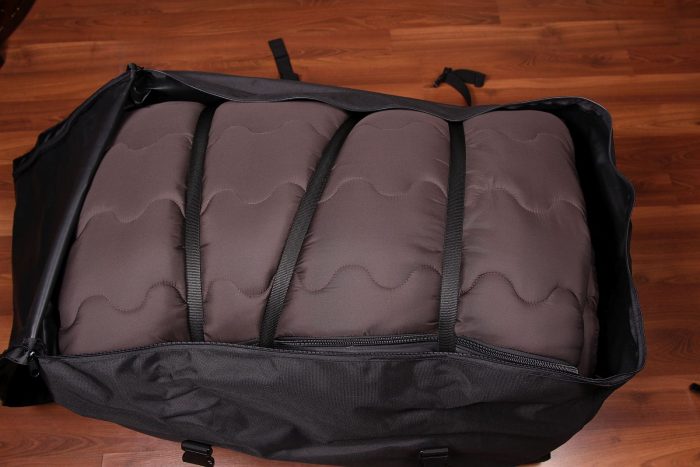 Compression Straps
Because the thermal insulation is quite bulky when filled with air, you need to compress everything down to get it into a more compact package. The Tri comes with 3 compression straps to suck things down tight, and the carrying bag it comes with has 3 more to get things just a bit more tighter.
Summary
Now, there are a few uses for a tent like this, but one stuck out for me. One of my brothers has a trailer and another has a tent trailer. Both of those trailers are great, but they need a place to store, and they need a vehicle that'll tow them. In comparison to a tent trailer, the Crua Tri is extremely portable and may be a better solution for some, especially those who live in cities where you don't have ready access to land where you can park a trailer. Outside of the thermal insulation, the rest of the tent is very well constructed. The outside tent material will keep you dry and will last, while the extensive guy wires and streamlined design of the tent should stand up to high winds. The venting and windows give a lot of flexibility to handle a range of temperatures and give quick access to light when you need it. So if your wife is complaining about freezing her butt off in your crappy tent, or you just want to get a better night's rest camping without having to haul a trailer, take a look at the Crua Tri.