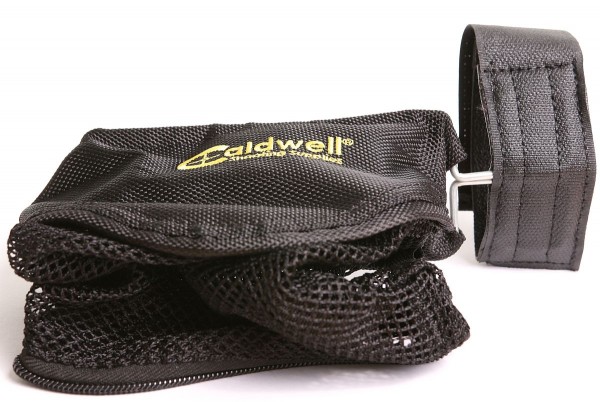 Scouts honor: I bought this as an impulse buy. I saw it on the shelf, it was cheap ($12-$20), and I was tired of my AR-15 flinging my arduously prepared 5.56 brass way out into the front of the range. It also looked flexible enough to potentially use on other rifles.
What's great about the Caldwell AR15 brass catcher?
It's cheap.
It installs quickly ("hook and loop" [velcro] over the handguard/forend)
It keeps your precious, prepared brass near you and out of the dirt.
You don't hit the other people at the range with your brass.
What's not so great?
I needed to bend it a bit to fit my AR-15 properly.
If you fire even 5-10 rounds a bit quick, the cases start to melt the mesh and stick to the bag.
It *claims* to be able to handle 60 cases, but I found it started to droop after 20. That drooping eventually causes stoppages because the hard wire will get in the way of the ejection port.
That all said, here's how I run it: unzipped. There's a zipper at the bottom of the brass catcher that's meant for unloading once you have too many cases in there and I just leave it unizpped. The result is that after shooting a few strings, I have a perfect pile of brass to my right. They don't stick to the mesh, because they pop right out and there's no weight to weigh down the bag and then block the ejection port.
All said, I'm super happy with this purchase. 5.56 brass takes a lot of time to prepare: cutting out the military crimp, primer pocket uniforming, etc, etc, and I hated sending it into the long grass in front of the firing line. Now I get it piled neatly to my right, ready to pickup and reload again.
The 3 Buc Brass-Savr is supposed to be much better, albeit more expensive.