Versatility
I find combination rifles really interesting. I mean, who wouldn't want to have so much flexibility in ammo with just 1 rifle? The Chiappa Double Badger offers a 22lr barrel and 410 shotgun barrel in 1 rifle for about $350. These two cartridges offer flexibility needed for small game on the ground and in the air.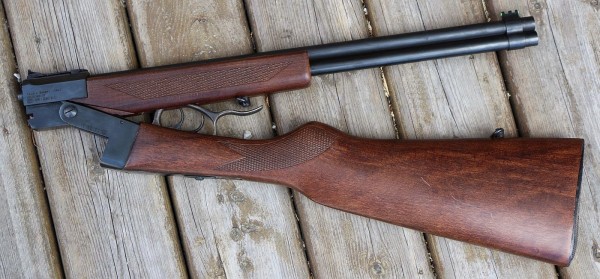 Use Case and Competitors
These combination rifles are meant as do-alls. They're the type of rifle you pick up when you're heading into the woods when you don't know if you'll need the 410, or if you'll need to make a longer range shot with the 22. You could get a break open 22 or 410 for a lot less money, but you can't get both in a single do-all rifle. People use these as the rifle that sits near the door ready to go out into the woods to hunt small game or as a survival rifle to pack away in a canoe or backpack.  The competition for the Chiappa Double Badger is the Savage 24 in wood or Savage 42 in synthetic, USG MP94 or Baikal IZH-94 MP,
Usability
The break open action on the rifle is interesting, because it folds right over and down. This reduces overall length so that it could be fit into a backpack for a trek into the backwoods. Other features are mostly absent. We've got extractors on both the 410 and 22 chambers, a tang safety, double triggers, and simple lever break-action.
Quality
There's give and take on the quality. Finish is interesting, because it appears to be case hardened on some steel surfaces. I think the barrels are a bit twisted or front sight canted, because in order to get center hits, the rear peep needed to be moved way over to the left. The wood stock appeared to be decent quality, and was finished with some consideration. Many of the more inexpensive wood stocked rifles (especially rimfire) that I've seen are stained/finished in a way that very little grain shows, and those stocks are pretty boring.
Summary
That's it. I wasn't kidding about the mini-review part!