I know there's already a million of reviews out there for this rail, but I thought I'd throw my 2 cents out there as well with a quick mini review. Since Canada isn't using the penny anymore, does my 2 cents round down to zero? If that's the case, I'm going to get silly with this mini review. The Troy Alpha Rail is available in many tactical gun shops, or online at Brownells.
Sexiness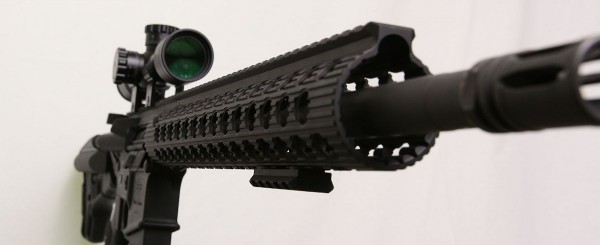 Not even joking, this is primarily why I picked up this rail instead of the many others. It's got just the right blend of utalitarianism, with its extruded lines, mounting/ventilation holes, and continuous top rail. It's so slim and just straight up sexy. I've got a bottom rail on mine for a quick detach bipod, but I might take it off because it sullies the trim lines on this beauty. Personally, I prefer the round holes on the Troy Alpha to the unsexy keymod version.
Weight

These forends are very light for their length. You're not going to replace the standard carbine length M4 plastic grips with a full 13″ Troy Alpha and lose weight, but you will gain a ton of room up front for leaning this rifle on a baracade or gripping way up front. When I first picked up the box that had the rail in it, I thought it was empty. (maybe they had the rails behind the counter?)
Utility
A quad rail has more utility than a rail like this, but I much prefer the trim lines of the Alpha to the bulky fit of a quad rail. If you prefer, there is a version of this rail that comes with a pop up front iron sight, so you can keep the backups. Personally, I only use my rifle for competition, so no irons is just fine by me. Should you want to add other doo-dads to your forend, this rifle comes with 2 small rail sections and one longer one that you can place in lots of different areas. Take note that you may not be able to put rail sections in close to your gas block or at least it wouldn't be a good idea because it may jam in tight with it and throw off your coveted free float barrel.
Install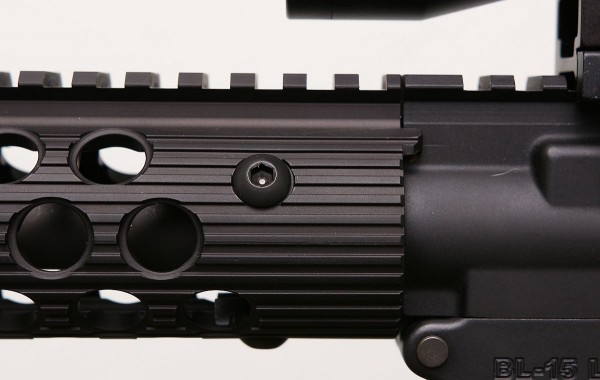 Incredibly easy. Uses a factory barrel nut minus the delta ring and wave washer thing, rotates in a bit, attach something to the top pic rail to align it with the receiver rail, tighten 3 allen head screws and you're done. There are plenty of YouTube videos if you insist on prepping for the install, but you'll be sorely disappointed when you install it in 5 minutes flat.