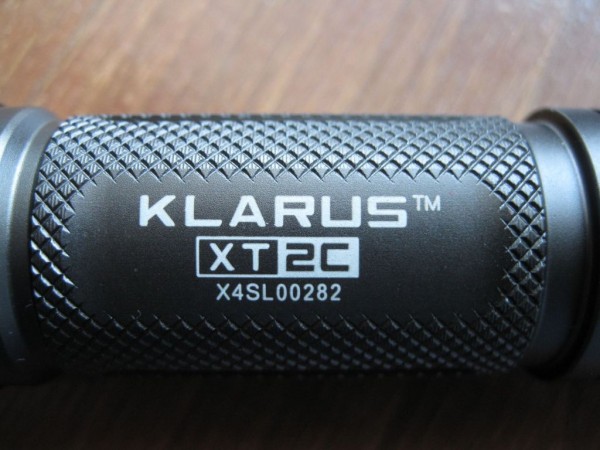 **This is an older review I moved from another website I own. Klarus now has the XT2C with 750 lumens if you really feel the need to get lots of power. Keep in mind that a standard automotive H4 headlight puts out 1100 lumens on low beam. We're getting very close to that in something that fits in your pocket.**
I picked this flashlight up after reading some positive reviews of the Klarus XT10 on candlepower forums, which is pretty much the place to go for info on these high powered flashlights. This light appeared to use the same high power 470 lumen CREE XM-L T6 LED and 18650 Li-ion battery, just in a smaller package. I wanted to pick up the flashlight as a camping flashlight and as a potential tactical add-on flashlight if I ever got anything that would support it. The flashlight itself feels high quality, with no sharp edges and good balance and utility. The interface is also much more intuitive than a lot of the tactical flashlights I've played with, and it seems like this feature puts the XT2C above a lot of others. Like many other high end flashlights, this one is designed for an 18650 li-ion battery or two CR123 camera batteries. If you're not in a major metropolitan area, you may want to order your flashlight with batteries and charger as I've found the 18650 to be impossible to find locally, even from battery specialist stores.
Video Review of Klarus XT2C
The Interface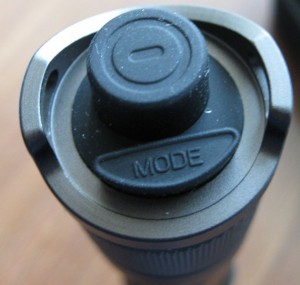 The switch interface on this flashlight is spot on for the intended application. Mode-less operation means that actions are always the same. A light press on the main button pulls the flashlight up on high, whereas a harder press clicks it down to stay on. That by itself isn't fantastic, it's how the flashlight incorporates the strobe functionality that I find really usable. Strobing flashlights are supposed to confuse and disorient targets using the Bucha effect, but incorporating another mode into a flashlight in an intuitive way is difficult. Most flashlight interfaces are somewhat confusing to use. With the Klarus XT2C and the XT10, you can press the "Mode" button to get straight to a momentary full brightness strobe.
After you've held the strobe on for 3 seconds, it stays on. The mode button is quite different from the main button and wouldn't be confusing even with light gloves on. So the flashlight offers 2 quick ways to get to full brightness or full strobe, and these are the operations that an officer or soldier would need on a moments notice. From full bright, a few more clicks on the mode button dims the flashlight to 150 lumens, and then 10. The 10 lumen setting will be great when camping where blazing brightness isn't always required. With all the buttons on the back and a compact 1″ body, this flashlight would be a great candidate for mounting on a pistol or CQB rifle.

Box and accessories
Altogether, the Klarus XT2C comes with:
The extra O rings and switch cover gives the flashlight a longer potential service life, which would be great if it was used in law enforcement, military, or other hard use applications. The holster is also built for these types of applications by offering a multitude of carry options. As a camping flashlight, I imagine I'll use the lanyard more often than the holster.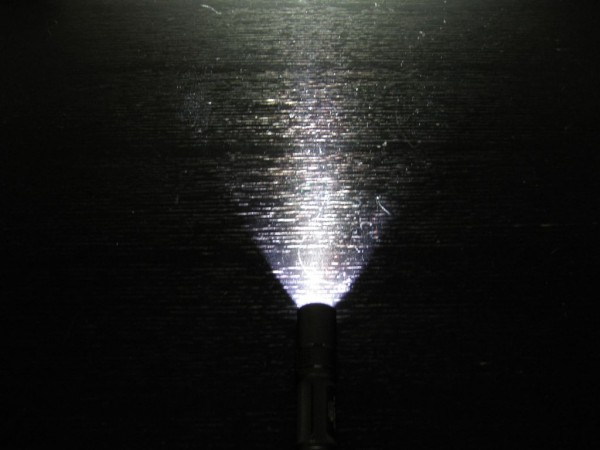 Beam
The light beam on the XT2C could be described as "floody" and very wide. The reflector is fairly small and uses an "orange peel" style texture rather than a smooth one. When you point it at something , it floods the whole area with light instead of focusing tightly where you aim it. This is perfect for the intended use as a weapon mounted or CQB flashlight. If you need any serious medium to long distance light, you should move up a size to a bigger flashlight that will throw a beam further with a more efficient reflector.
Waterproof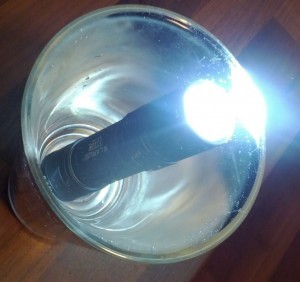 You probably wouldn't drop your flashlight into a glass of water, but it's nice knowing that it can handle some water without any problem at all. The flashlight is spec'd at fully waterproof to 2 meters and handled my quick glass of water test without any difficulty. After opening unscrewing both the top and bottom portions of the body, I could see that the o-rings on both sides had stopped the water from getting past. This light is also impact resistant to a certain height, but since it's about -15 outside and I don't want to drop it on my floor, that test will have to wait.
All in all, for $60 you can do worse. The Cree XM-L is a great LED and really pumps out the lumens in this small flashlight.