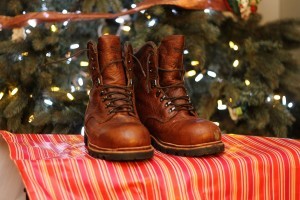 *Chippewa was kind enough to send me a pair of these boots to review. If you want your own pair, enter in the "Haggard-est Hunting boots" contest for your chance to win.
Review Double Header
I took these boots for a week of hunting in terrible, cold weather, but I still don't think I gave them enough time in the field to really get a sense for how they'd be. My brother is a geologist here in Alberta, and has the same size feet as me, so I asked him if he could give these boots a go and let me know how he made out. Thus, I've got a review double header: one short and sweet from me and a longer, more in depth review from my brother.
Kain's Review
Chippewa Arctic Boots Style 73126
8″ TIPPED BRIAR W/P INS A/T POLAR 90
I'm a geologist living next to the Rocky Mountains in Alberta. Through my experiences hunting, climbing, mountaineering, and working on the oil rigs of Western Canada I've gone through over 10 sets of serious hiking boots and 5 sets of steel-toed boots working in some of the most unfriendly conditions on the planet. When my brother asked me to review a set of boots, I jumped at the chance to put a new set through the paces.
The first things I look at when I purchase new boots are the fabric and stitching. My boots are worn rough- I enjoy backpacking, camping, hunting, rock scrambling and working in the field so it's really essential that a boot be well built- otherwise the boots disintegrate within a few weeks. The Chippewa Arctic boot is easily one of the most solidly built boots that I have ever worn, and I think I'll be testing its endurance into the distant future. The leather is thick yet supple and the stitching is designed to last. These boots won't be failing anytime soon.
10/10
The next thing I look at is the waterproofing. Does the boot have a waterproof sock? Is the external fabric waterproof? What happens if either the internal sock or the external fabric tears? Well, this boot has a waterproof sock encased in thick, tightly-stitched leather and despite my best efforts I haven't identified a failure point in the waterproofing. I expect these boots will be water tight for quite some time. Even if the internal sock tears, I would have a high degree of confidence in the external leather keeping the water out. How deep can you go? My trusty measuring tape shows that these boots have a spill point of about 21 cm (8.26 inches). 8 inches is a very deep puddle, so you can feel confident that your feet will stay dry.
10/10
The next things I look at in a boot are the sole rigidity and grip type. I had guessed that these boots would be stiff as a board, but was quite surprised at the presence of sole flex. The rigidity is similar to my favorite set of light hikers, a set of Salomon trail running shoes. The toe obviously won't bend because of the internal aluminum toe-cap, but the mid foot is quite malleable and that translates into comfortable walking. The vibram grip is aggressive and firm. Walking on terrain is a breeze, and they handle grates, rock and slopes pretty nicely. One problem that I encountered was the firm rubber. The rubber freezes and stops flexing well in cold weather.  I've had this problem with similar boots in the past, and I'm not sure how or if this can be avoided. In any case, I don't want a soft grip for this type of boot, so I just deal with it.
8/10
Insulation
The boots are warm and cozy, I got to test them up to -33 Degrees Celsius (-27F) and my feet felt comfortable. The boot also has Thinsulate Ultra insulation, and while I'm not sure how it works, it does work well when combined with the water resistant sock and the thick soft leather. If I were in -40 Degrees (C or F)for a full day I would consider using something more insulated, but these would still get the job done fairly comfortably. The last couple days I've worn these around in the house, cleaning out the basement etc. to try and get an idea for summer performance. The Thinsulate Ultra keeps your feet dry and I haven't yet felt the humidity heat that is typical for wearing insulated boots in warmer temperatures. These boots would work just fine outside of winter and indoors, but you might want to use something thinner in the heat of summer.
9/10
Other details
The metal lace loops and anchors are high quality and should last years, but if they fail they would be easily replaced with any simple rivet anchor. One complaint would be the lace doesn't remain on the upper anchors after taking the boots off. I like quick lace ups so I would prefer having the hook-type lower anchors continue up the boot.
These boots aren't small. They are insulated and made with thick leather and as a result they are fairly big. These are by no means a thin skinned bare bones steel toed boot. They are designed to work in tough cold/wet environments and I feel like they do a good job, but if you're looking for a small light package for warm dry weather you should check out a different model.
8/10
Overall
My bet is these boots will last longer than any other boot I've owned. I will be recommending this model to anyone who is looking for a warm, comfortable, long-lasting work boot. Here in Alberta, there are lots of outdoor workers who need hard toed boots that can stand up to our weather. These boots do just that, and they have the added bonus of having an electrical hazard rating. I've worked on rigs and in warehouses in Canada, and I've used several work boots in these conditions. I would consider these the ideal footwear for those situations.
9.5/10
Adriel's Mini Review
Kain covered a lot of the details above. I agree that the laces near the top were a bit of a pain because they are an open anchor. In the 2-3 feet of snow we had out here, lacing them up right to the top was necessary, and it got a bit tedious lacing them up twice a day. I took these boots out along with my regular hunting boots for a week of hunting. The Chippewa boots are big, bad, and pretty good in cold weather. Out hunting, even though it was -20C (-4F), I couldn't really tell much of a temperature difference between the Chippewa Boots and my regular winter hunting boots. That's saying a lot, because my regular hunting boots are monsters. Importantly, my feet stayed dry and warm, even after extended hikes out to spots where I was hunting.
The stiff, tall sole was grippy and easy to walk in. The stiffness of the sole was a welcome change to the soft sole of my icefield boots, which were harder to walk in over longer distances. One thing I disliked was how the stiff sole made it hard to clean frozen deer guts off of the bottom. I had to bag my boots when I went inside after gutting a deer, because I simply couldn't scrape off the frozen deer tallow and guts and I didn't want to leave a puddle of blood and gore on the floor. When I showed these boots off, most people assumed they were $200+ boots due to the handsome, oiled leather.